Andrew Zimmer
Andrew Zimmer
We recently published our editor's picks for the best whiskey bars in NYC, but we heard from plenty of people that NYC's whiskey power couldn't be contained by just 10 spots, so we talked to famed barman and whiskey enthusiast Naren Young of Fork and Shaker, Empellon, and Empellon Cocina (who also had some strong opinions on what we missed), to help us navigate the deep, whiskey-filled waters of NYC, and right the ship.
On the Rocks (click here for address and deets)
Hell's Kitchen
This far-West outpost for whiskey consumption has an extensive list for serious drinkers out there that're looking to knock back a couple of fine glasses in like-mannered, non-picklebacking company.
Vintry Wine & Whiskey (click here for address and deets)
Financial District
This Stone Street den combines its love of wine with its love of whiskey, and the result is an excellent mix, atmospherically speaking (don't actually mix them).
Rye House (click here for address and deets)
Union Square
Along with some really tasty eats, they helpfully break down their broad menu into categories like "Dry, Resinous, and Spicy", "Tobacco, Leather, and Chocolate", or "Old & Complex"... all of which describe your sex life. Zing!
Post Office (click here for address and deets)
Williamsburg
Not only is their whiskey list top-notch, but they've also got killer whiskey cocktails, like the Little Devil with rye, Peychaud's Bitters, Combier, and Dolin Blanc, plus a dope sandwich list including pulled pork and some excellent grilled cheese.
Idle Hands (click here for address and deets)
Alphabet City
As with DBA on our last list, you could very easily get distracted by their badass beer selection, but these guys are dominating the bourbon scene with one of the best lists in the city.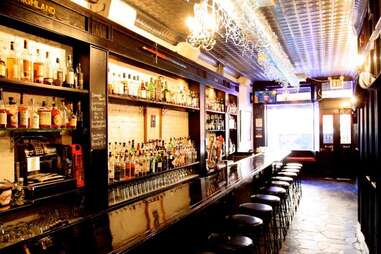 Caledonia (click here for address and deets)
Upper East Side
This Scottish pub only serves whisky (with no "e"), with options from all the usual Scottish regions (Highlands, Lowlands, Islay, Islands, Speyside, Bayside, Valley, Screech, Kelly Kapowski).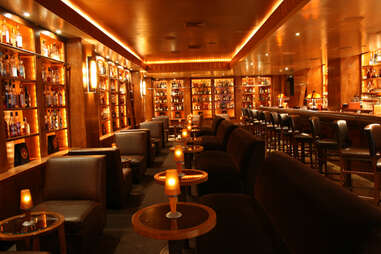 Brandy Library (click here for address and deets)
Tribeca
Their selection is near-endless, and they pride themselves on having special and rare numbers on hand, which you may need one of their "spirits sommeliers" to help guide you to. Oh right, they have spirits sommeliers.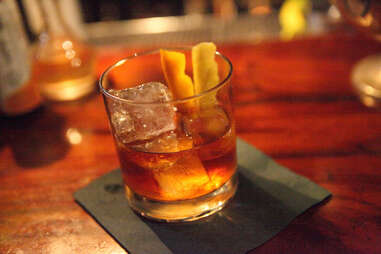 B Flat (click here for address and deets)
Tribeca
Another semi-speakeasy (actually from some of Angel's Share's original bartenders), this subterranean spot has live jazz and a dope ice program to go along with next-level whiskey options, and apparently, black cocktail napkins.
Angel's Share (click here for address and deets)
East Village
This hidden, speakeasy-style cocktail bar goes to infinity (and beyond!) when it comes to their brown spirits list.
The NoMad (click here for address and deets)
NoMad
You might not think of this guy as a go-to for whiskey, but this actually excellent hotel bar has a just-as-excellent list of whiskeys to back them up.
Fraunces Tavern (click here for address and deets)
Financial District
Part of the "American Whiskey Trail" (which is something you need to go on ASAP), this historic tavern has a bar-within-a-bar called Dingle Whiskey Bar, named for a town in County Kerry, Ireland, and boasts "some of the finest whiskeys and whiskies" around.
AND for your convenience, we've mapped out all the whiskey bars (including our first picks!), below:

View NYC Whiskey Bars in a larger map
Andrew Zimmer is Thrillist's NYC Editor, and appreciates that sometimes a Top 10 list just isn't enough, especially when it comes to whiskey bars, or reasons to drink whiskey, or um… favorite Miley Cyrus songs songs about whiskey. Follow him on Twitter and Instagram.