The Best Beers to Drink in New York This Spring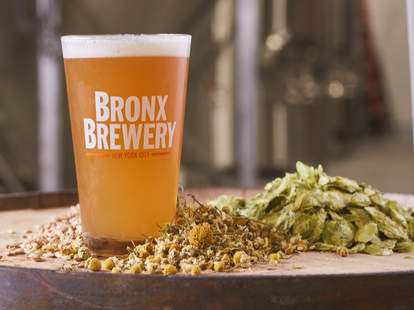 Courtesy of ericgilbertphoto
After one historic blizzard and a couple of dramatic thermometer dips, spring is finally here. Pat yourself on the back, New Yorkers! Even if you're celebrating the end of what can only be described as a mild winter, beer is still one of the best ways to cheers to warmer weather, and all the more so when it's brewed right here in New York State. We went through some of our favorite seasonal brews from across the Empire State to help ease you into T-shirt weather.
Editor's Note: We included beers that aren't specifically spring seasonals because we want to make sure you get all the best options.
Greenport Harbor Pith n' Peel
IPA, 5%
Greenport, NY
If you've picked up a beer in the past year, there's a pretty good chance you noticed the explosive trend of using citrus fruit in a lot of hop-forward brews. As we push back into warm weather, it seems like that trend is far from cooling off, even for New York brewers like Greenport Harbor, which has long been locally adored. Their spring beer uses citrus rinds and fruits in place of bittering hop, which means you're getting about as much fruit on the nose and palate as the name suggests, even with the beer appearing way less turbid (I love that word) than you might expect with the ingredients. The end results is a balance between hop bitterness and fruity brightness that just tastes so damn good.
Brooklyn Brewery Improved Old Fashioned
Rye beer, 12.8%
Brooklyn, NY
We're not suggesting there's a time of year when you shouldn't be drinking cocktails, but what if you were choosing between a beer and a mixed beverage one evening and couldn't decide? Then you'd be pretty happy with this special release, which tastes, as you might expect, just like an Old Fashioned mixed up by your favorite local bartender. Brewmaster (and local drinking establishment expert) Garrett Oliver carried over some bar ingredients like Demerara sugar, bitter orange peel, lemon peel, nutmeg, and cinnamon, added in some traditional beer ingredients including Belgian candi syrup, coriander, and cloves, and finished it all off by aging it in WhistlePig rye whiskey barrels. The finished product is a deliciously unique beer Don Draper would be proud of.
Courtesy of Bruno Daddi
Iconyc High Ryse 
Farmhouse ale, 7.5%
Queens, NY
Just when you thought Long Island City couldn't possibly host another brewery, along comes Iconyc with a funky, refreshing farmhouse ale. So beautiful! So bright! So tropical! It's a pick-me-up in the season made for pick-me-ups, a funky yet approachable beer made with Brett and saison yeast. It may be too early to tell, but this is a great start for one of NYC's newest producers.
Courtesy of Kate Haubrich
Third Rail Fogdog
IPA, 6.8%
NY, NY
The crew at Third Rail are no strangers to hoppy beers, and their most recent release isn't a seasonal beer per se -- but this IPA is loaded with beautiful tropical flavors like pineapple and tangerine, and has bright, lemony notes (partly thanks to the Wakatu hops in the recipe). It's a great balance for anyone looking to slide into spring with a hoppier beer that stops well short of crossing the line into bitter bomb territory.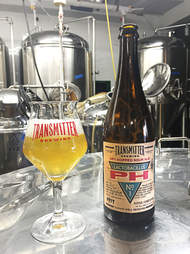 Courtesy of Transmitter Brewing Co.
Transmitter Brewing PH1 Dry Hopped Sour
American wild ale, 4.9%
Queens, NY
Those crazy yeast wranglers over in Long Island City have done it again. This time, they're venturing away from the Brett farmhouse ales, Belgian goldens, and wits that have made them famous, and moving into staunch sour beer territory. Brewed with lactobacillus, it's got a beautifully floral nose, with subtle minerality, pine, and bracing flavors of lemon and lime. Get a bottle and split it with your friends as you watch the Game of Thrones premiere.
Southern Tier Where the Helles Summer
Munich helles lager, 4.6%
Lakewood, NY
Even though we are just months away from the season that floods the market with light lagers, spring is a great time to jump the gun on things. As we've come to expect from Southern Tier, this take on the light German style (helles literally means "light" in German) is medium bodied and refreshing with a quick, subtle kick of hops at the end. It's a surefire crowd pleaser, so consider it for your first BBQ or March Madness parties.
Courtesy of Brewery Ommegang
Ommegang Glimmerglass
Farmhouse ale, 5.4%
Cooperstown, NY
You've probably noticed by now that the go-to style for spring beers usually tends to be saisons, and most would agree that this is seasonally appropriate. But so few of them hit the mark as well as this New York gem. Beautiful flavors of lemongrass and spices play through to a white peppery finish. Pair this with anything you're cooking that's got lots of herbs in it and you won't be disappointed.
 
Barrier Brewing Melt
APA, 6%
Oceanside, NY
It's been a long time since the brewers over at Barrier have played by the rules. So, of course, their seasonal offering for spring is a light-medium bodied, slightly hazy "spring ale" with tangerine and honeysuckle aromas. As you'd expect from a seasonally appropriate beer, the hop bite is more of a nip, but it's definitely enough to remind you that greener days are around the corner. The brewers say it the best themselves: "Spring is nature's way of saying, "let's party, [and] we couldn't agree more!"
Captain Lawrence Hudson Valley Harvest Sour Strawberry
American wild ale, 6.5%
Elmsford, NY
What more could you say about Captain Lawrence at this point? It's one of the OG pioneers of the New York beer game and is almost universally adored, and it still consistently pumps out hit beers with apparent ease. This release is part of the brewery's rotating sour series that uses fruit sourced from nearby farms, which should come as no surprise when you open it: it's got a nose like a strawberry field, with deliciously tart, fruity flavors, and a dry finish. It's a fantastic gateway beer for anyone who has been skeptical of sours, but still has more than enough complexity for longtime lovers of the style. If the strawberry bottles fly off the shelf before you can get your hands on some, fear not: the next release is made with apricots.
 
Other Half Topaz
IPA, 6%
Brooklyn, NY
After celebrating a solid second year of existence with a Burial Brewery collaboration and a commemorative Second Anniversary Double IPA, you'd assume the guys at Other Half would want to take a break. But you'd be wrong! Topaz is an all-Brett IPA, which, according to the brewers themselves, produces "dank tropical notes." This is a beer geek's IPA -- nice and earthy with a nose like a field in the midst of a spring thaw.
Courtesy of Robert M. Davidson / Sloop Brewing Co. 
Sloop Confliction
American wild ale, 5.5%
Elizaville, NY
It's been a big year for Sloop, which has gone from being an under-the-radar favorite to making waves across the state, especially with its black raspberry and peach sours. Confliction is its impressive, non-fruit based brew that's as tart as a shot of lemon juice with a lightly hoppy finish (thanks to dry hopping with galaxy and citra hops) and a surprisingly soft, velvety mouthfeel. It's like a slice of lemon tart at the end of a satisfying meal.
Courtesy of the Bronx Brewery
Bronx Brewery Spring Pale Ale with Tea
APA, 5.7%
Bronx, NY
The first time I tried this beer was when I opened a sample and split it between myself and five of my staff members. As a group that tries new beers for a living, it was amazing to see everyone's face light up with delight in unison as we took our first sips. What an uplifting beer! It's made with a blend of chamomile and black tea, culminating with flavors of lemongrass and pine. It's earthy yet bright, comforting yet light -- just as you'd expect spring to be. I've said before that it's the kind of beer that's appropriate for eating-a-meal-on-a-sidewalk-patio-while-still-wearing-a-sweatshirt weather, and I'll stick by that description.
Courtesy of Finback Brewiery
Finback I Feel the Universe
Gose, 5%
Queens, NY
How do you know a passion fruit gose is going to be good? When it's by Queen's wunderkind of the NYC craft beer scene, which has proven itself to be a master of a wide range of styles in just two years of existence. As you should expect from a gose, this one balances out the sourness with a subtle dose of salt, rounding out the fruity flavors and making it super easy-drinking and thirst quenching. It's light bodied enough to be perfect for drinking with brunch, no matter what you're eating.
Sign up here for our daily NYC email and be the first to get all the food/drink/fun New York has to offer.
Zach Mack is Thrillist's contributing beer writer, the owner of Alphabet City Beer Co. in NYC, a newly minted cicerone, and nothing else. Follow him @zmack.