First dates are about as comfortable as a kick in the face with a golf shoe (Son in Law shout out!). The good news is they tend to get a tad more relaxing with booze, and since this is New York, there is no shortage of booze-filled establishments.
But that doesn't mean that all bars make for the perfect first-date bar. A recipe for a perfect first-date bar requires a specific combination of ingredients: it should be unpretentious, but still have some cool-factor; it shouldn't be so loud that you can't have a conversation, but also not so quiet that the bartender can judge your inevitably awkward first-date talk; and finally, it should be somewhat romantic, but not to the point where your date will think you're ready to propose. Well, fret not, because these 14 NYC bars more than fit the bill for the perfect first date.
Alphabet City
This no-frills cocktail parlor on Avenue C manages to be at once casual and date-y, with exposed brick, dim lighting, ample room to stand or sit, and libations divided up into four categories: Juleps, Collins, Cocktails, and Spirited Phosphates (basically spiked sodas). Grab a stool at the bar, or if you're looking for something a little more private, slide into one of the secluded booths. Plus, it's named after the concept of a woman with "many layers," so you automatically have a Shrek joke to use on this date.
Williamsburg
If the charm from the U-shape marble bar and dark wood tables at this New Orleans-themed cocktail den don't add a little fire to your date, the absinthe (there's an actual fountain of it), oysters, and a beautiful outdoor garden that's straight out of the South should do the trick.
Williamsburg
When you crave the comfort of your living room, but don't want to invite a stranger from Ok Cupid to your apartment, this dark and cozy lounge with antique carpets, sofas, and one of those fancy eggs like in Risky Business does the trick. Enjoy your slightly awkward getting-to-know-you conversation over signature infused liquors like rosemary-and-ginger-infused bourbon, and in the warmer months, make sure to hit the rooftop, outfitted with lanterns and string lights, and another full bar.
Alphabet City
This part-beer bar, part-beer shop is quiet enough so you can talk, and maintains a perfectly unpretentious vibe despite the fact it pours very high-maintenance (read: delicious) beers. There's also some very cushy couches and Guess Who! And do you really want to date someone who isn't up for a game of Guess Who?


Chinatown
If you want to meet at a beach bar, but don't have the funds to whisk your guy or gal away for a spontaneous first date in Kauai (how dare you), ​Forgtmenot is your solution. It's got the laid-back surfer vibe, rum drinks like the Dark 'n Sandy, and plenty of random trinkets to gaze at should you need to break eye contact (or require a conversation piece).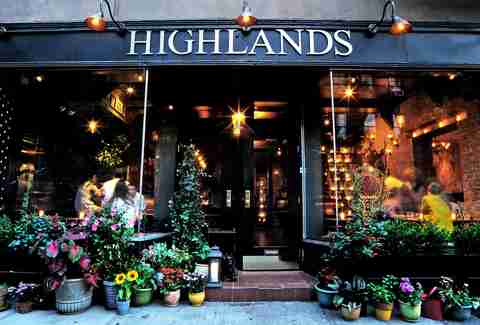 Greenwich Village
Outfitted with exposed brick, taxidermy, leather banquettes, and lots of candles, this Scottish restaurant/pub has all the trappings of a cozy country hunting lodge, save for the fact that it's in the West Village. In addition to a pretty substantial food menu (should you and your Tinder date decide you want to make your night into more of a dinner) there's a literal book of cocktails featuring classics and signatures like the Catholic Guilt with whisky, ginger, bitters, and Fernet-Branca. Word to the wise: get here around happy hour if you're looking for a quiet date -- any later and you'll be on a date with 40 people.
Greenwich Village
If Highlands is crowded and you're looking for somewhere a little quieter to regale your date with stories of your semester abroad in Florence, there's an equally suitable option right across the street. Bell, Book & Candle is super intimate, with lots of dark wood, exposed brick (are you sensing a theme here?), excellent drinks and bites, and a secluded back corner should those drinks really kick in. Kidding! (Not really.)
Prospect Heights
Old-fashioned romance may be dead, but old-fashioned cocktails are alive and well in this hidden Prospect Heights tavern. Opt for the Bartender's Choice (they know what they're doing), and if you're hungry, grab some bites off the dinner menu like the excellent poutine. If the date is really going well, scoot from the bar over to one of the corner booths or head to the outdoor patio strung with twinkle bulbs.


West Village
Icebreakers are essential on a first date, and this underground basement bar has all the icebreakers you could ever need, with countless games -- from pool to ping pong tables to shuffleboard and just about every board game imaginable -- all soundtracked by live jazz. It can make even the most excruciatingly terrible date tolerable.
Alphabet City
The gals behind ABC Beer Co. and ABC Wine Co. opened a totally unpretentious wine bar next door that divvies out 16 different wines straight from the spigot in an intimate setting with a cool laboratory feel to it. It's the perfect place to choose if you know your date likes wine but you don't know a sauvignon blanc from a cabernet sauvignon. Test some of the different unique vino varieties and then pair your glasses with small plates like duck confit arepas.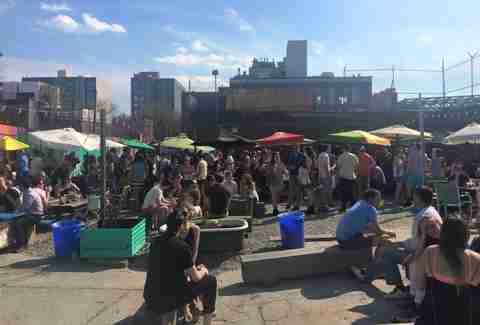 Williamsburg
Should you want to keep your date in the daytime hours to alleviate the whole "well it's late, I may as well just sleep over" thing -- or, more likely, you just really like drinking outside -- this backyard bar is the move. Park it at one of the patio tables in the warmer months, and get to know each other over pitchers, BBQ, and people-watching.
Midtown West
This cozy speakeasy inside the Iroquois hotel is a true hidden gem. First of all, it's basically Clue; it looks like Colonel Mustard is going to come out any second and clock you with a lead pipe -- and is so intimate, it almost feels like you're the only people in the entire bar, even when you're very clearly not. Plus, it's got an insane cocktail list featuring a number of shaken or stirred options (though the move is the Bartender's Choice; you'll never be let down).
Lower East Side
A no fuss, no muss, sexy dark wine bar with plenty of seating, The Ten Bells is perfect for a happy hour date, when you can get $1 oysters with your $15 carafes. There's also a menu of over 20 types of great tapas, should you need more sustenance while working your way through the list of mostly natural wines.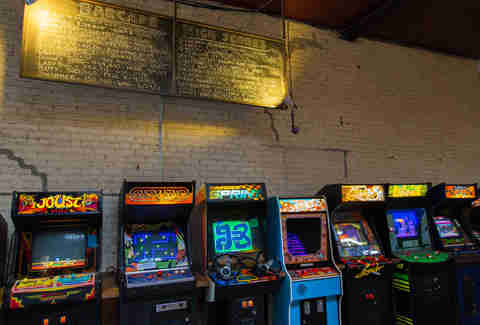 Williamsburg
As we already said, activities are perfect first date material, and these actives come in the form of arcade games (which is pretty hard to beat). Barcade's got the entire vintage lineup from Miss Pac Man to Donkey Kong, all of which can be played with a craft beer in hand -- if you're skilled enough, that is.

Sign up here for our daily NYC email and be the first to get all the food/drink/fun New York has to offer.

Liz Newman is a freelance writer for Thrillist, and yes, has been on a date at every single one of these bars. The ones with friends were probably the most romantic. Follow her on Instagram and Twitter @lizn813.