Historically, cocktails and beer have gotten more attention in the NYC bar scene than wine. Sure, NYC launched the modern cocktail movement, and we're at the heart of the East Coast's craft beer territory, but it's time we recognize that many of our wine bars are as impressive, if not more so, than our cocktail and beer bars (not to mention that Long Island wine country is arguably as legit as Napa).
NYC's best vino havens have mastered the notion of great wine without the pretension that gives the genre a bad name, and with new spots -- like a light and airy all-tap Alphabet City haunt -- joining the dark and storied bars that've been begging people to ditch their apartments for a comfortable glass of Malbec since before Malbec was cool, there's never been a better time in New York to learn to navigate a wine list.
Cobble Hill
For all those nights when you just want to be cozy and curl up with a glass of wine, but you've already burned through enough Netflix for a lifetime, and you're honestly starting to get pretty antisocial, June is the place for you. Made to look like a rustic train car, this intimate Cobble Hill spot has a homey feel to it, with comfortable booths, lots of warm wood, and mostly natural wines ranging from Western Europe regions, Cali, and even a few from the 212 -- all without the massive restaurant mark-up.
East Village
It's easy to become a regular at the Immigrant, largely because of its incredibly friendly staff (sit at the bar and bask in their knowledge) and because it has all the trappings of the perfect date bar: dim lighting, exposed brick, candles, and minimal noise. It's small for sure, but it never feels cramped, and there's room for groups in the back. The menu features wines from all over the world, from the Finger Lakes to Rhone valley, and prices are quite affordable (especially at happy hour when glasses are $8). Also, be sure to try whatever wine is currently on tap, as its always something interesting.
Alphabet City
There's nothing worse than going to a wine bar and feeling like a total idiot because you have no idea what you're ordering and you can tell the bartender is judging you. Lois is the answer to the intimidated wine drinker's dream. It's the first bar in New York to offer all wine on tap, in 16 vastly different varieties (because of the kegging, Lois sources from lesser-known, unique places); the wines are affordable (and you don't even have to tip!), and they come in three different sizes (including a carafe!), depending on how much you're in the mood to drink. And if you're not sure what you want, the staff is happy to recommend or let you try any of the wines.
Chelsea
If you can't be in Italy, this is your next best option. Bar Veloce's original outpost has an enormous menu of primarily Italian wines (from the likes of Umbria, Sicily, and Piedmont) that go perfectly with its paninis and Venetian finger sandwiches. Also like Italy, most of the wines stay at a very reasonable $10/glass or less.
Williamsburg
If you won the Powerball and could therefore outfit a custom wine bar in your house, this is exactly what you'd want it to look like. The Four Horsemen's modern aesthetic is offset with homey touches like vintage sound machines, cedar wood ceilings, and bookshelves (with actual books!) all of which is to be expected, as it's the brainchild of LCD Soundsystem's James Murphy. The wine list here focuses on natural wines (all of which are actually affordable!) from Western Europe and the US, and the staff here has no problem making the decision on which one you should order. And you should trust them.
West Village
A lively bar with a quaint tavern atmosphere and dim lighting, Aria's the perfect place for wine and bites with a larger group of friends -- namely because of its long, rustic wood tables (for holding all the wine and shared plates of Italian food that you'll inevitably order). The selective wine list is shorter than at other bars (though by no means small) and features affordable vinos primarily from France and Italy, which pair well with dishes like prosciutto-wrapped mozzarella and suckling pig crostini.
Union Square
If the giant, front-and-center wine glass wall doesn't convince you this place takes wine seriously -- or just the simple the fact it's called "Corkbuzz" -- perhaps the 50+ wines by the glass from all over the world, including South Africa, Napa, and Lebanon, and the series of wine education classes that are offered (from Wine 101, to An In-Depth Guide to the Rhône Valley) will do the trick.
Nolita
With its small and cozy interiors and light music on the speakers, this Nolita bar has an indisputably romantic feel to it -- but don't let that stop you from rolling solo, as the intimate space is ideal for chatting up a neighbor or asking your bartender for a rec from the extensive rotating wine list featuring wines from all over the world (also be sure to note the huge map that shows where the wine is sourced from).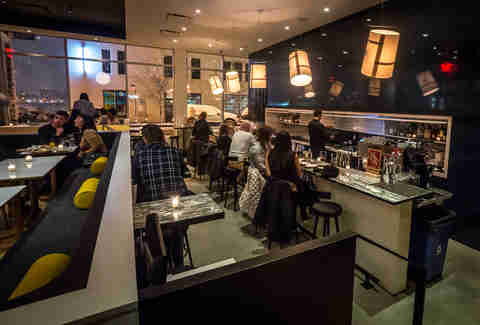 Williamsburg
One of the best new bars of 2015, this sleek Kent Ave spot is perfect for when you're not sure what exactly you want to drink (or eat). There's an impressive selection of 100+ bottles from all over the globe to choose from, plus a number of great by-the-glass options, in addition to bites like grilled jerk wings, oysters, and a solid cheese and charcuterie selection.
Midtown East
This Midtown East newcomer is perfect for a date or a business lunch, sporting a wine list featuring selections from as near and far as Long Island and Croatia, an equally great beer selection, and unfussy yet thoughtful New American dishes like soft poached egg with farro and beet dumplings with caramelized cabbage puree.
Upper West Side
Sinatra tunes, vintage chandeliers, classic movies streaming at the bar, all surrounded by the trappings of Upper West Side charm? This is probably what people who only watch movies about New York think all its bars are like. As far as vino goes, Vanguard divides up its extensive list of domestic and international wines with helpful titles like "Earthy, Spicy Reds" and "Unoaked And Lightly Oaked Whites," so you know just want to order based on what you're looking for.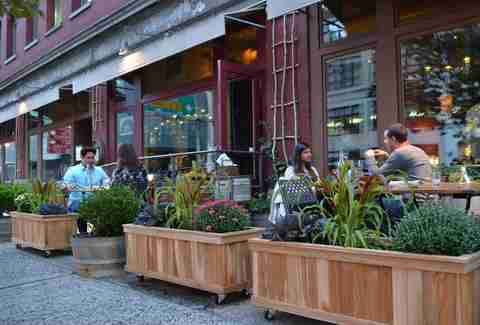 SoHo
This is about as close to an actual vineyard an urban wasteland like New York can possess, and it actually is one of Manhattan's sole full-service wineries. The place is huge, and not just by New York standards (21,000sqft!) and houses both a stage for frequent live music and a giant basement where, yep, they squish their own grapes for their bottles of vino.
NoMad
A Murray Hill-adjacent bar that doesn't smell like stale beer and isn't flooded with D-bags, folks! The space may be small, but the wine list is not -- packing in a ton of labels by the bottle and glass (primarily from California, France, and Italy), from the affordable to the baller variety. No matter which one you land on, a word of advice: pair it with the spicy sausage lollipops.
Sign up here for our daily NYC email and be the first to get all the food/drink/fun New York has to offer.
Liz Newman is a freelance writer for Thrillist, and despite completing a wine class while studying abroad in Italy, still relies heavily on others when selecting which ones to drink.