Cheap Beer, Snapchats, and Stickers: Does the Hampton Bays' Boardy Barn Still Live Up to the Hype?
When I told my roommate I was heading out to the Hampton Bays for the day, her eyes bulged. "You're going to The Hamptons?!" It was clear she was trying hard to mask her jealousy with surprise.
But I wasn't going to The Hamptons. I was going to The Boardy Barn -- a giant beer-soaked tent in the far more blue-collar Hampton Bays, where crowds of half-naked people go to drink too much, dance with strangers, and cover each other's bodies in yellow smiley face stickers. It couldn't be further from pool floats shaped like swans and late-night parties at the Surf Lodge.
While this anti-Hamptons phenomenon has been pretty well covered, most New Yorkers still aren't aware of it. The majority of the city's South and East Hampton-dwellers on my two-plus-hour ride from Penn Station stared at me blankly when I mentioned it. That is, until one person who overheard me yelled from the back of the cart, "You can't go to Boardy Barn sober!", foreshadowing my next few hours at what's been referred to as "the happiest place on earth."
While the Sperry-clad crowds stayed on to head further East, about 50 or so of us hopped off at Hampton Bays. One of those people, a 35-year-old named Melody from Patchogue, NY, ended up sitting next to me in the $5-a-person taxi from the station to "the Barn," which is located on the side of Montauk Highway. Clad in a "Make America Great Again" costume consisting of a red, white, blue & glitter skirt and crop top, matching makeup, and oversized sunglasses, Melody told me she considers herself somewhat of a Boardy veteran; she's been coming to the Barn practically since she could drink. She even dated someone she met there back in the day.
"It's all part of the experience!" she reassured me as we hopped out of the muggy cab and prepared to get in the typically two-hour-long line to get into the tent. It was a phrase I'd hear countless more times throughout the day, as though everyone was trying to convince themselves it was true.
The line to enter Boardy Barn

| Boardy Barn
When we exited the taxi onto the gravel-covered parking lot the air was already filled with the sound of squealing girls home from college and the thick smell of Axe spray. Pink portable bathrooms, a wooden fence, and dried grass patches framed the deeply-hidden entrance to the infamous Boardy Barn tent.
In the spirit of doing things the Barn way -- and despite it not being my typical scene (I wear a mostly black uniform throughout the year and usually stick to low-key cocktail bars) -- we stopped at the deli next door for a tall Lime-A-Rita and pre-gamed in the parking lot until it was time to get our IDs checked and pay the $20 cover charge. The line quickly snaked around the tent, and nearly everyone on it was already several beers deep. The Boardy Barn's official weekly operating hours are Sundays from "approximately 2pm to 7:30pm," but it was abundantly clear that no one here intended to pace themselves.
Gabriela Barkho/Thrillist
The Boardy Barn has maintained the same look since opening its doors in 1970 -- an enormous red & white striped tent, complete with outdoor/indoor drinking areas and 46 flowing beer taps. The vibe is more reminiscent of an outdoor dive bar than the Hamptons clubs you've seen on TV. Still, there's no beer garden or dive bar that can begin to compare to the Barn.

To say it was packed is an understatement. On a typical Sunday, the Boardy Barn hosts more than 2,000 attendees. The crowd that particular Sunday was made up of mostly 20-somethings and a few dozen partiers well into their 30s and 40s. Each one could be found with a $2 beer in hand, some dancing to throwbacks while singing at the top of their lungs, others making out with people they just met on the dance floor, all of them covered in stickers (more on that later). And, of course, it was all being heavily documented on Snapchat. If that sounds like your average crowded dive bar (multiplied in size and attendance by about 50), consider this: the Boardy Barn once sold more beer per afternoon than Yankee Stadium.  
Forty-six years of collected memorabilia, including sepia-toned photos of past patrons and staffers, announces the transformation (or lack thereof) that the Boardy Barn has gone through in the past four-plus decades. Lit by neon beer-branded signs and crowded with sweaty bodies in tank tops, the outdoor space warps into a beer-drowned twilight zone. According to the history on the Boardy Barn website, one of the major changes over the years has been the infamous dance floor, which at one point was made of concrete, but through 40+ years of wear and tear has since turned into a sunken landmass.
"The place is a phenomenon," a source with Clare Rose, the distributor that provides the Boardy Barn with beer, once told The New York Post. "I don't think there is anything like it in the country."
Indeed, it was unlike any place I'd ever seen -- bar or otherwise.
That includes the stickers. Yellow smiley face stickers are what the Barn is associated with the most -- you'll find them stuck onto every surface of every attendee's body. The stickers aren't just decorative, though. They actually (kind of) serve a purpose. While one attendee told me the hippie tokens of love are to be used for "spreading happiness, love, and cheer," BroBible has of course pointed out the more mischievous side of their use. According to the site, "The smiley stickers should be used as a strategic pick-up trick," as in: place them on your Boardy crush's body to get them to notice you. While I'd personally "spill" a beer on anyone violating my space with this practice, nearly everyone at the Barn is on board with it. The amount of stickers you collect over the course of the day becomes something of a point of pride.
***
After the first hour or so of quickly gulping down some beers with strangers whose name I didn't have to ask, it became strangely easy to forget that this was in no way my scene, and completely let myself go (and hope that my friends wouldn't judge my six-beers-deep selfies). In what felt like no time at all I too was belting along to Bon Jovi while spilling cheap lager on my Nikes and running to the dirty (beggars can't be choosers) bathroom every 20 minutes. I wasn't entirely sure if I was trying to force myself to have fun or if I really truly was enjoying being there.
Either way, I started to wonder why such an iconic place like Boardy Barn isn't open year-round, or at least more often than just the "Summer Sundays" rotation schedule it's maintained lately. When I asked Melody why, she said Boardy Barn is typically seen as a "weekend cap" where Long Islanders top off wild summer nights out before heading home. Another regular I spoke to, a 29-year-old from Queens named Tom, told me he was there with a bunch of his friends "capping off the fishing trip over at Montauk." It was a little hard to wrap my mind around the fact that a more-than-six-hour drinkathon could be considered an "end of the weekend" activity -- even Tom was straightforward in calling the scene "a true shit show" -- but that's also part of the Boardy Barn spirit: why wouldn't you spend a Sunday in the summer drinking too much beer for hours in the sun? What else are you going to do?
I expected the Barn to be full of regulars -- people who have been coming for years, knew the bartenders, and had scrapbooks of collected stickers at home. But other than Melody and Tom, most of the people I met were there for the first time.
A 22-year-old named Jovanie, who's "typically all about house music, anything electro," told me his first Boardy Barn experience was a nice change from the usual club scenes he hits up. "My first thought of Boardy was the All-American kinda vibe," he said. "Beers, blondes, and pretty-boys, you know?"
As for the infamous intoxicated rowdiness, Jovanie's first time at the Barn was a mixed bag of energy, he told me afterwards: "Either people were really chill and friendly, or [inebriated] and rude," he explained. "I can't say I didn't have a good time though! I think the best part was… Oh, 13 beers in? Singing 'Bye bye, miss American pieeeee!'"
This type of energy is exactly what Boardy Barn's nostalgic longevity thrives on. Despite a kitschy reputation and inevitable vomiting throughout the afternoon, the throwback music and those infectious yellow smiley stickers make the vibe pretty irresistible to give into. The cheap beer doesn't hurt, either.
Of course, the Barn isn't all Simple Plan and stickers and "chill vibes." The "dance floor" gets overheated, and lines to the bathrooms and the bar are endlessly long (it's recommended you order multiple beers to avoid constantly returning). As you can imagine, at a place where rules are virtually nonexistent, beer spillage is always expected (sometimes purposely!), but as I kept being reminded, "it's all part of the experience!"
There is one actual rule at the Boardy Barn, though. Whatever you do, don't get sick in front of the "just doing my job" staff, clad in orange shirts. They will not hesitate to promptly escort you out. (A handy trick to note: one Boardy tradition advises you save and stack all your beer cups as you drink, so you can count them the next day. Responsible!). There's also a liquor bar for those who prefer cocktails, but I was warned early on to avoid the questionable mixers the bar uses in mixed drinks.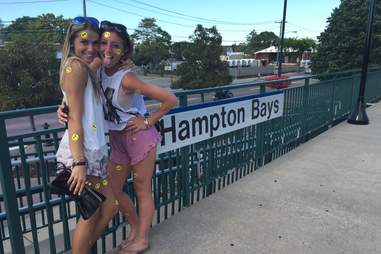 Gabriela Barkho/Thrillist
While the Boardy Barn seemed to live up to its hype (inasmuch as it was 100%, definitely a "shit show"), there were plenty of people who weren't having it.
As a 22-year-old named Katherine from Port Washington, NY, told me while getting ready to leave, "There are no hotties at Boardy Barn, we're heading to Fire Island. We were so excited to go but it was way too trashy -- Nassau girls don't mix with that."
Katherine's best friend Jess agreed that Boardy Barn didn't live up to the hype, saying that "It was decent, but not as fun as everyone claimed it to be."
As I watched the sun-kissed girls board the LIRR to head to the "much classier" Fire Island -- completely covered in yellow stickers -- I thought about what keeps hoards of people coming back here. Boardy Barn exudes a different type of Long Island, free of helipads and all-white parties and more in tune with the rest of this blue-collar Manhattan suburb. Cheap beer and good vibes -- given the mostly local patrons in attendance -- is what this unpretentious institution is all about.
Still, even for those who enjoyed it, like Jovanie, the Barn wasn't exactly something they were ready to make into a habit.
"I almost made it 'til the very end, but wound up throwing up 30 minutes to close and doing a little walk of shame out the door," he told me a few days later. "Despite that, I had a great time! Would I do it again? Probably not… my liver would disown me."
Sign up here for our daily NYC email and be the first to get all the food/drink/fun New York has to offer.
Gabriela Barkho is a writer based in New York who covers lifestyle, technology, and teens. She spends all her free time looking for fresh baguettes. Follow her @gabrielabarkho.