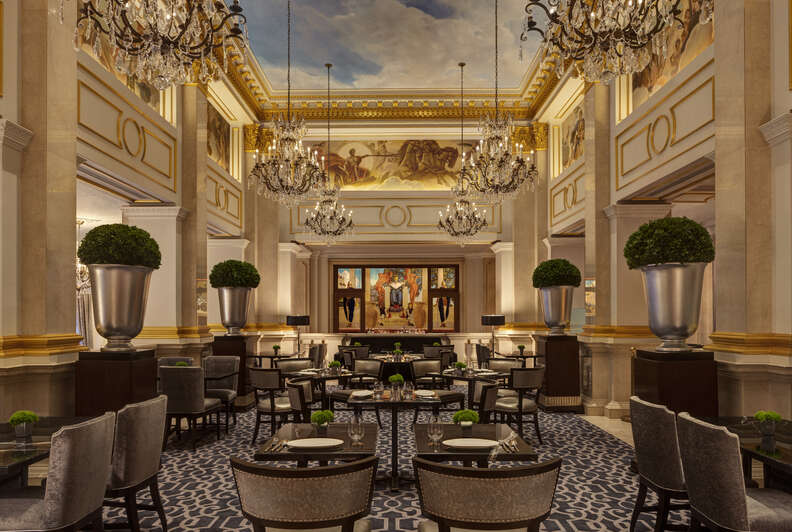 In New York, you have no shortage of bars to get your drink on at. You may gravitate towards the underground scene, check out a themed bar, or just live vicariously through your college days. But hotel bars are something else entirely. They're carefully designed, intimate, and sophisticated spaces, built to accommodate and unite travelers and locals alike around a universal enjoyment: damn good drinks.
What makes hotel bars so special, particularly in New York, is that you're granted the feeling of exclusivity without having to necessarily belong. You're embraced by the courtesies of the hospitality industry and are treated like a guest in your own home city. For all the anonymity that New York lends to its inhabitants, it's nice to go to a place where that quality feels mysterious and alluring instead of vaguely sad and burdening.
From the trendy see-and-be-seen spaces to the elegant icons, all of these bars are worth having a drink in, if only to experience a sort of revived New York -- a place where being a stranger never felt so exciting. Your dives will still be there next weekend.
Upper East Side
Bemelmans Bar is like a time capsule of moneyed New York luxury. The bar is named after Ludwig Bemelmans, the famous children's author most noted for his Madeline books. The walls are covered in his whimsy, from an ice skating elephant to smoking rabbits, which Bemelmans painted as payment for his time spent living in the hotel.
Grab a table on the floor or, if you can, a spot in one of the rich chocolate-brown banquets around the perimeter of the room and listen to live jazz and piano in the evenings. There's a cover charge past 9pm on Sunday and Monday and 9:30pm Tuesday-Saturday, so be sure to get there early for a first-come-first-served spot. The menu is all class, from fine wines to cocktails like the pisco sour and top-notch martinis. As you take your final sip, tilt your head back to catch a glimpse of the 24-karat gold leaf-covered ceiling. And then maybe order another.
Greenwich Village
Tucked into 8th St between 5th and 6th Avenues sits an unassuming hotel called The Marlton, which feels at once Old World and modern. It's been home to the likes of Jack Kerouac and Julie Andrews, and some of the current residents have been living there for years. Over a century old, it was recently redesigned by Sean Macpherson, the restaurateur and hotelier behind The Jane and The Bowery.
Head past the lobby's espresso bar and elegant sitting room to the slender bar area with leather booths and matching stools. The lighting is warm and the whole place feels very Parisian; it's simultaneously under the radar and sophisticated. All the classics are featured on the menu, from old fashioneds to martinis, in addition to a creative cocktail selection.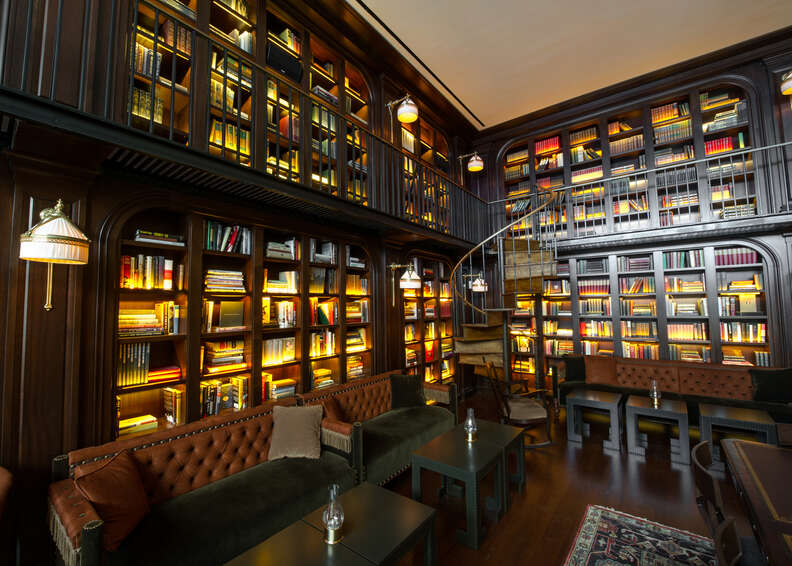 Flatiron
Enter this fully curated two-level library for a truly enchanting drinking experience. Surrounded by The Nomad Bar, The Elephant Bar, and a bustling dining room, The Library is a complete oasis within the hotel, tucked away behind a curtained entrance.
The shelved books are all available to read, and the cocktails are expertly crafted by renowned head bartender Leo Robitschek. The Foxtrot, featuring bourbon, rye, passion fruit, and coffee-infused angostura bitters, is paraded to the table in a massive ceramic Tiki glass. More subtle options are available as well, and you'll find yourself wanting to try every concoction on the menu.
Reserved only for hotel guests past 4pm, the space is never crowded, and the servers are very attentive. But don't be discouraged by this bar's exclusivity -- it's packed with non-guests in the daytime, and if you happen in on a quiet night and ask nicely, the hostess will try and fit you in.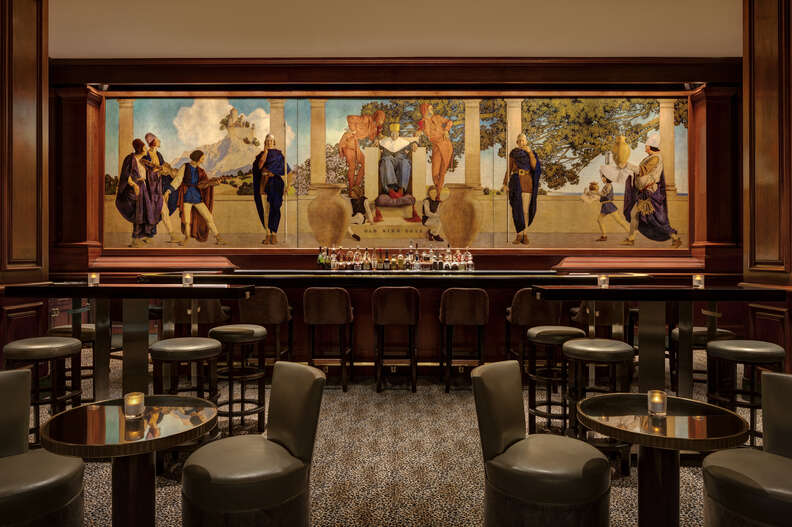 Midtown East
This iconic bar in one of the city's most renowned hotels is aesthetically celebrated for its magnificent 30ft-long mural by Maxfield Parrish. It was painted in 1906 for another hotel but was moved to the St. Regis in 1932, and you can enjoy its sweeping splendor from a seat at the bar or one of the small wooden tables.
You may be tempted to order one of the many variations of Red Snapper -- or Bloody Mary as it's now known -- for it is widely held that the drink got its start here. But just because they made it first doesn't necessarily mean they make it best, and upon asking a man with 15 years experience behind the King Cole bar, I ended up ordering a great wine I've never tried that I loved. Even so, it's still one of those things you just have to try -- and don't let the $25-per-drink price tag deter you; a night in the Presidential Suite would run you $35,000, so when you think about it, your St. Regis experience is really a steal.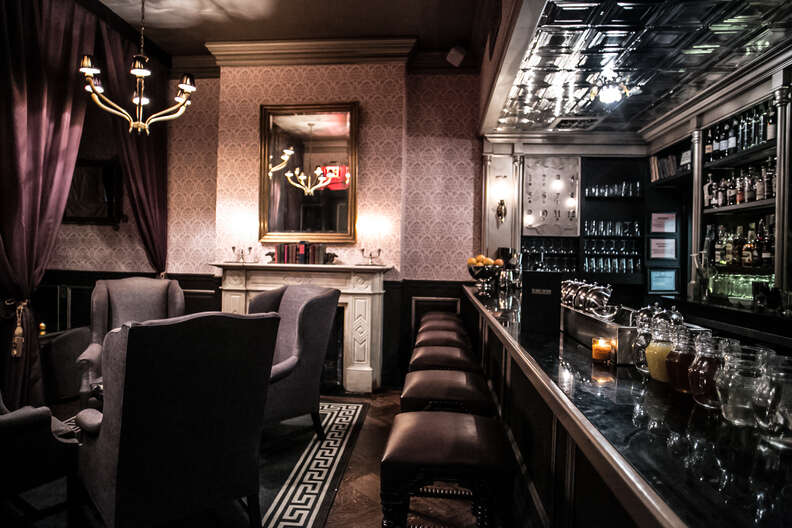 Midtown East
While this bar is not technically affiliated with the hotel it shares a space with, it certainly feels like it. The speakeasy-style bar, named after an old law intended to limit the consumption of alcohol, is split into two rooms that are separated by the hotel lobby. The William is an extended-stay hotel, so you won't see an endless rotation of guests but rather a group more familiar with the bar and New York itself.
Enter The Raines Law Room through The Shakespeare pub downstairs. Although the labyrinth-esque path to the bar feels hyper-exclusive, anyone can make a reservation and drink in the intimate and opulent space. Each of the bar's rooms are elaborately and beautifully furnished; roomy, comfortable chairs and small tables fill the living room-like area, and curtained alcoves seat guests in the room where the actual bar is stationed. To order, press a call button at your seat and a server will come right over. The menu delivers top-quality cocktails and even offers a build-your-own old fashioned section.
Gramercy
Inside this seductive, candlelit lounge you'll find an impressive collection of constantly rotating artwork (featuring the likes of Andy Warhol, Damien Hirst, and Jean-Michel Basquiat). In fact, everything in the bar is intentionally designed, from the Douglas fir columns from an old church in Massachusetts to the Maarten Baas billiards table.
You can tuck yourself away in an intimate corner, but you won't want to. The space is lively and you never know who you'll meet while you sip on a top-quality cocktail like the Bohemian Side Car with Hennessy, triple sec, lime, and absinthe. Although you typically have to know someone to get in the door past 9pm, don't hesitate to call ahead and say it's your first time visiting The Rose Bar. Chances are they'll make a space for you on their list.
Lower East Side
Enter through the hotel lobby and immediately feel like a guest as you settle into a cozy chair in the stylish, sitting-room-like lounge at The Ludlow. The space has an outdoor garden that's airy and subtly lit, with hanging plants and elegant patio furniture. It gets livelier post-dinner, but never takes on the atmosphere of a club scene. Go to enjoy an inventive cocktail (like the Belmondo with blanco tequila, pear, ginger, gentian, and lemon) and, if you arrive during the later hours, for the nightly '80s music.
West Village
This fever dream of a bar, located at the southern end of the Meatpacking District, is notoriously hard to get into and can get so crowded with socialites it may be hard to find a tasseled velvet chair or zebra-striped bench to rest your feet. Still, this extravagant space cannot escape this list. The Jane completely transports you from the outside world with its Edwardian chandeliers, taxidermied animals, and oversized disco ball.
If you want to avoid the crowds and craziness, show up early on a weekday and head towards the front bar instead of into the ballroom. You'll have a cozy, dark-wooden space to sit and drink.
East Village
This swanky, modern spot has an Art Deco vibe and is decked out with Persian rugs, dark wooden panels, mounted antlers, and velvet settees on which you can sip strong, tasty cocktails like a Russian mule while looking out for celebs. It's like being in a lavish and over-decorated living room at someone's country estate, which is a welcome escape from your average standing-room-only watering hole.
The back patio, adorned with many a mosaic tile, stays warm in the winter and is the perfect spot to sip mulled wine and not-so-secretly spy on Joe Jonas. The bar gives hotel guests priority, but show up anyway and early if you can. If you're dressed well, you shouldn't have a problem.
Sign up here for our daily NYC email and be the first to get all the food/drink/fun New York has to offer.
Sarah Anderson is a Senior Production Assistant at Thrillist and, despite living here for over four years, still pretends to be a guest sometimes. Check in with her @smileforsarah on Instagram and @sarah_jfa on Twitter.