Extremely spacious hat storage and a great mint julep are the foundation for any Kentucky Derby party. You can't control the height of your studio apartment ceilings, but you can kick your cocktail game up a level. To help with that, we hit up Williamsburg bartender James Palumbo for a julep recipe fit for… a king?
"This julep is a take on the sandwich that Elvis Presley used to make for himself every day," says James. "The main ingredients were sliced bananas, bacon, and peanut butter. He sometimes added chocolate. What can I say? The King wasn't the healthiest of eaters in his later years. So here's how to accomplish this flavor in a boozy cocktail form."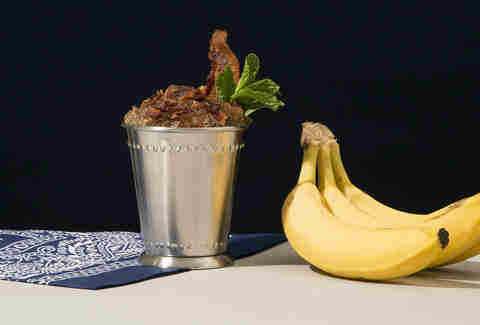 The Graceland Julep
Ingredients:
1.1 ounce Bulleit bourbon
.23 ounce Giffard banana liqueur
.5 ounce peanut orgeat
.25 ounce Fernet Brancamenta
Directions:
Whip shake over crushed ice, and strain into a julep glass.
Top with more crushed ice ("some people call it pebble ice, I grew up calling it 'country club' ice because that's the only place you'd find it.")
Either way, garnish with a fresh mint sprig, a drizzle of chocolate syrup, and bacon crumbles.
Boom.