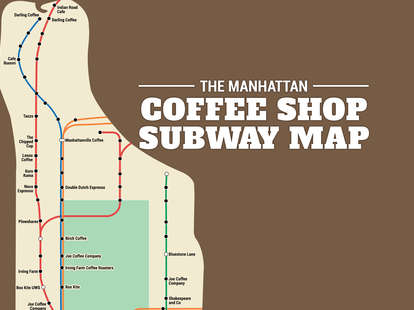 Jennifer Bui/Thrillist
Jennifer Bui/Thrillist
Once upon a time, bleary-eyed New Yorkers had to resort to Chock full o'Nuts and deli-brew to make it through the day, but in today's New York, it's nearly impossible to walk down the street without tripping over chalkboard signs touting fancy pour-overs and single-origin espresso. Though, just because it's possible to grab a cup no matter where you are, doesn't mean every place is going to be good. So to aid you in finding the best specialty cafes within a few minutes' walk of your subway stop, we present the NYC Coffee Subway Map.
Click here to see the full map, and scroll down to to see it line-by-line.
Editor's Note: We didn't include stops that didn't have a great coffee place within five minutes walking distance.