The Urban Wineries Making New York City a Wine Destination
For most winemakers, having Northern California's renowned vineyards as a playground is a dream job. So when Conor McCormack left the region eight years ago to take his viticulture talents to Brooklyn (to a crumbling, former nightclub converted into a winery), it was for the chance to have creative freedom. And as head winemaker at Brooklyn Winery, he's made the urban space feel just as influential as the pastoral tasting rooms of Napa and Sonoma Valleys.
"We're not growing grapes on site because there's nowhere to do that, but we're sourcing them from world-class vineyards from around the United States," shouts McCormack at their production facility as a bottling machine rapid-fire corks a 2016 batch of malbec. Featuring fruit from McCormack's old stomping grounds in California's Suisun Valley, it was made right here in Williamsburg. "I can have a foot in Sonoma Valley and make pinot noir, and then have the other out in the North Fork making Long Island reds, and then do Finger Lakes whites," he adds. "So I can put together a portfolio of wine that really showcases different growing regions and what they do best."
Meanwhile, in Brooklyn's Navy Yard, there's another piece of the city's wine revolution ripening on a nearly 15,000-square-foot rooftop. Climb up the stairs of building No. 275 to the unassuming industrial locale of Rooftop Reds, where 168 red Bordeaux grape vines grow against the backdrop of the Brooklyn and Manhattan skylines. Welcome to New York City's only vineyard -- and the world's first commercially viable rooftop vineyard, to boot.
While Northern California and New York's Finger Lakes have long been considered wine destinations, now, tasting the fruit of those vineyards requires only a short subway ride. With 10 official wine producers in New York City, there's an urban tasting room for every kind of enthusiast. That might mean sampling a California petit verdot (or 10 others on tap) in the intimate setting of SoHo's City Winery. Or you can share lamb sliders and pan-seared salmon cakes during Wednesday's half-priced bottle night at Brooklyn Winery. (Four curated flight options, under $20, are also tempting.) A 20-minute drive from Park Slope is the waterside Red Hook Winery, where for $18, you can taste four wines made with grapes sourced from Long Island's North Fork and the Finger Lakes. Try a few of the 22 wine-by-the-glass options at Rooftop Reds -- or even partake in a sunset yoga class led right next to the vines (which includes a post-namaste glass of vino, of course).
This wave of local wineries, all of which have opened in the last decade, is overhauling the traditional viticulture experience to make it accessible to city dwellers -- and even using the concrete jungle to make wine that's only possible in NYC.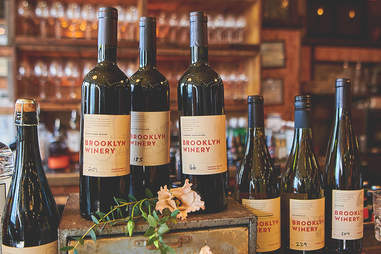 Andre Maier
MADE IN NEW YORK
As much as you'd think city pollution, skyscrapers, and lack of green space would create barriers for urban viticulture, it only emboldens its trailblazers to create a new style of wine. On top of Rooftop Reds, the seasons are a little longer because of the direct heat and miles of concrete surrounding the vineyard. Those steamy temperatures allow the winery, which opened in 2016, to grow picky Bordeaux varietals like malbec and petit verdot, which normally prefer the climates of France, California, and Argentina.
"Land plots are few and far between, so right off the bat [we knew] getting partial land that we could actually build a vineyard on would be hard," Rooftop Reds founder Devin Shomaker says. While developing the unique urban planter system as a viticulture and wine technology student at Finger Lakes Community College, he realized the benefits of having an increased amount of sunlight on the vines. According to Shomaker, the rooftop environment allows 10% more photosynthetic activity -- and negates the need for pesticides. "That's completely untraditional and is using our urban rooftop to our advantage," he says.
Next spring, Rooftop Reds will release its first batch of wine (a red blend of its five Bordeaux grapes) made exclusively with the city vines; until it matures, they pour wine from their upstate vineyard near Cayuga Lake and other small-batch producers in that region (like a 2016 Thirsty Owl pinot noir and 2015 Ravines Wine Cellars chardonnay).
Despite New York State's grape production being the third-largest in the country, and wine production in the state increasing over 50% since 1985 to about 175 million bottles annually, its viticulture reputation is still playing catch-up to prestigious vineyards out west. Since opening in 2008 on the Pier 41 waterfront, Red Hook Winery has been a staunch supporter of New York wines, and sources grapes from over 15 different vineyards on Long Island and the Finger Lakes. It's led by a team of three winemakers -- including Robert Foley, who spent the previous three decades working at some of Northern California's most prestigious vineyards, including Markham, one of Napa Valley's first wineries.
Rooftop Reds
Even though all three winemakers have the same starting fruit, they each employ a unique style to make wines like a Seneca Lake riesling or a North Fork red blend of merlot and cabernet franc. (Foley, specifically, favors bold reds). "When you taste his Red Hook Wines, they almost taste like California wines painted with a Long Island brush," wrote wine reporter Lenn Thompson after tasting his 2014 Sannino Vineyard Reserve cabernet sauvignon.
Even if you want a full-bodied Napa red or a traditional buttery California chardonnay, there's still no need for a trip out of NYC. At City Winery on Varick Street, grapes from 18 vineyards, many on the West Coast, travel the 3,000 miles to lower Manhattan, where they get made into 20 varieties of wine. Taps draw house wine straight from the cellar, including cabernet sauvignon using grapes from Bettinelli Vineyard in Napa and a pinot noir from Hyland Vineyard in Oregon's Willamette Valley.
Brooklyn Winery works with around 15 hand-selected vineyards from both New York and the West Coast, with the grapes traveling to Brooklyn in climate-controlled trucks. Since opening in 2010, their production has tripled to 8,000 bottles, which includes 18 different wines. McCormack has particularly become known for his drier, high-acidity style of winemaking, even earning Brooklyn Winery an award for its 2015 dry-fermented riesling using Finger Lakes grapes -- a wine traditionally known for being sweeter.
In addition to tasting wines on site, you can find Brooklyn Winery and Rooftop Reds vintages at wine shops and restaurants around the five boroughs -- including Manhattan fine-dining institutions. Take the glitzy Rainbow Room at the top of 30 Rockefeller Plaza, which switched their entire wine-by-the-glass list in 2017 to feature only New York State wineries.
"This place is a bucket list for people," says Rainbow Room sommelier Amy Devahastin as she swirls a glass of Chablis-style chardonnay from Brooklyn Winery, one of the selections on her statement-making list, "so why would they want to come here and drink something they could get back home?"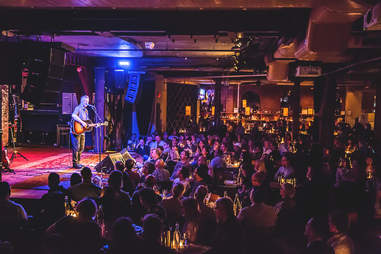 Billy Bragg: P Squared
DRINK, EAT, PLAY
New York's urban wineries aren't single-use spaces reserved for basic wine-and-charcuterie pairings. Like every other non-city experience ushered into NYC (bowling, anyone?), viticulture here has taken on a life of its own.
City Winery, established in 2008, made a name for itself because of its 300-person capacity concert space. (It's the brainchild of Michael Dorf, founder of indie concert house The Knitting Factory.) This summer, their eclectic lineup includes Nashville star Charles Esten, '70s rock band Three Dog Night, reggae singer Matisyahu, and E Street Band drummer Max Weinberg -- and both the venue and Barrel Room, its wine bar and restaurant, offer a full menu with options like duck tacos topped with guacamatillo salsa, and wild mushroom risotto balls. The concept has proven so popular there are now City Winery locations in Chicago, Nashville, Atlanta, Boston, and Washington, DC.
Brooklyn Winery likewise serves a menu of elevated shared plates like crispy buttermilk fried chicken and roasted cauliflower & burrata from Executive Chef Michael Gordon, who gained foodie cred as the fine dining and banquet chef at the Mandarin Oriental. (Just remember to check their schedule before you head out -- the winery has become a popular spot for weddings and special events that occasionally close it to the public.)
While there's no kitchen at Rooftop Reds, that doesn't stop it from putting on monthly themed pop-up dinners using a tented, mobile set-up with convection and electric cooking utensils. A $120 ticket gets guests food from a neighboring restaurant, like Mexican-inspired dishes from Colonia Verde (September 16), paired with Rooftop Reds wine. Their spacious rooftop real estate also regularly hosts sunset yoga and $30 pizza, wine & movie nights. And whenever you visit, the leisurely backyard atmosphere includes porch swings, hammocks, and cornhole boards. Just make sure to put in a reservation request (which you can do up to minutes before arriving) to get a pass to enter the Navy Yard.
Feeling inspired to craft your own vintage? In Staten Island, Piazza Brothers Wine Room teaches visitors how to make wine over three to four one-hour sessions. Using professional grape brokers on the West Coast, Piazza Brothers brings 22 varietals of freshly harvested California grapes to be crushed, pressed, and barreled in the fall, and bottled the following summer -- all without you having to travel 3,000 miles to experience any of it.
City Winery
VINO 101
Holding your own in a conversation about wine, tasting it, and even buying it doesn't require a level of snobbery and attitude that most might assume comes with the skill set. In fact, the ethos of New York's urban wineries is much more holistic, open-minded, and all about doing wine their own way.
First, it's always about what you like -- even if it's really sweet and tastes like dessert or if it's the cheapest bottle on the menu. "People should try anything they have an opportunity to, because it's supposed to be fun and it's about growth," Devahastin says. "Drink simply what you like. It's like your clothes -- no one can tell you what feels good and what is comfortable. There's wine that's $10 and it's delicious and then there's wine that's $30 and it might not be as good."
When it comes to the actual "art" of tasting, McCormack heeds this rule (which could help prevent a next-day headache): "When I'm tasting, I don't swallow anything. You have to keep your palate fresh," he says. "If you're at a winery, there's a reason the spit buckets are out there, so use them. You'll be able to extend your palate as [it] gets tired, especially if you're out early and want to extend your day."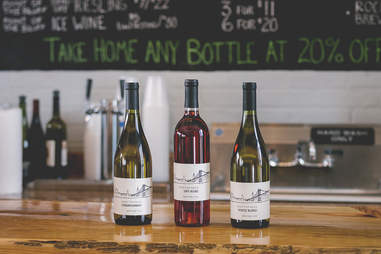 Rooftop Reds
A good general tip to remember is that stems on glasses aren't just for show -- holding that glass of chardonnay by the bowl changes its temperature. "You're actually heating up the wine with your hands, and the stem actually slows that process down," McCormack says. And one thing everyone can agree on -- no one likes warm white wine.
In terms of paying attention to a wine's year or "vintage" (the year the grapes were pulled off the vine), older doesn't mean better when it comes to summer's wine of choice: rosé. "You should be buying the most recent year, so this year you should be buying 2017," McCormack says. "Rosé is meant to be drunk young. If you see 2016 or 2015, that means it's left over. Get the fresh stuff."
For even more vino knowledge, all of NYC's urban wineries offer tours: City Winery daily at 4pm and Brooklyn Winery about once a week (both $35 including tasting); Rooftop Reds every Wednesday at 7pm ($25 including tasting); and Red Hook Winery on weekends at 1pm (free to anyone who purchases an $18 tasting). You'll get a guided tour of the production process and access to a wine expert to brush up on your tasting skills -- all without leaving New York City limits.
"This vineyard does a lot for people in the city and it makes wine accessible and brings the vineyard to them," says Shomaker of Rooftop Reds. "Generally, you have to have a car or some sort of mobility to even get out to Long Island or the Finger Lakes, so that cuts out so many people from having that experience."