Williamsburg's Thief Bar Is Bringing Its Graffiti Vibes to LES
A night out at Lower East Side bars now calls for Friesling (aka frozen riesling).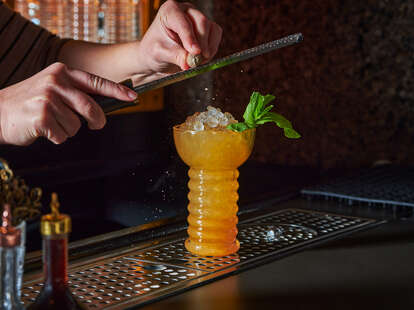 Dillinger's Downfall cocktail at Thief LES

| Photo by Ashley Sears Photography
Dillinger's Downfall cocktail at Thief LES

| Photo by Ashley Sears Photography
John McNulty is passionate about two things: New York City in the '80s and creating an infectious vibe. It's at his bars, Thief, and its soon-to-debut second branch located in the Lower East Side, Thief LES, where McNulty plays with these concepts—in the hopes that they'll become your next favorite neighborhood go-to.
Slated to debut on Thursday, April 20, Thief LES channels the same core ethos as its Brooklyn predecessor, but with the addition of a few exciting variations. "We're expanding the opportunity for more people to connect with others and feel inspired in a space that's designed to embrace the culture inspired by the art, music and feel of 80's New York City," says owner John McNulty.
Imaginative combinations are showcased on the beverage program where the main focus is placed upon a selection of shaken and stirred cocktails and frozen libations. Highlights include the Ego Trip (rye, orgeat, maraschino, creme de peche) and springtime-primed In Bloom (gin, apricot, bergamot, lemon), as well as the signature Friesling (frozen riesling). A variety of small-production orange, pink, white, and red wines are also available.
So you're not drinking on an empty stomach, executive chef Dan Gonzalez (Estela, Marea) is behind a selection of shareable bites like the Fried Brie and Peppers and larger plates such as Grilled Pork Ribs in a kiwi-soy glaze and a Fried Chicken Sandwich, which comes with banana peppers, sour honey, and peri peri ranch. The bar is also planning to expand with a brunch menu in the coming months.
Upon entering the 75-seat space, guests are greeted by an aesthetic mixture of grit and nostalgia. Graffiti murals, gallery walls filled with photography circa the '80s in New York City, and checkerboard-covered floors and ceilings can be found surrounding the main bar. For bigger parties, the LES locale also sports a 70-seat private dining room.
Thief LES opens on Thursday, April 20 at 161 Ludlow Street on the Lower East Side.