The Weekend Playbook: A million beers, a goat burger for brunch, and a ramen-fueled block party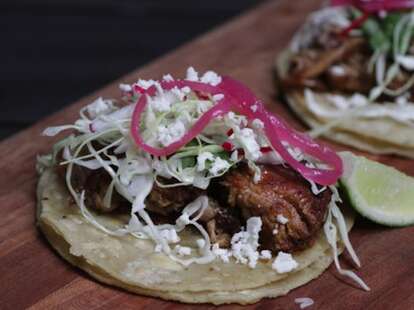 Event of the WeekYou got a date Saturday -- head out to the Bushwick Block Party for performances from Action Bronson and more, a Roberta's pizza party featuring "four ovens of doom", the most-interesting ramen in the country from Yuji Ramen, and, of course, a bikini kegstand contest.Throughout the WeekendMaybe it's not as hot as last week but here's a perfectly good reason to stay inside all weekend anyway: to catch up on every single episode of Breaking Bad at the Film Society of Lincoln Center. Unlike the Blue, it's totally free.Saturday and Sunday you can head to Artists & Fleas for their "Menswear Weekend" that includes a deeply discounted Feltraiger sample sale. Big Air, High Jump, and Best Trick are the categories Xpogo competitors are jumping for at Pogopalooza, three days of jumping-on-a-stick craziness all over the city.Friday, July 26thSkip out of work or just take an extra-long lunch break and hit up the lunchtime partyatMarquee with DJ Questlove.Saturday, July 27thEast River State Park is home to the NY State Food and Beer Expo with a cheeseburger cook-off and tastings from just about every brewery in the state. Tickets hereTequila Park at the Hudson Hotel is throwing its inaugural Tequila Fest with live music, tons of tacos, and signature cocktails.Sunday, July 28thLouro's introduced brunch, and it includes the incredible Belly Goat Burger.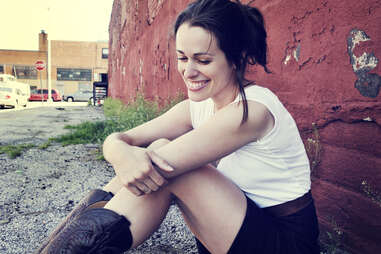 Local Lady We Love, and Where to Find Her
Meet Caitlin Canty. She's a folksy, Vermont-raised, NYC-based singer/songwriter who recently released a fan-funded second record and is a regular at Rockwood Music Hall (her next show's Sept 18th). Her favorite drink's a Dark & Stormy or a gin & grapefruit (like healthy Snoop), but she strictly warms up for shows with gin & tonics.

When not touring, she frequents Brooklyn honky-tonk Skinny Dennis, takes down burgers at JG Melon, lets Supper charm the crap out of her, and scores her favorite pork bun at Ippudo.