The egg cream is an iconic New York drink; ask anybody who grew up here and they'll probably have a story about the best egg cream, or the first time they had one, or some other suitably nostalgic tale. But it's also never really achieved the renown and widespread appeal of other NY foods, like say pizza and bagels. But whether you're from here or still working toward being able to claim the prized title of "New Yorker", you need to be up on egg creams. These 12 facts should help:

1. There's no egg in them
Anyone describing the classic egg cream is honor-bound by Brooklyn law to first establish that they contain neither eggs nor cream. A true egg cream has only three ingredients: chocolate syrup, seltzer, and milk.

2. The name is still pretty much a mystery
Sorry, we don't have all the answers. BUT!... while the origin of the name is potentially lost forever, most egg cream experts (yeah, there are egg cream experts) agree that it is either a reference to the foamy head that resembles frothy, beaten egg whites, or is a bad translation of the French chocolat et creme.
3. The only acceptable chocolate syrup is Fox's U-Bet
Avoid egg creams that substitute Hershey's for U-Bet -- where the addition of milk powder adds an extra layer of flavor. Ignore the flat, overly foamy, or under-chocolate-filled egg creams (you still want to see flecks of chocolate syrup darting up the edges of your glass).
4. It MUST have a frothy head
What should you look for in an egg cream? A perfect egg cream should have a full head and an ideal balance between chocolate, milk, and seltzer. This seems simple, but, for most purveyors, is utterly impossible. A lid is a deal-breaker, and canned seltzer should almost always be avoided in favor of fresh seltzer from a soda gun.

5. At its peak, a LES candy store sold more than 3,000 of them per day
By most accounts, the egg cream was invented by candy story owner Louis Auster in the late 1800s at his shop in the Lower East Side, on Stanton and Lewis St (this intersection no longer exists -- the Baruch housing project has long since replaced it). Auster sold more than 3,000 egg creams every day before his stores closed in the 1950s. As soda fountains shuttered and fast food emerged, the long tradition of egg creams seemed like it would bubble away.
6. If you're paying more than $2-$3, you're probably getting ripped off
Egg creams should be cheap! Most respectable egg creams are sold from dingy bodegas, diners, or the rare soda counter. An exemplar of the form is Gem Spa on St. Marks and 2nd Avenue, a bodega which rightfully boasts that their egg cream is the best in town. Be wary of any egg cream outside the $2-3 range.
7. Of course, there are a few notable exceptions
Shopsins and Ronnybrook both serve pricey, yet excellent egg creams, while Russ & Daughters Cafe on Orchard might serve the most expensive egg cream in town at $7. There is a workaround, though: the informed egg cream drinker should instead buy two at the original Russ & Daughters on Houston, where the cheaper egg cream is defined by an intense froth and an even deeper chocolate flavor.
8. Free egg creams for life can be yours
At Brooklyn Farmacy, which brings the feel of a classic soda fountain to Carroll Gardens, if you buy a $28 "Soda Jerk" T-shirt, you're entitled to free (and excellent) egg creams for life.

9. Lou Reed was into them
His 1996 album, Set the Twilight Reeling, kicks off with an ode to the drink in his song "Egg Cream". Reed declares his undying love for egg creams while name checking other Brooklyn restaurants like Totonno's and Junior's. But it's a place called Becky's on Kings Highway which made the "fearsome brew" he craved.
10. They are better than getting circumcised, apparently
Mel Brooks said of his love for egg creams: "Psychologically, it is the opposite of circumcision. It pleasurably reaffirms your Jewishness." Right.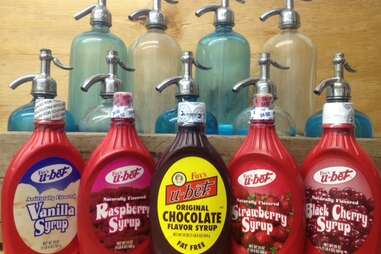 11. The good seltzer necessary for making an authentic egg cream is endangered
There are barely even a handful of seltzer vendors remaining in New York City. One in particular, Brooklyn Seltzer Boys, whose motto proclaims "Good Seltzer Should Hurt", is in the hands of fourth-generation seltzer maker Alex Gomberg. His family started the Gomberg Seltzer Works in Carnarsie, Brooklyn in 1953. Now, Gomberg sells his seltzer to a handful of NYC bars and restaurants interested in keeping the city's seltzer tradition alive, as well as the few remaining seltzer deliverymen, while also serving up egg creams and sodas at events around the city.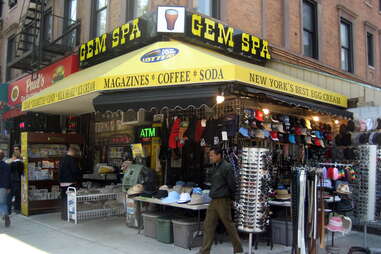 12. The best versions in the city are on the East Side and in Brooklyn
The best egg creams in the city can be found, for the most part, on the East Side of Manhattan. This is not surprising, because it's here, in the traditionally Jewish neighborhoods, where egg creams once thrived. Among the best is the aforementioned Shopsin's, which manages to be both light and full-flavored at the same time. Gem Spa also has a recognized favorite, perfectly balanced and admirably frothy, though you can also find excellent renditions at Joe Jr. and Gramercy Park Cafe a bit further North. In Brooklyn, Peter Pan's egg cream should be sampled along with a donut, while the Brooklyn Farmacy egg cream is terrific, especially in a place that looks exactly like the type of place your Grandfather drank 'em at.
Sign up here for our daily NYC email and be the first to get all the food/drink/fun New York has to offer.
Noah Arenstein is a practicing lawyer, freelance writer, cook, and co-founder and managing editor of Real Cheap Eats. In 2013, Noah founded the "Global Jewish Sandwich" stand Scharf & Zoyer. He also produces food events and pop-ups, including the Crow Hill Supper Club.