You may not realize the horrible truth, but there are currently only 21 weekends between now and the Fall. So it seemed like the perfect time to unveil the Thrillist Outdoor Drinking Challenge, wherein we give you one place to outdoor drink for each of the next 21 weeks, and you try to keep up.
Some things are date-specific, and others are floaters you can feel free to mix-and-match, provided you do at least all of them -- or you fail. Also, there's no prize for conquering the challenge... except you enjoying the best Spring/Summer of your life. Let's get started!
May 9-11: Central Park
Get some beers, some Solo cups to pour them into so you don't get ticketed by plain-clothes police officers, and stake out a spot in Central Park. Maybe bring a football or something.
May 16-18: Greenwood Park
60 taps and three bocce ball courts. There are many worse ways to spend an afternoon.
May 23-26: The Beach
It's Memorial Day weekend! Get to the Hamptons, the Jersey Shore, or Coney Island and BBQ your ass off.
May 30-June 1: Frying Pan
Get there early, claim a table overlooking the Hudson, and order infinity buckets of beer. Then, after they tell you they can't serve you infinity, order three.
June 6-8: Rooftop Crawl
Why not go on a rooftop bar crawl from one end of the city to another? You don't have a reason, do you?
June 13-15: Astoria Bohemian Hall Beer Garden
The World Cup starts on the 12th, so go watch a game at the Astoria Bohemian Hall Beer Garden.
June 20-22: #BDOYL
Stay tuned for details. Trust us, it's going to be amazing.
June 27-29: MoMA PS1 Warm Up Parties
This is the first weekend you can go to one of the MoMA PS1 Warm Up parties, so get on it.

July 4-6: Rooftop BBQ
Although this is another perfect opportunity to get out of town, if you've already checked that off your list, this is a prime rooftop BBQ weekend. If you don't have a rooftop, find a friend who does.
July 11-13: Manhattanhenge
Fill a Gatorade bottle with your favorite inconspicuous mixed drink, camp out at the Tudor City bridge that looks down 42nd St, and score the perfect #manhattanhenge Instagram pic.
July 18-20: Tiki Disco
Go to Roberta's Tiki Disco party and get weird.
July 25-27: Rockaway Beach
Take the subway out to Rockaway Beach, explore the food stands, and grab some excellent Micheladas and wine slushies.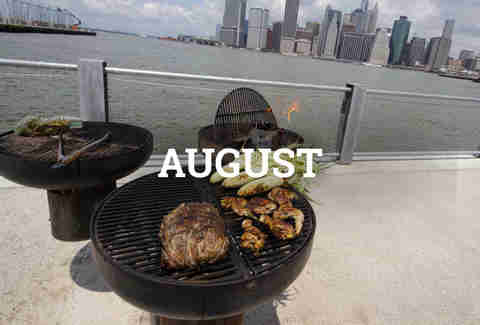 August 1-3: More Parks
Remember how you handled Central Park? Do the same thing, but in Prospect Park. Or even McCarren Park.
August 8-10: Brooklyn Bridge Park
Cook yourself (and maybe some friends) an awesome steak on the public grills that overlook lower Manhattan in BK Bridge Park.
August 15-17: Beekman Beer Garden Beach Club
Brave the Seaport tourist crowds, and get to Beekman Beer Garden Beach Club for awesome views of the Brooklyn Bridge, drinking, and games.
Editor's Note: Sadly, Beekman is actually closed this Summer for renovations. Instead, hit up Watermark Bar to check "outdoor drinking at the Seaport" off your list.
August 22-24: The High Line
Take a walk on the High Line, sip some wine at Terroir on the Porch, and people-watch the crap out of that place.
August 29-31: The Met Rooftop
Head to The Met's rooftop bar, and feel supremely cultured as you survey the tree line of Central Park and smash vodka tonnies.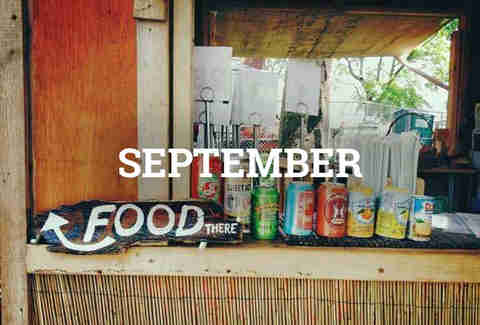 September 5-7: Governor's Island
Did you know there's a beer garden on Governor's Island? Ferry over to Little Eva's and the King Ave food court, and then lazily make your way out to Hammock Grove, home to about 50 hammocks.
September 12-14: The Standard Biergarten
Oktoberfest starts this weekend (surprise! It actually starts in September!). If you haven't been yet, get to The Standard Biergarten for pretzels, pong, and beers.
September 19-21: A Stoop
Sit out on your stoop and have a beer. Maybe even order a pizza.