Because you can only have so many Tiki drinks at Frying Pan and so many lobster rolls at North River Lobster Co. before you need a third, different, food-and-booze-serving boat, head to Pier 25 in Tribeca and check out Grand Banks, a docked cocktail and oyster bar set up on the deck of the F/V Zwicker -- the "last original saltbank fishing vessel in existence".
Recommended Video
This Dublin Iced Coffee Combines the Superpowers of Beer, Whiskey, and Java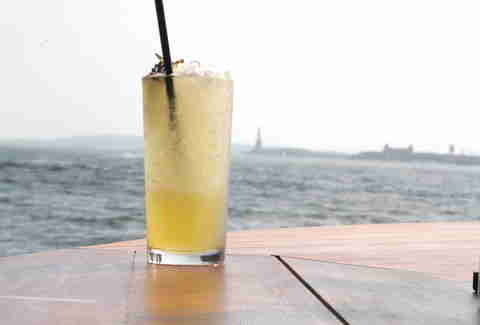 There are no reservations, so get there early to grab a seat at the bar, where you can get involved with cocktails of the day (like this simple and refreshing Whiskey Flash made with bourbon, lemon, and pineapple), or sessionables like a Sherman's Cup made with white wine, fresh-ass berries, lemon, lime, and orange.
They'll also do classic cocktails on board, including this Negroni Sbagliato, which's made with Campari, Prosecco, sweet vermouth, and even sweeter views.
If the drinking bar is full, try to score a seat at the oyster bar right in the center. Or -- if all else fails -- one of the tables along the side. You can also head to the lower deck to see an exhibit on the history of boats of this ilk, but you should 100% secure your seats first.
Wherever you end up sitting, your first order of business is going to be taking down at least a dozen oysters. They've got a rotating selection of about four/six right now (that they hope to grow throughout the Summer), and they all come with "accoutrements" like red wine mignonette, cucumber-coriander mignonette, and cocktail sauce.
If you only like your oysters baked and covered in bacon (like most normal people do), they've got you covered there, as well. These Naked Cowboys also get loaded with shallot marmalade, lemon, and parsley.
There's also a small selection of non-oyster related dishes, like fried squash blossoms with spiced yogurt, red snapper ceviche, and this fluke crudo with Asian pear, grapes, olive oil, and bacon. Because you only like your crudos covered in bacon, too.
Andrew Zimmer is Thrillist's NYC Editor, and if he ever bought a boat, he'd do his best to make sure it had an oyster bar on it. Follow him on Twitter and Instagram.
Previous Venue
Next Venue
Venue Description
1. Grand Banks
Pier 25, New York, NY 10013
This seasonal oyster bar perched atop a historic fishing boat at Pier 25 serves an incredible selection of soft-shell crabs, lobster rolls, and of course, lots of oysters. It's best to make a reservation for dining, but you can easily snag a seat at one of the two on-deck bars if you're there for drinks. Refreshing nautical cocktails, wine, Champagne, and craft beer round out the drink menu. Grand Banks is open from May to October.