After a few years of back and forth with the city, the space that housed Luna Park in Union Square is home again to an outdoor drinking and eating destination thanks to The Pavilion, which has outfitted the majestic stone structure with palm trees, vibrant colors, and a lazy ambiance. It's like some beautiful little town on the French Riviera where you watch sailboats, and punch mimes.
Recommended Video
The 'Black Mirror' Killer Pizza Truck Is Real Now, Thanks To Pizza Hut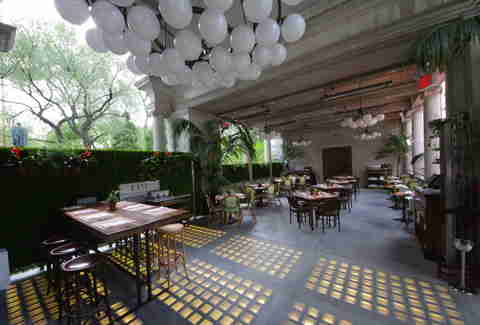 A massive cluster of bulbs form a central chandelier underneath The Pavilion, illuminating the floor in a way that lights up the arches at night. The whole thing is also fenced in on one side by greenery.
The other side of the "indoor" area houses the long, wooden bar, which's stacked with classic liquors, herbs/spices from the Greenmarket, and magnums of rosé in ice tubs... because rosé shouldn't be served any other way(/kinda at all, but fine).
One of the drinks using those ingredients from right around the corner? The Park Side, which's its take on a mojito, with light and dark rum mixed with fresh mint, lime, guava "foam", and local pollen. Sorry, imported pollen fans.
This Summery beauty is the 6 Train (gin, cucumbers, thyme/honey syrup, and club soda), which bares no relation to the actual subway, save for, well, its color.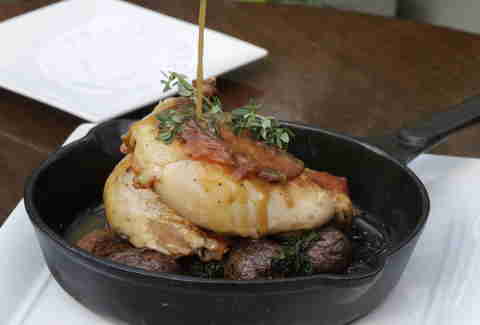 Don't sleep on the food here either. The roasted chicken with gravy and potatoes is just hearty enough to be satisfying, and just light enough that you can take it down on a Summer day without sweating (much).
The Blue Maine mussels are also a must-have -- this highly shareable pot is made with white wine, garlic, shallots, and butter, and comes with a massive heaping of fries. Dip away.
Previous Venue
Next Venue
Venue Description
1. The Pavilion
20 Union Square West, New York, NY 10003
Right around the corner from the Greenmarket, this sexy, French Riviera-inspired spot is an al fresco dining destination worth hitting up. It's drenched in gorgeous chandeliers, lush greenery, and exposes entrees like Blue Maine mussels and fries & roasted chicken with potatoes, and's got strong Summery 'tails to wash it all down.