Because the Upper West Side will drive anyone to drink, here's Barley & Grain, the Tangled Vine team's vision of about the least depressing version of a whiskey-soaked corner Irish pub ever, thanks to a small dining room lit by a constellation of hanging lights and a golden-glowing bar, and, more importantly, whiskey. And beer. And cocktails made of bacon.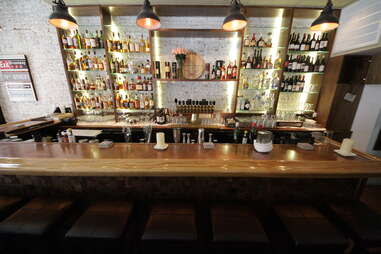 Like a moth to a flame, friend.
Flip through the beer list and grab a Sixpoint Righteous rye, 9.5% face-slapper Victory Golden Monkey, Breckenridge Vanilla Porter, or any of a bevy of American crafts to back up your hard stuff. As for that, they've got about 100 whiskeys broken down around 60/40 bourbon to Scotch. Take a look at the Hudson Baby Bourbon that's brewed in tiny little barrels that look nothing like babies, the High West OMG Pure Rye that was huge on the Internet in the mid-1800s, and the aggressively peaty Lagavulin Distiller's Edition.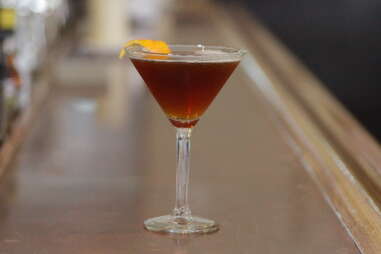 Behold: the Bacon Manhattan. It's innocent-looking, but what it's hiding within is straight-up bacon fat that's been infused into Buffalo Trace to provide a uniquely palatable smooth-yet-smokey-and-savory flavor. "It's everything good about bacon without the chew."
Bolster that gut with some apps, especially the crunchy, chewy short-rib bites with caramelized bacon, white cheddar, and garlic mayo.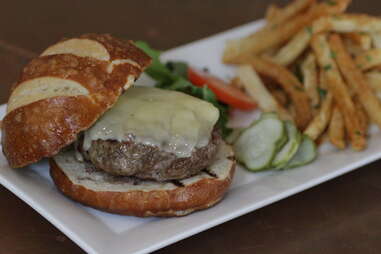 Like a nice glass of whiskey, their burger is simple, elegant, and delicious -- Wagyu, NY cheddar, and a pretzel bun.