Liquids and Solids
Liquids and Solids
In a city like New York, where every borough has its own brewery -- evenStaten Island -- and every subway stop has an awesome bar, we get that you might not feel compelled to leave town in search of a good drink. But these 13 establishments -- from a cocktail cupcakery in Ithaca to a rodeo bar-cum-speakeasy in Albany -- might make you at least consider a boozy adventure through the Empire State.

Lake Placid
Whether you're après-skiing or après-drinking-lots-of-beers, this gastropub with Western saloon flare has the best beer selection -- both draft and bottle -- in the Adirondacks. Also awesome: there's a next-door butcher shop that churns out rillettes, pâtés, cured tongue, sausages, and cheeses. Order the fried Brussels sprouts, beef carpaccio, and sweetbreads, and listen to co-owner and mesmerizing mixologist Keegan Konkoski when she tells you to get the Maple & Spice (bourbon, maple syrup, cayenne pepper, lemon juice, apple juice)... and the #1... and the Jane... and the Gin & Juice.
White Plains
Whatever your final destination may be, the next time you find yourself sitting on a Metro North train and hear the announcer say the next stop is White Plains, that'll be your cue to get off and walk 10 minutes to the Ritz-Carlton. Deanna Cioppa, who visited 60 bars in eight weeks to write the bible (literally) on Westchester bars, singled out 42 The Restaurant as the county's best. "Well-crafted, thoughtful cocktails, great food, and amazing views 42 floors up above the city," says Cioppa. "Be sure to hit the bar around sunset. You won't be able to tear your eyes from the windows."
Tappan
Tucked away inside the Tappan Golf Center (we know, trust us here) is what Andrew Lampach, Boozyburbs.com founder, describes as his favorite all-around bar in the Hudson Valley. The chill vibe, 24 rotating craft brews on tap, a classically trained chef in the kitchen, and the fact that it's semi-hidden from those not in the know make it a must-hit.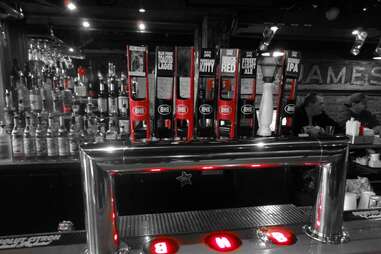 Patchogue
With over 60 vineyards and 30 wineries on Long Island, there's no shortage of great places to enjoy a glass or two (or a Billy Joelian three or four) betwixt the vines. But those aren't bars so as far as LIBeerGuide's editor Bernie Kilkelly is concerned. People who love beer belong at BrickHouse Brewery, which pioneered the craft beer movement in Patchogue, the beer mecca of Long Island and home to Blue Point. Killkelly recommends flagship brews BrickHouse Red, Street Light Holden Ale, and Nitro Boom Stout. And being two minutes from the LIRR Patchogue Station means no need to worry about a designated driver. And you can keep drinking on the ride home.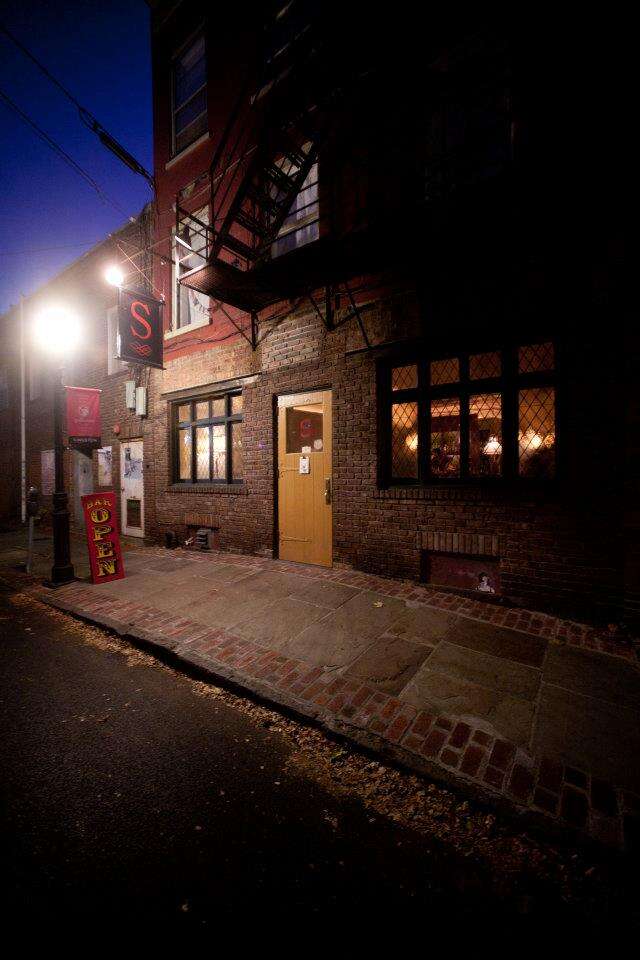 Kingston
At the Hudson Valley cocktail competition, this place and its unassuming front door nabbed crowd favorite and best cocktail. Josh Rosenmeier does more than just tend the bar at Stockade Tavern -- he shakes things up in every way possible. Your best bet is to go bespoke and ask Rosenmeier to make you something and see what arrives. It's worth going on a weeknight so you can avoid the throngs of thirsty patrons and get Rosenmeier all to yourself.
Bethel
Across the street from the grounds of the 1969 Woodstock Festival sits New York's first farm distillery and sister properties Dancing Cat Saloon and Stray Cat Gallery. The hippie, cat-loving scene may have softened, but the stories, live music, and free-spirited energy at the Catskill Distilling Company are still a trip. Experience Righteous Bourbon or Defiant Rye right at the source, plus do a Peace Vodka tasting (which on-site chef Pietro Bortolotti likes to pair, Scandinavian-style, with herring and potato salad with beans), and knock back some of their one-of-a-kind whiskey-esque buckwheat spirit.
Albany
If we had this place in NYC, it wouldn't be quite the same, but you'll still leave wishing we did. There are 18 local-centric craft beers rotating on draft -- each one comes with a FREE personal pizza -- and a cellar stocked with rare, aged beers from around the world. Upstairs, you'll ride the mechanical bull in the rodeo bar and try a flight of four 5oz beers for $8 -- and, if you're strong-like-bull, The Pilgrim (a can of Busch and a shot of Wild Turkey) -- before moving to the main floor. Once you're there, you'll park it at a long wooden communal table and dig into a 518 Burger paired with an Outrage IPA from Crossroads Brewing, then get some fresh air on the 2,500sqft beer garden that overlooks Empire State Plaza.
Done with all that? Time to hit the unmarked entrance on the side of the building to ring a buzzer for Speakeasy 518. Co-owner Kaelin Ballinger doesn't broadcast this space, but we do: it's got an extensive cocktail menu that uses all fresh ingredients, artisanal and local spirits, and house-made bitters. Ask for the Switchel Pig, comprised of apple cider vinegar, molasses, cold-pressed ginger, Grade B maple syrup, and Whistle Pig rye. "It's based on switchel, a vinegary beverage sipped by Northeast farmers during colonial times," says Ballinger.

Saratoga Springs
At 9pm on a Friday or Saturday night, locals looking for a good time will unwind at this classy little jazz bar with a stiff drink. 9 Maple Ave has the largest selection of single malt Scotch whisky between New York City and Montreal, more than 250 martini concoctions, and is a boon to blues and booze lovers who would otherwise be stuck at an overcrowded college bar along Caroline St.
Ithaca
Fresh off winning their eighth Ithaca Times award for being the best bar in town, owners Amelia Sauter and Leah Houghtaling seem to have the whole recipe for sustainably minded success down pat. "We are fortunate that we can eat and drink seasonally for most of the year because all of the farms are just a few miles away," says Sauter, who suggests pairing a lavender lemon zest cupcake with a gin martini, or a Mexican chocolate cupcake with a snifter of Hudson Baby bourbon. And if you've ever wanted to taste sunshine in your mouth (you have), her all-time favorite sip is the Sungold Zinger cocktail done with Sun Gold tomatoes, honey, lemon, and gin.
Geneva
"Every town in the Finger Lakes, or any wine region, should have a Microclimate in it," says Edible Finger Lakes publisher Michael Welch. Stephanie Mira de Orduna and James-Emery Elkin have indeed crafted a warm and beautiful spot that's ripe for getting all Paul Giamatti on some wine talk, whether you're an aficionado or not. "While you sit at the bar and enjoy a crisp, dry Riesling," Welch adds, "you might discover that the winemaker is sitting next to you."

Syracuse
Although a crawl is probably your best bet to experience this town (Faegan's Pub on "the hill" followed by Al's Wine & Whiskey Lounge would be how we start, by the way), if there's only time or tolerance for one spot, step inside Scotch 'N Sirloin. Between the homemade bitters, creative cocktails, and innovative food, The Post-Standard writer Don Cazentre assures it's worth making your way to this over-45-year-old steakhouse, bar, and bistro in a suburb called DeWitt.
Rochester
This authentic British pub rivals the best of them in the city. It's got more than 250 bottled beers, 15 permanent drafts, 13 guest drafts, four rotating ales, 80 different Scotches and single malts, beer dinners, and a charming backstory about two blokes who wanted students to experience working at a bar in America. Edible Finger Lakes publisher Michael Welch told us, "The Old Toad broke my dislike for hard-boiled eggs. They make the classic English pub treat of Scotch Eggs (hard boiled eggs in a sausage and breaded crust fried 'til crispy), and they pull a good pint of Guinness and local brews."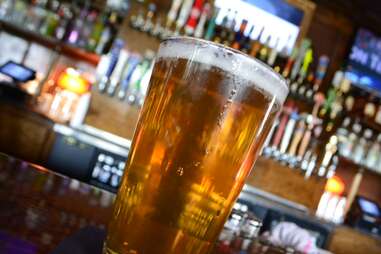 Niagara Falls
Some say the Canadian side of Niagara Falls is better, but we'd argue that New York is where it's at, not only because you can get up close to all three waterfalls, and you don't have to be in (shudder) Canada, but because there's The Griffin Pub. Off the beaten path in a neglected nook of Niagara, you'll find an exciting rotation of 50 drafts, like Galaxy Whiskey Saison (barrel-aged Belgian-style saison), Goose Island Bourbon County Barleywine (extremely rare in keg form), and Wells Banana Bread. Besides beer, there's fantastic service by knowledgeable staff and a chicken waffle sandwich you'll desperately try to recreate home.
Sign up here for our daily NYC email and be the first to get all the food/drink/fun New York has to offer.
Lauren Matison is the co-founder and editor of offMetro.com. She can often be found biking between vineyards in the North Fork of Long Island, but did her best to write this story sober. Follow her on Twitter.