It's easy to forget that among the massive buildings, the bustling, not-sand-covered streets, and the occasional unbearable heat wave, NYC is actually a coastal city. Helping to remind you in the booziest way possible, here's a list of the best bars on the water in NYC.
Rules of engagement: any place where you can see the waterfront from the ground floor is fair game, meaning that awesome rooftop bar in Midtown with views of the Hudson wasn't.
Hell's Kitchen
Provided you don't get easily seasick (because this boat does leave port), this is the ideal way to get boozy and full of lobster on a sunny afternoon. It's got beer, cocktails, lobster rolls, full lobsters, and all manner of other good stuff you need to make your Summer complete.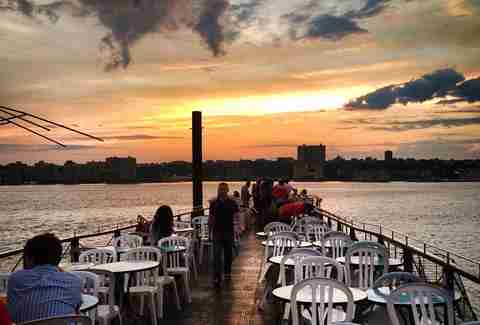 Chelsea
This is probably what comes to mind for a lot of people when we mention a waterfront bar in NYC, and rightfully so. Despite the fact that it can get crazy-packed, it's still a standard bearer for drinking with aquatic proximity.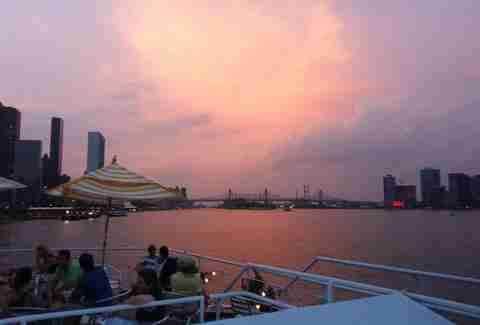 Murray Hill
Perched on the roof of The Water Club with a slightly-more-refined Frying Pan vibe, this yacht-y spot has great East River views to go along with buckets of beer, pitchers of sangria, and spiked lemonades.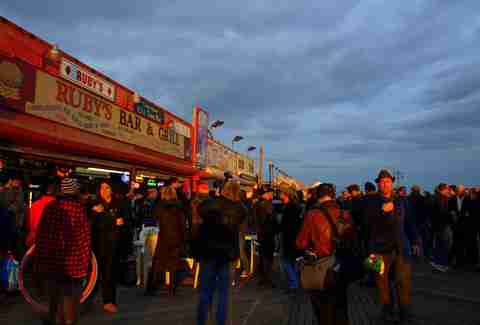 Coney Island
With a history on the boardwalk dating back to the '30s (its 80th birthday is coming up!), Ruby's is an institution still slinging pub food and no-fuss drinks right on the boardwalk.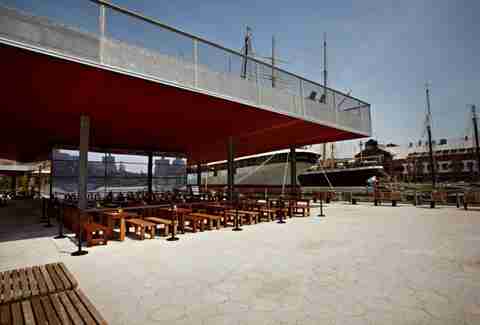 Downtown
This Seaport bar sets itself apart from boring-ass landlocked bars with amazing views of the Brooklyn Bridge, an actual park on top of it, lobster rolls, and parties like the Fifth Annual Nolafunk Summer Jazzfest.

Sheepshead Bay
Get your fill of smashing Maryland-style crabs here (all-you-can-eat crabs on Mondays and Tuesdays), or focus more on your drinking with its bayside Tiki Bar.
Upper West Side
Thanks to its sunken position below street level, this beauty can occasionally feel like you're not even in NYC. Grab a bunch of beers, a frozen cocktail, and a burger, then post up near the water or in the raised courtyard in the middle.
Rockaway Beach
Although there's actually a ton of great spots out on Rockaway Beach these days, Low Tide is a must, thanks to its micheladas, its proximity to the ocean, and its supremely chill vibe.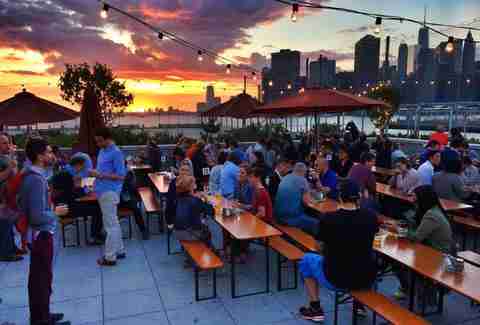 Brooklyn Heights
We're gonna kinda cheat here, and lump everything in the park together... which includes Fornino's rooftop pizza bar on Pier 6, Lizzmonade by the pop-up pool (yes, there's a pop-up pool, double waterfront!), and The Pier 1 Cafe. Basically you have to go bar crawling in Brooklyn Bridge Park ASAP.
Governors Island
While most of the time this spot plays host to concerts and crazy-ass parties (which you should totally go to), you can also go before 3pm on most days and just soak in some beach vibes and killer views of Downtown Manhattan.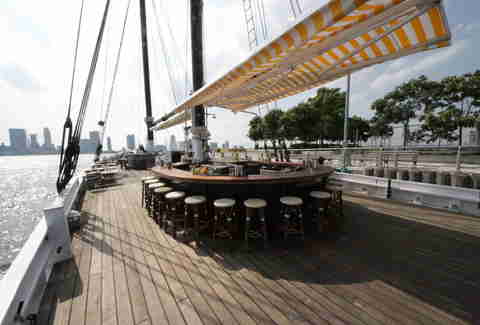 Tribeca
Yet another Hudson River boat bar makes the list -- this one being a little smaller, a little more refined, and a little more Downtown than the other two, complete with prime Freedom Tower and Statue of Liberty viewing opportunities and a focus on cocktails and oysters.
Washington Heights
With some of the most incredible views within city limits, this spot rocks cocktails and relaxing eats like lobster rolls and brunch burgers, but it can also get less-relaxed when it's got a DJ or live music going down. So plan your visit accordingly.
This list -- and all the rest -- look even sexier in our iPhone app. Get it now!
Andrew Zimmer is Thrillist's NYC Editor, and he's never drinking where he can't see water again. Sorry Iowa. Follow him on Facebook and Instagram.