Since there's way more to going out in one of Manhattan's most historic 'hoods than navigating NYU gentry and Tweeting SJP-nose sightings, we pulled together 20 of the West Village's best bars that keep the shopping-happy charade in check. From kitschy Tiki haunts to subterranean game emporiums, here's your guide for when you're cobblestone-stumbling South of the grid.
331 W 4th St
Everyone talks about Corner Bistro's burger, and they should. Even while caught in the crossfire of the city's Burger Wars, it's straightforward, delicious, and under $10. Hot tip: show up 10 minutes before they open and that line won't be there.
Best sports bar to maybe get free pizza: Village Tavern
46 Bedford St
Since there's no kitchen, halftime on Sundays means free pizza ordered from local joints. And while free food is great indeed, my personal favorite part of my last trip was the even freer advice on how to play long-stick middie at Quinnipiac and "totally slay".
Best bar for inventive cocktail names: Bar Sardine
183 W 10th St
Stop by for one of the goofily dubbed drinks like the The Manhattan Bound 'A' train, or Apple Ventura: Sazerac Detective, but continue to return for the unreal Fedora Burger at the Little Wisco watering hole that has a Sag Harbor-meets-Parisian-bistro vibe. Try to figure out how that works.
Best cocktail bar on top of a Five Guys: The Garret
2nd Floor, 296 Bleecker St
Find the secret stairwell entrance just beyond the burger counter, and never wonder again why everyone seems to be completely overdressed for a night out at a fast-casual restaurant chain.
Best live jazz plus ping pong bar, ever: Fat Cat
75 Christopher St
It's basically The Emporium from Dazed & Confused, except only some of the people are in high school. The impressive rows of ping pong, pool, and shuffle board tables, plus Scrabble galore, will boggle the mind even before the shockingly good live jazz gets going. Don't expect to get a table right away though. Let's be reasonable.
20 7th Ave S
Save for the suspiciously quiet queue that wraps around the corner, the outside is unmarked. You'll wait, ID in shaking hand, for the frightening man at the door to decide if you're worth the mustachioed barman's bespoke cocktails. Once inside, you'll realize no one wants to whiskey-shame you -- the joint is actually totally, totally chill.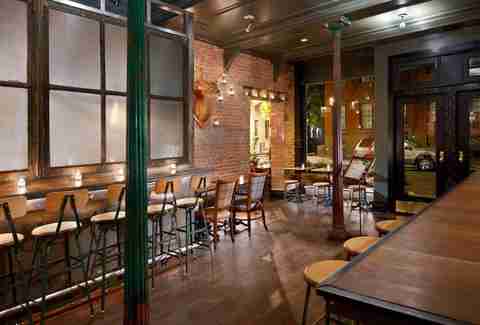 150 W 10th St
The selection of single malts at this authentic Scottish gastropub is legitimately staggering, and just because the menu has haggis doesn't mean you're required to order it. But it's always nice to have the option.
575 Hudson St
Leave the faux-authentic chain restaurant feel to the pubs in Midtown because the upscale kitchen at D6 is helmed by an actual Irish chef. There's outdoor seating for summer, a fireplace for winter, and plenty of custom cocktails and craft brews on tap.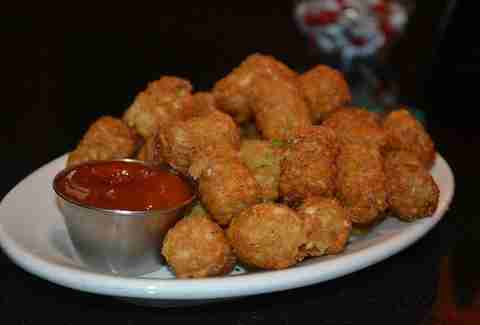 Best bourbon and tater tots: Daddy-O
44 Bedford St
Bourbon and tots go together like hair mousse and Anne Burrell, who coincidentally once told the Food Network that Daddy-O's Herbaceous Mojito was the best thing she ever drank. It's not a bourbon drink, but that's still high praise.
90 Greenwich Ave
The bright red "BAR" sign is your beacon. Follow it to terrifyingly cheap beer, a hefty jukebox, a tasty Shot of the Day, and sometimes, a dog.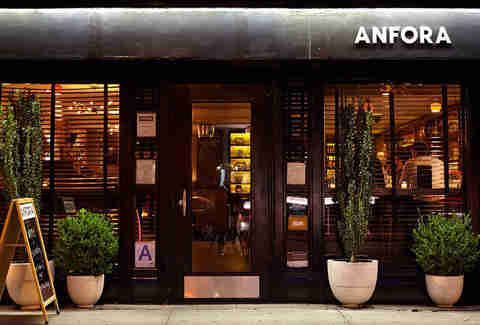 Best wine bar: Anfora
34 8th Ave
The extensive, accessible menu that includes, but is certainly not limited to, wines from Slovenia, Lebanon, Italy, and Austria, is only as intimidating as you allow it to be.
Best bar that's a billion times better than its Midtown cousin: Galway Hooker
133 7th Ave S
Pretty much any bar, anywhere is going to be better than its Midtown counterpart, but this cavernous bi-level West Village outpost is particularly tolerable due to its multiple screens for game-watching and beyond-satisfactory draft beer selection.
281 Bleeker St
The best beer bar in the city, hands-down. The frequently-updated chalkboards tell you what's on tap that very minute and the food is shockingly good, too. Expect a mix of afterwork button-ups, beer snobs, and general West Village riffraff all talking loud and drinking hard.
Best bar that makes you feel like you're in Belgium: Vol de Nuit
148 W 4th St
What might be the city's best selection of Belgian beer is nestled within these hushed walls. Slather the moules-frites in copious amounts of ketchup and mayo to keep things unquestionably authentic.
510 Hudson St
It's dark, seductive, and exclusionary, kind of like your Tinder profile pic. Except you don't do this in your Tinder profile pic.
Best bar for picking someone up: Wilfie & Nell
228 W 4th St
Seeing as it's constantly packed to the rafters with excellent-looking humans, head here to increase the probability of going home with one of them. Math, people.
Best free jukebox and paid Tiki drinks: The Rusty Knot
425 West St
Unlike the jukebox, tropical cocktails like the Singapore Sling or Mai Tai will cost ya. Mainly tomorrow morning. Island-themed bamboo decor lends the place a kind of fruity vibe, but they get the kitsch to the exact right place where it's actually fun.
Best bar where Dylan Thomas died, but that's okay: White Horse Tavern
57 Hudson St
So no, he didn't exactly die sitting at the bar, but legend insists he imbibed quite a bit before he retreated to the Chelsea Hotel where he croaked a few days later. The White Horse Tavern: almost killing really famous poets since 1880!
59 Christopher St
It's technically a Wisconsin bar, and it has the Leinie's to back it up, but you can casually play darts or hang out at one of the many tables or couches in the back and not be engulfed by people quoting Aaron Rodgers insurance commercials.
57 Grove St
You'll find grand jazz here almost every night of the week, but it's only on Thursdays and Fridays that super-saucy blues singer Sweet Georgia Brown comes on to growl classics like "Car Wash", then bark at you to tip her. Which you will, partly because she's amazing, partly because she's kind of terrifying.
Sign up here for our daily NYC email and be the first to get all the food/drink/fun New York has to offer.
Carrie Dennis is an Associate Editor for Thrillist and likes to hit all these spots in one night. Follow her on Twitter @CarrrieDennnis.