There's a cocktail bar hidden above a Five Guys (with exclusive burgers)
You've always wanted to start an epic drinking story with, "So I walk into this Five Guys...", and now you totally can, thanks to The Garret. It's an impossible-to-find-unless-you're-looking-for-it cocktail bar, now open on top of the Five Guys in the West Village.
The first step? Finding it. If you were familiar with the old, dingy sports bar that used to be in this spot, head there. If not, walk into the Bleecker St Five Guys, go past the tables, the condiment stand, and the ordering station, and make your way to the back staircase seen here.
Upstairs, you'll find this artist's loft of a bar with two massive skylights, several couches, a ton of hourglasses (?), and a sunken private party room decked out with a taxidermied rhino head.
Oh, also -- beware of the bathroom: the inside of the door is kind of panic-inducing, thanks to a door knob art installation from the artists behind nearby Greenwich Locksmiths.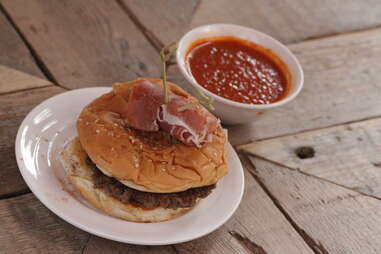 Anyway, once you're at the bar, you'll be handsomely rewarded with Five Guys burgers that you can't get at any other Five Guys (not even the Hoboken one!!!), like the Italian Neighbors Burger (w/ Ottomanelli Bros. prosciutto both outside and in, and house-made marinara from Pagani), the Sixth Man Burger (w/ Sriracha, five spice, and mustard seed), and the Garret Burger (w/ steak marinade dust and Luger sauce).
This place is still more 'bar' than 'burger bar', though, as illustrated by a top-notch boozing program that doesn't take itself too seriously. Try the Rosarita Stick Up, a tequila drink with rosemary thyme syrup, egg white, lemon juice, and Grand Marnier topped with rose petals... all inspired by one of the bartender's more sordid/rose petal-filled nights out.
You can also roll with the sadly unsmokable White Grass, which's made with as many Kentucky ingredients as they could get their hands on (honey, blackberry, mint, bourbon...), plus lemon juice and Brooklyn Weisse.
And since, like we said, they don't take themselves too seriously (even though the previous two drinks make it seem like they kind of do), they've also got the magnificently named "2 Lime Crew", featuring vodka and... soda. It's kiiiinda a house specialty.
Andrew Zimmer is Thrillist's NYC Editor, and he loves to drink vodka sodas at weddings because they don't get him too full to dance. Follow him on Facebook, Twitter, and Instagram.