The magic and merriment of the holidays are over and it's time to get sober for Dry January. Alternately known as Drynuary, Dry January offers everyone a free, 31-day ride on the wagon. It's a month-long excuse to skip those birthday brunches, bachelor parties, bumble dates, cocktail hours, and just because tipples.
But a catchy portmanteau alone may not be enough to motivate a DIY detox: You need a reason for the season. So whether you're dry for an evening of family fun, abstaining for fitness, or so hungover from New Year's Eve you'll never look at a bar again, here are some great places to bid adieu to booze in NYC.
Soho
Listen, I'm not here to tell you to go, like, rock climbing with some stranger from the internet. You need a date that's low-stakes, easy to dip out of, and sexier than Starbucks. The Housing Works Bookstore Café eases a meeting sans pot-valiance by offering both an activity (book browsing!) and something to do with your hands (drinking a cappuccino!). If you like the rando, you can peruse the stacks until you're hungry enough to grab a bite at Seamore's or Cocotte. And if they say their favorite book is The Great Gatsby, you can fake an emergency and be on the F train in 5 minutes flat.
When you're babysitting your niece and nephew: Dave & Buster's
Times Square
If they were your kids, it would be fine to get drunk, but they're not, so here you are. I hate to break it to you, but you're going to have to go to Times Square. Sure, Times Square is h-e-double-hockey-sticks (you're going to have to talk that way around your sister's kids) on earth, but Dave & Buster's is heaven. The rainbow lights! The plink-plink of pennies dropping! The smell of mozzarella sticks! There's a bar, but it's easy to avoid, and you want to stay sharp to kick an eight year-old's ass at Skee-Ball, anyway. There are games based on iPhone apps and digital points instead of those sweet little tickets of yore, but Dave & Buster's still has all the fun of your childhood's analog arcade. Would it be better to go there on mushrooms? Probably! But you're babysitting, so save it for your next trip.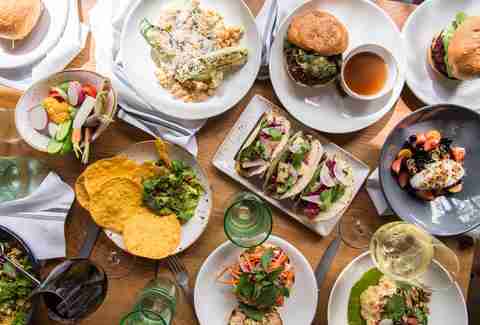 Flatiron
If you're still not drinking, you're on…what? Day 3, Day 4? You feel like shit; you have a pimple right in the middle of your nose, like a witch; and you've already told everyone that you're doing Whole30, so the best part is over. Once you've moved past the bargaining stage—Red wine is a fruit! Do they make sweet potato vodka?—and moved on to acceptance, it's time to trick your body into thinking it's having a cocktail. The Little Beet Table, a sit-down offshoot of the casual lunch spot, offers non-alcoholic drinks like beet soda, iced matcha, and cucumber lemonade. It also has plenty of Whole 30- and paleo-approved entrees, so you can try to forget how many chicken breasts you've eaten in the last 48 hours.
When you're sad but you know drinking will make it worse: Film Forum
Hudson Square
Public crying in New York City is criminally underrated. Everyone ignores you, which makes you feel like a ghost, or an angel, but your sadness becomes a part of the public record. I like to do it in yoga class, but if you haven't yet reached my tenure in New York (13 years) or level of depression (functioning), it's better to start somewhere semi-private. Check what's playing at the newly-renovated Film Forum. Pick something so old it's black-and-white and features at least two (2) people wearing hats. Don't even have a glass of wine before you go -- you don't want to numb this! Bring tissues, cry your eyes out into a bucket of popcorn, and blink back into the sun feeling better than if you were stepping out of a bar.
Williamsburg
You've got an early conference call, but your friend from Syracuse is only in town for tonight. St. Mazie's, an intimate supper club on Grand Street, is the perfect place to compromise. He can order from their absinthe menu, you can snack on oysters and olives, and you can show him a real New York time with live bluegrass or gypsy jazz. Sets start as early as 7:00, so you can hear about his twins getting kicked out of preschool by nine, call a Lyft by ten, and be tucked into bed by eleven.  
When you're so hungover you can't even look at alcohol: Dog Beach
Prospect Park
You were just going to have one drink! Six hours later, you fell asleep in your clothes with one foot on the floor to mitigate the spins. Now it's morning and you're starving but you're afraid to stand up. Spend $18 on Seamless for a lukewarm coffee and an egg-and-cheese bagel, take a shower, and text the friends who kept buying you shots, because you're going to Dog Beach. A magical place past the Long Meadow Ballfields in Prospect Park, it's the rocky end of a lake where off-leash dogs splash and fetch sticks and bark with joy at their luck. Sit on a bench in the sun and watch them come and go. Throw a ball! You'll feel better. I'm not going to make a hair-of-the-dog joke because I'm a professional, but by 3, you might just feel good enough to drink a Bloody Mary.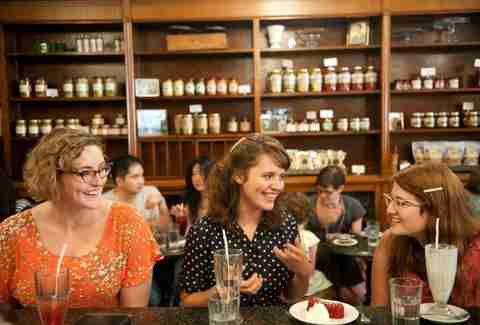 When you're trying to get pregnant: Brooklyn Farmacy
Carroll Gardens
So you're not consuming sushi, bologna, Brie, or liquor. When you can't drown your sorrows in alcohol, ice cream is the next best thing. You're supposed to steer clear of low-fat dairy (something about…androgens?) so keep it high fat. For your health. Brooklyn Farmacy, an old-fashioned soda fountain, makes gigantic sundaes that are the stuff of pregnant lady dreams: caramel and potato chips; pretzels and marshmallow fluff; scoops of chocolate ice cream drowned ecstatically, inexplicably, with a vanilla milkshake. Plus, the whole vibe is wholesome and family-oriented—just the thing to put you in the mood to go home and get, um, "family oriented."
When your parents are in town and you're trying to prove to them you have your life together: Tenement Museum
Lower East Side
You live in a 3bd/1ba with four people, but goddammit, you're going to show your mom and stepdad that getting a liberal arts degree was a great idea. Museums are ideal destinations for visiting parents -- they're easy, they're full of culture, and they give you something to talk about besides why you're still single. My favorite for parents is the Tenement Museum, which recreates the lives of early immigrants on the Lower East Side. It's enthralling to learn about the city's history, and thinking about a whole family living in one room during the 1860s is sure to put your own living situation into perspective. Book tickets early, because the tours are small and sell out quickly.
When you're training for a marathon: SPiN
Flatiron
Congratulations! You're insane. Maintain your competitive edge at SPiN, the upsettingly-capitalized Ping Pong bar started, charmingly, by Bernie Bro Susan Sarandon. After 9pm, it's 21 and over, so you won't have to maneuver around any table tennis wunderkinds. The bar serves up "Spingria" (exactly what it sounds like) and lots of carbo-loading snacks, so be a mensch and buy your friends a drink. It's the least you can do -- they're going to be waiting in the freezing rain to watch you run by for two seconds in November.
When you're on a course of antibiotics: Breakneck Ridge
Cold Spring, NY
You're feeling better, but the doctor said you've got to take the pills until the bottle's empty. Your friends want to meet this weekend for a boozy brunch, but isn't that how you got sick in the first place? You need some fresh air, away from bus belches and those people on the subway who blow their nose into a tissue and then use the tissue to hold the pole. Have your friends meet you at Grand Central, instead, and ride the weekend-only 90-minute Metro North straight to Breakneck Ridge, a gorgeous peak at the edge of Dutchess county. It's a medium-difficult hike, so make sure to bring plenty of water and snacks. When you've had enough nature, head to the town of Cold Spring, where your friends can have their boozy brunch after all and you can get a little high on that sweet, sweet Hudson Valley air.
When you've gone out six nights in a row and you're pretty sure you're getting too old for this but you don't really know what comes next: Literally Anywhere
New York
Go sit somewhere, anywhere, and be with yourself. Don't bring your phone. Don't do anything. Don't hold anything, or listen to anything. Don't drink or eat or smoke anything. Being near the water is nice, or in grass, but neither is necessary. Now isn't this nice? Next time, try it for a little bit longer.  
 
Sign up here for our daily NYC email and be the first to get all the food/drink/fun New York has to offer.