You're going to drink this summer, probably more than a little, so why not make a game out of it that doesn't involve floor-dirty ping-pong balls? Here's what we're thinking: we rounded up 21 things you need to drink in NYC this summer. The game is you drink all of them in a totally responsible and reasonable manner throughout the summer. Note: we're halfway done already.
Also, as with last year's challenge, there's no reward except the smug sense of self-satisfaction only those who have had the best summer of their lives can feel.
A Tiki cocktail
Mai Tais, Zombies, drinks loaded with crushed ice and rum, these are the things that make a summer feel like summer. The heyday of NYC Tiki bars may have passed for now, but there's still a zillion great places to get the good stuff from the Nomad Bar to Zombie Hut in Carroll Gardens. Extra credit if it comes in a coconut or pineapple or something.
A Negroni
Trendy among the cocktail set, this Italian aperitif remains as refreshing and bitter as ever on a hot day, preferably before some sort of seafood-laden pasta or pizza. The Gilroy on the Upper East Side has a whole section of the menu dedicated to these.
A dunkaroo
Dunk your head in an ice bucket, then drink a beer at a responsibly fast rate -- this is the highest degree of difficulty on the list, save it for a really hot day.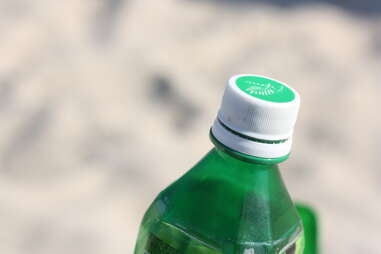 A vodka drink at the beach, in a container like a vitaminwater bottle or something
Bonus points if you manage not to drink sand.

Rosé
Look, you can mock this if you want, or you can enjoy a refreshing glass of wine on a hot summer day -- Navy has a deal going from 3-6pm on weekdays with a dozen oysters and a bottle for $50, Fat Jew has his own line of it, and the Hamptons is pretty much up to its ass in it daily -- your call.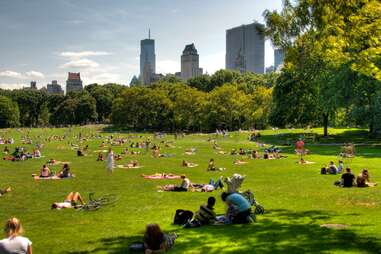 Wine in Central Park
Step one: put box of wine in backpack. Step two: purchase red Solo cups. Step three: go to park. Step four: drink wine while evading the plain-clothes cops like a fucking champ.

A BBC
Bailey's Banana Coladas are a Montauk staple. Get out to Cyril's (which was recently on the brink of closing) for the standard bearer, or score one in the city at a place like the Boat Basin.
A margarita
Everyone drinks them for good reasons, and those reasons are they're awesome and often surprisingly strong. May we suggest the options at Gran Electrica, El Rio Grande, or Empellón Al Pastor? Yes, we may.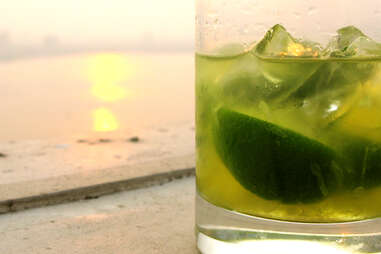 A caipirinha
See above, but it has cachaca in it and it's harder to say.
Beer at a BBQ
Make sure it's ice cold. A BBQ restaurant is an acceptable substitute if you don't have a friend with a roof or a backyard.

Beer for breakfast
A nice, light domestic something is a good go-to here, and Jeremy's Ale House has got you covered.
An overpriced beer at a Yankees game
A Mets game works too.

A Salty Dog
Grapefruit juice, vodka, salted rim, simple as hell, refreshing as hell. If you can't have one on a boat, the dudes at Shoolbred's make a great one.

Anything at a nearby chill-ass beach bar
Rockaway works, Coney probably works too, but you can also hop the LIRR to Pop's in Long Beach for some live music, sand, and cocktails.
A beer slushie
The Thai specialty is basically an ultra-refreshing frozen beer and is especially good if you just housed some crazy-spicy food; get both at Uncle Boons.

A frozen Corona
A different kind of beer slushie, the underground surf bar Reunion makes this refreshing summery concoction and you should drink many of them.

A spritzer
When you've had a big night, and you don't want to drink, but you're friends are being total dicks and making fun of you for passing on that rosé, sneak into the kitchen and add a little spritz, problem solved.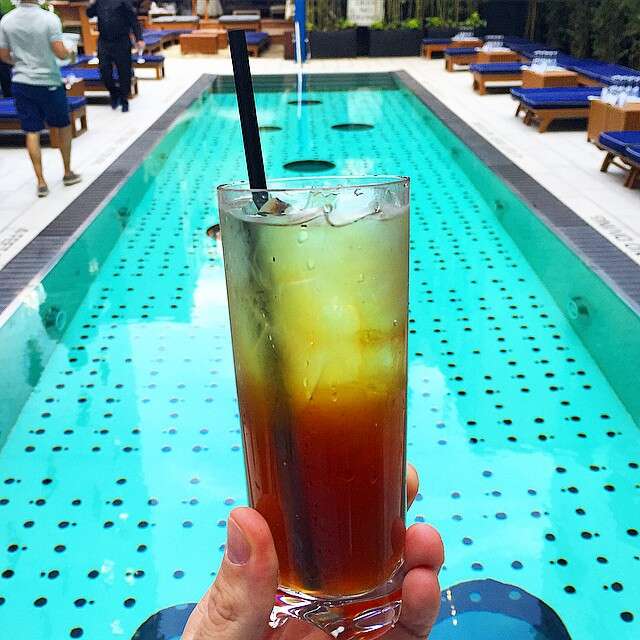 Anything by a pool in the city
There are lots of options, but the Beach at Dream Downtown serves an excellent bucket of wine in a lounge chair or Pimm's Cup. You can either pay for a day pass, or try to sneak in.

Anything in the office, at or before 3pm
Give a big middle finger to corporate life. Boss-mode activated.
Andrew Zimmer is Thrillist's NYC editor and his bosses HATE it when he drinks at 3pm. JK, they're cool with it. Follow him on Instagram.