Fun fact: Oktoberfest actually starts Sept 21st, and since that leaves you like no time to get to Germany, you'll definitey need this rundown of where to take down giant beers, eat many, many sausages, and finally be celebrated for wearing your lederhosen over the next few weeks. A not-so-fun fact: Oktoberfest technically ends on Oct 6th, so you'd better start festing quick.
Bierhaus NYC
Midtown East
In addition to a slew of live music throughout the fest, on Oct 26th they'll be hosting their second annual nationally sanctioned bratwurst eating championship with a stable of professional eaters including Jamie "The Bear" McDonald. Registration is open to all, but don't forget that dude is named The Bear.
Bohemian Beer Hall
Astoria
All day everyday from Sept 28th to Oct 6th, the NY beer garden großvater (that means "grandfather", we think) will be doing "Oktoberfest in the Garden" with pig roasts, raffles, bands including the Polka Brothers (duh) on the 6th, and plenty of Oktoberfest-style brews.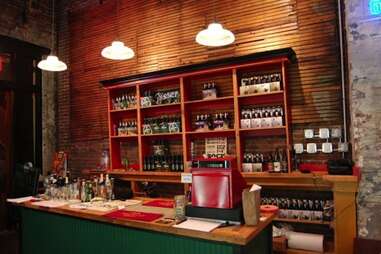 Brouwerij Lane
Greenpoint
Get crafty on the fest by heading to Greenpoint on Saturday, Sept 28th for special brews including "traditional Oktoberfest offerings and even a few Franconian gravity kegs" that include old favorites like Weissenohe Bonator, Freigeist Abraxxxas Lichtenhainer Weisse, and 2011 Bahnhof Porticus Brettanomyces Porter. You know, those.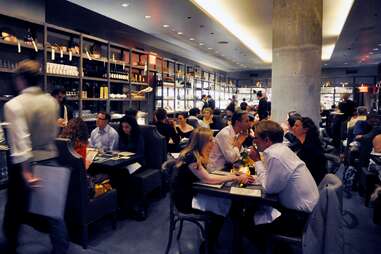 DBGB
East Village
Drink specials start on the 21st and last throughout October, including $8 large steins on opening weekend (Sept 21st-22nd), and a beer and brat dinner on Oct 2nd with house-made charcuterie, unlimited Oktoberfest beers, and the Choucroute Royale: a plate of smoked and roasted pork loin, grilled pork belly, brats, Viennoise sausage, and crispy pig trotter, aka "German health food".
Loreley
Lower East Side
One of the spots keeping the party going throughout October, they've got specials happening nearly every day, as well as some must-hit events, including a ceremonial keg tapping with free beer on Sept 21st, a 10yr anniversary party with 2000-liters of beer and a pig on a spit on Oct 3rd, a sausage fest on Oct 5th, and a German beer tasting party on Sept 25th and Oct 16th with seven brews and a three-course German meal, with beer expert Rudi Eilers guiding everything.
Radegast
Williamsburg
While it always feels kinda Oktoberfesty in there, they've got a celebratory keg tapping and pig roast on Sept 21st, Sept 28th, and Oct 5th, plus mug-holding competitions, which are much more fun and much more brutal than you would ever imagine. You've been holding mugs poorly all these years.
Zum Schneider
Alphabet City
Running events from Sept 28th to October 13th, in addition to an official after-party to the annual German-American Steuben Parade on the 21st, Zum will let you do such choice stuff as "drown yourself in a stein of original Oktoberfest beer", enjoy gingerbread hearts, giant pretzels, and whole broiled chickens, or just "sing and dance the polka".