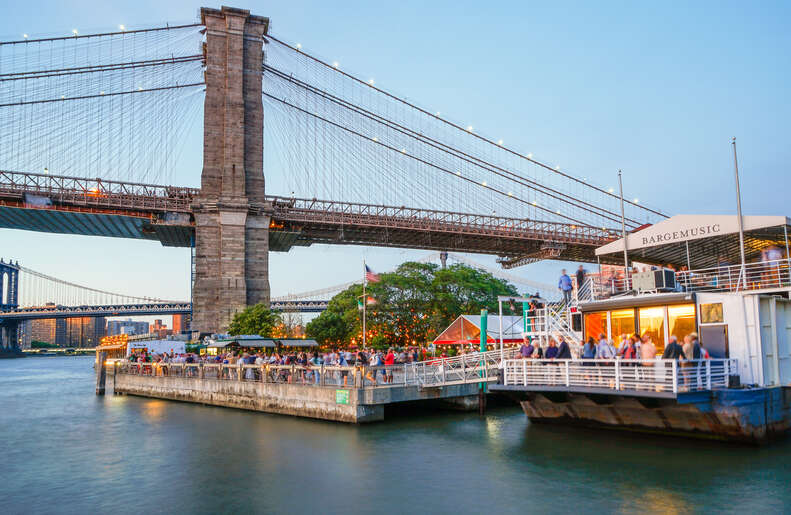 Brooklyn Bridge Park, Central Park

| Alan Tan Photography / Shutterstock.com
Brooklyn Bridge Park, Central Park

| Alan Tan Photography / Shutterstock.com
In New York, when the days get longer and the shorts come out of hibernation, you can almost feel a collective undercurrent begin to hum. Those of us who have endured the long, freezing hell that is winter on a crowded island unify around one common, life-sustaining goal: to drink booze in the sun.
Sure, patios and sidewalk tables are cute, but we need more. We need expansive green lawns, people-watching, and endless activities. So we drink where we want to, slowly restoring our belief in the fact that this the greatest city in the world. Fun? Absolutely. Legal? Eh...
In 2016, the NYPD quietly announced that it would not arrest anyone for drinking in public in Manhattan. Sure, that was a small win, but tickets and summonses still don't sound very fun, so how do you drink in NYC without seeing cuffs or court? It's simple -- if a cop can't see the brand name of your booze, they can't write you a ticket. Put those two laws together and it's clear that with a modicum of planning, it's actually difficult to get in trouble for drinking outdoors in New York... which is why you should make the most of your summer by drinking at these places.
Sheep Meadow
Central Park
This has traditionally been the spot to drink outside in NYC; everyone else is doing it, everyone knows you're doing it, and there's no shortage of entrepreneurial gentlemen making the rounds with shockingly affordable beer in case you forgot to BYO. Yes, it can get crowded AF on a nice day, but there's something so satisfying about staking out the perfect spot in a field in the center of a bustling metropolis and wasting a day people-watching and picnicking. The key here -- no Solo cups. They're an easy target, and you're not playing beer pong. Just decant your drink into a nameless vessel and Frisbee on.
Drink: Cheap beer is the move here, especially because you can always refill when your new best friend comes back around with his cooler.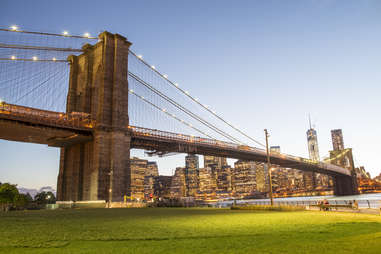 Brooklyn Bridge Park
Dumbo/Brooklyn Heights
Holy hell, have you been to Brooklyn Bridge Park recently? It was rebuilt in 2010, and then rebuilt again after Hurricane Sandy, and it's pretty incredible, especially the Pier 5 Picnic Peninsula. Complete with expansive views of Manhattan, grills for BBQ-ing (if you're so inclined), and impeccable landscaping, Brooklyn Bridge Park has something for everyone, all under the shadow of the Brooklyn Bridge. If your ornery friends just can't wait to get their drink on, start on the Manhattan side and pregame as you walk across the bridge.
Drink: Canned wine -- yes, it can be good, and it looks just like a can of soda. Check out Underwood or Alloy.
Tompkins Square Park
East Village
Ah, TSP... the nexus of all that is good and weird in this city. The park serves as a local hub for sports, tanning, and dog parades, but it hasn't strayed so far from its history of illicit behavior that drinking here is out of the question. One of the best reasons to drink outside in this East Village oasis is that there are plenty of other bizarre behaviors to distract any law enforcement or local vigilante from your barely disguised alcoholic beverage.
Drink: Literally anything. You could probably wheel in a frozen margarita machine and turn a nice profit... and zero heads.
Street fairs
Multiple locations
From May-September, traversing the streets of NYC on any given weekend becomes a gamble. It's not uncommon to stumble upon an avenue closed to traffic, but open to a big ol' street fair. There are dozens of them, and rarely do you know why they're taking place, but hell if they aren't a New York summer staple. Make the detour a destination and enjoy a leisurely walk, some hot street meat, and a nice, cold cocktail. Splurge on an insulated Klean Kanteen and keep your super-sized beverage chilly as you make your way up Second Ave.
Drink: A simple summer cocktail, like a gin & tonic or a scratch margarita, is best, and not just because it's easy to remake when you need a refill on the go.
Multiple locations
Besides street fairs, few things signify New York in the summer like the return of outdoor movies. Yes, they can be overly crowded, but if you get there early and come prepared, they can be pretty darn fantastic. Most locations won't let you bring in full coolers, but they also won't obsessively check your bags and blankets. Go old school with some booze in a soda bottle (or three... movies are long) and buy mixers there. High school was fun, wasn't it?
Drink: Whatever liquor your heart desires.
Rockaway, Fort Tilden, Sandy Hook (NJ)
What's better than drinking on a beach? New York beaches (much like Sheep Meadow) are an easy place to drink unnoticed, simply because everyone is doing it. The only buzzkill is when you realize how hot your hooch has gotten while you were crispin' up. Enter the wine thermos, which is specially designed to keep your wine nice and cool for up to 24 hours. What a time to be alive!
Drink: Wine. It may seem insane to bring wine to a hot beach, but with the nifty little cold-keeping contraption, you can finally enjoy some frosty rosé with your waves.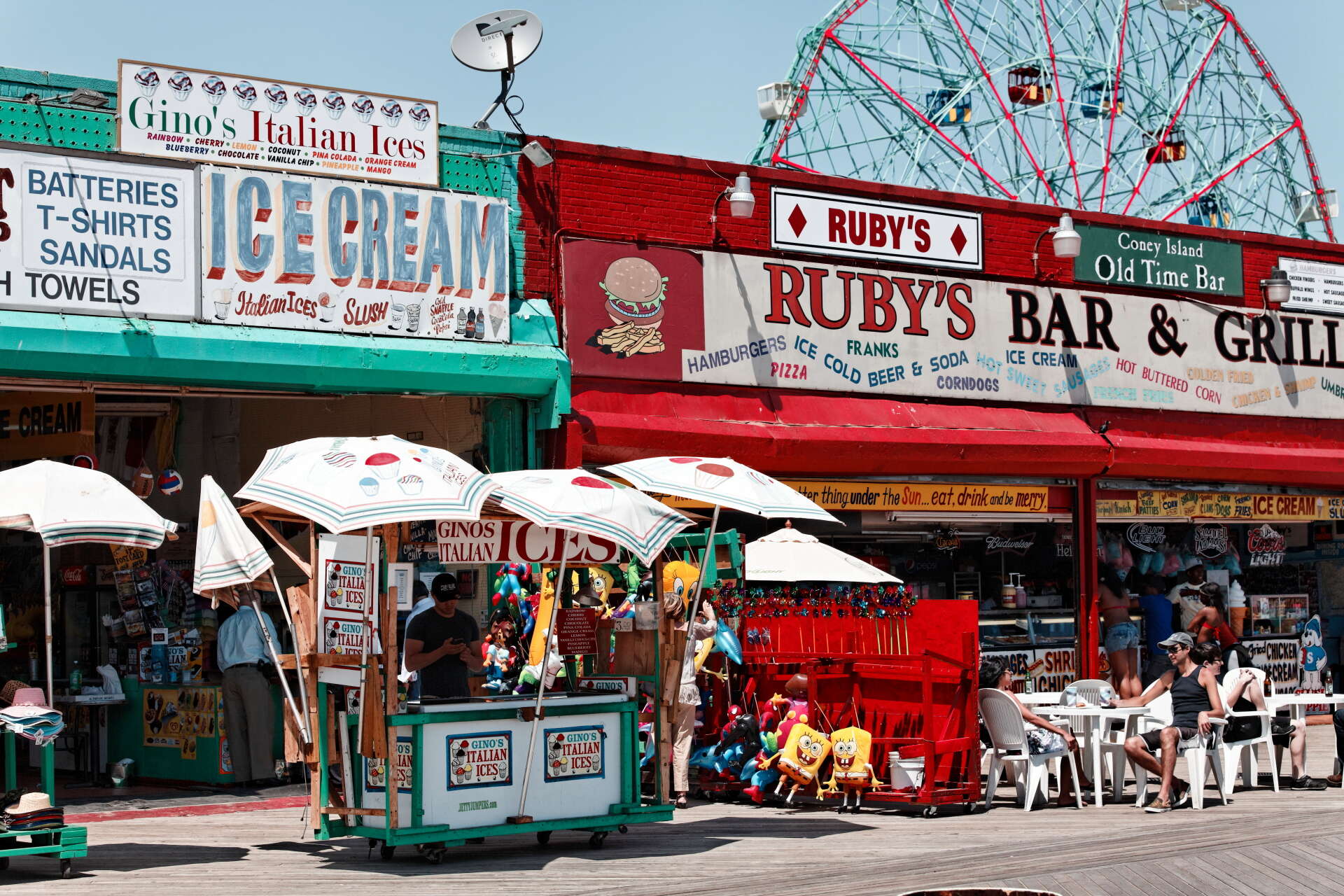 The boardwalk
Coney Island
If you want to spend a summer day smashed up against another human body, then head to the beach at Coney Island. But if you want to spend a summer day playing bizarre games, singing outdoor karaoke, and enjoying rides that are older than your parents, then hang out on the boardwalk. Sure, you can't "Shoot the Freak" anymore, but there's still plenty of people-watching, silly history, and damn weird fun to be had at Coney Island -- and you best be buzzed while you have it.
Drink: Grab a big gulp with your Nathan's hot dog and add the booze you brought in your collapsible bladder flask.
Riverside Park
Upper West Side
If you haven't been to Riverside Park, drop everything and go right now. It's beautiful, and quieter than most parks in the city, with tons of pristine lawns just perfect for setting up some games and drinks. Drink easy on the Upper West Side since this park isn't overly crowded, and the crowd it does draw is usually pretty uninterested in what's happening past their own strollers. Grab some fancier-than-usual picnic fare at Zabar's and feel nice and classy while you're drinking alfresco.
Drink: You can be bold here. Break out some prosecco, or mix up some mimosas. Just make sure the glass stays in a cooler or a bag.
Pier 25
West Side Highway
Did you know there's a mini golf course on the West Side Highway? It's on Pier 25, and at $5 a game, it may be one of the cheapest things to "do" in NYC. Let your friends wait in line at Grand Banks while you crush that mini golf course with a beer or two in a large coffee cup. Any coffee shop will give you a few disposable vessels (yes, they know why you're asking), but if you're smart, you'll invest in a "roadie stash" at home. After your round, you can head down the pier and take in a beach volleyball game, or watch the boats on the Hudson, or just… play another round.
Drink: Anything. In a coffee cup. Duh.
McCarren Park
Williamsburg
Odds are if you drink alcohol, you've had a drink in McCarren Park. Once upon a time, there was a magical bar called the Turkey's Nest where you could procure a beer or a frozen marg (yep) from a giant Styrofoam cup and boldly sip in the park. They've since cracked down on the open containers leaving the bar, but that hasn't quelled the hoards of Williamsburg-ers hungry for booze and grass (the kind you sit on). Regardless of what you think of what's become of Williamsburg, McCarren is a great park to watch a softball game and enjoy a cold one. Just avoid bringing Styrofoam to the park and go for the old bottle-in-bag look. So hot right now.
Drink: Craft beer and cider seems appropriate here. When you're done with park-sitting, it will be easy to continue on that craft train at Spritzenhaus or Mugs Ale House.
Seastreak Ferries
Multiple locations
So this may be cheating a little, since there actually is a cash bar on board the Seastreak Ferries, so drinking is super-easy and super-legal, but no outdoor NYC drinking list would be complete without a little boat ride. The ferries take off from multiple places all over the city, and sipping wine while windblown with a view of the skyline is the best way to feel like you're drinking in the best city in the world. They've recently added new destinations, so whether you're going to The Rockaways, Martha's Vineyard, or just commuting home, sip back and enjoy the view.
Drink: As much as your cash can buy.
Sign up here for our daily NYC email and be the first to get all the food/drink/fun New York has to offer.