The air is crisp, girlfriends are under blankets, everything is pumpkin flavored, and there are six awesome new places to party. It's officially fall in New York City. And also officially that time when you want us to tell you all about said awesome new places to party.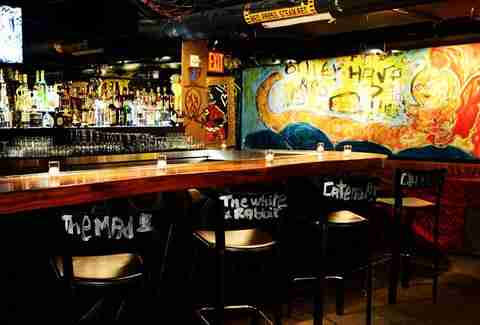 Union Square
When one of the world's most successful and powerful artists (so, Domingo Zapata) stamps his name on something, you should probably check it out. After joining forces with The Gerber Group, Zapata designed numerous Alice in Wonderland-inspired murals that sweep across this subterranean lounge at the W Hotel in Union Square. The club features plenty of plush velvet seating, as well as an illuminating DJ booth, and a NYC rarity: a fast-moving bar. Drink-age includes classic cocktails, a "create-your-own" gin and tonic bar with house-made tonics and seasonal garnishes, and Latin-inspired libations like sangrias, pisco cocktails, and mojitos. Studio is a magnet for the model, artist, and socialite types.
Williamsburg
Located in South Williamsburg, this spicy, newly revamped lounge was shut down after an electrical fire, but it's back and filled with amazing cocktails (some on tap) that owner Leif Young Huckman pours for a stylish, casual, good-looking crowd. The new décor is slightly reminiscent of Miami (in a good way... yes, there's a good way), and it's a breath of fresh air in the endless Brooklyn sea of gastro pubs and urban farmhouse bars. Some moves to consider: the Aperol Spritz on tap; the Imperial Julep with rye, rum, and Bigallet China-China; the Downward Spiral with absinthe, cachaça, lemon, pineapple, honey, and ginger; or the Fire Walk With Me Punch that serves four with gin (or vodka), fraise de bois, blackberry syrup, lemon juice, and sparkling wine.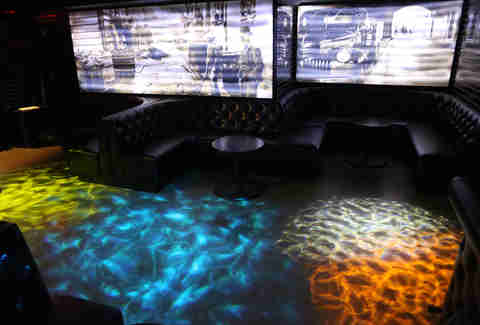 Tribeca
This new speakeasy, located underneath the restaurant Church Street Tavern, is a bit smaller than your average club, but it's a quality-over-quantity vibe in here. A lack of pretentious lines and doormen make for a more civilized place to spend a Friday evening than some other spots. Named after, and inspired by, the iconic 1888 Jacob Riis photograph of a gangster-ridden alleyway in NYC's historical Five Points neighborhood, Bandit's Roost does a good job putting a modern, clubby spin on the NYC "speakeasy" vibe.
 
Hudson Square
Once known as the infamous Don Hills, The Hills brings back everything you loved about the old club, including the grungy rock-and-roll interior. Lovers of this New York institution can breathe a sigh of relief because its doors are open again and better than ever. No fancy cocktails here. This is a whiskey-on-the-rocks type of place, where hot girls in motorcycle boots frown upon that blazer/button down combo.
LES
After shutting its doors almost a year ago, long-time Downtown favorite Max Fish has reopened its doors on Orchard St, after rumors swirled that it would reopen in Williamsburg. Max Fish part deux will operate with the same late-night hours it always did before, featuring some of its beloved old furniture and new artists' work adorning the walls. Get over there and get involved with all the debauchery that Max Fish became legendary for.
Hell's Kitchen
Inspired by the sultry party lands of Ibiza, this spot had an epic New York Fashion Week opening in September (Jeremy Scott's after-party), with Madonna, Skrillex, and Diplo commanding the 1s and 2s, that quickly helped it cement itself as a Manhattan hot spot. With an enormous 20,000sqft space featuring a dance floor big enough for everyone to do the shmoney dance. It regularly hosts powerhouse DJs such as A-Trak and Tiesto, and even Leonardo DiCaprio has been spotted partying there, if that's your thing.
Sign up here for our daily NYC email and be the first to get all the food/drink/fun New York has to offer.
Wael Alexander Davis is a freelancer writer for Thrillist. Follow him on Instagram at @waeldavis and Twitter at @waeldavis.