The biggest night of the year for movie stars not yet blighted by scandal and the people who love to rip them on Twitter is upon us -- the 90th Annual Academy Awards! Before you consider spending another Oscar Sunday on your sofa, remember the madness from last year's big Best Picture reveal. Boomers can keep their moonwalk broadcasts. This generation will forever ask, "Where were you when Moonlight won Best Picture?"
The Best Picture race will, as usual, come down to incredibly beautiful people in horrific romantic relationships, incredibly beautiful teens who feel feelings, or the newspaper one. In any event, these are our picks for where you should watch the Oscars depending on your Best Picture pick. Plus one for those of you who went to film school and can't shut up about it.
Recommended Video
What to Watch This Weekend: 'Vox Lux' and More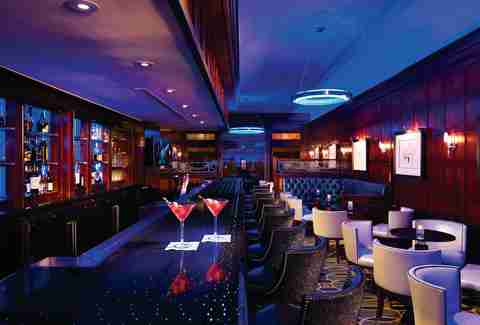 59 West 44th Street
Believe it or not, Times Square is much more than a destination for aspiring hip-hop stars to thrust their mixtapes at you and demand $5. This glittery hellhole is actually named for our beloved newspaper, The New York Times, who along with The Washington Post changed the face of journalism with the publication of the Pentagon Papers in the early 1970s. #RealNews, y'all. The Algonquin, in particular, has a history closely tied to the local media -- it was the meeting spot of the famed "Round Table," a group of journalists and creatives who would get together for regular lunches in the 1920s to tell jokes and shoot the shit. Channel that vibe with your own group of geniuses as you cheer for Queen of the Universe, Meryl Streep to take home yet another golden statuette.
259 West Fourth Street
Oh, to be young and not quite in love, but think you might be because your frame of reference is limited and your horny-mones are raging. The name of this West Village hotspot pays tribute to olive oil rather than sexuality, but that doesn't mean it isn't the perfect place to recount your teenage years and wish that Greta Gerwig had been around to direct them. For an intimate view of the show, sidle up to the bar and order an extra un-virgin cocktail and sigh, because who among us has not had their heart broken by Timothée Chalamet this year?
5 Spring Street
"Sweet" and "vicious" are two words that not only describe Allison Williams' character, Rose, but the conflicting-yet-complementary tones of this satirical horror. I'm scared, but I'm laughing? He loves her, but she's evil? "Colorblind" white liberals can be as damaging as outright racists? The day can be saved by a TSA agent??? Consider all the ways Jordan Peele's film made you feel and channel that energy into hollering for every damn one of Get Out's nominations, frozen margarita in hand. Blind art dealers will jones for this uniquely decorated space, and as we're steering clear from hypnosis for the time being, let it be noted that smokers are able to light up in the venue's backyard, judgment-free.
If you dug Dunkirk: Salty Dog
7509 Third Avenue, Brooklyn
While it's been a good many years since a war has raged on New York soil, we are still surrounded by folks who have served and risked their lives for our safety. Root for one of the Academy's underdog choices along with New York's Bravest at Bay Ridge's Salty Dog, a bar and restaurant fashioned after a classic firehouse. Named in a nod to firefighters and sailors -- the latter making up many of the characters in this film -- Salty Dog typically screens sporting events, but they'll tune into the Oscars on Sunday. For fun, see how many of the regulars can identify Harry Styles.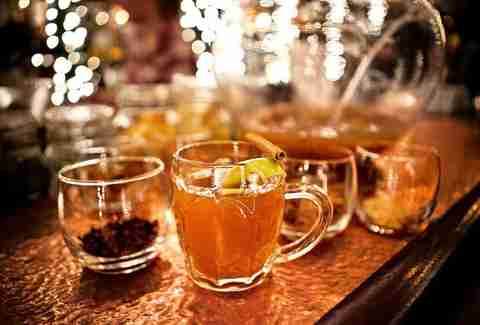 45 East 28th Street
You couldn't scout a more on-the-nose location for supporting a Winston Churchill-themed movie than a Winston Churchill-themed bar. The near defeat of the British Empire may have been the darkest hour for the English during WWII, but be prepared to experience the Lit(est) Hour come Sunday, thanks to the tavern's impressive list of craft beers and whiskeys. Even better? They'll be serving a traditional Sunday roast -- roast beef, leg of lamb and Yorkshire pudding will make for a most tasty, if unusual, viewing party meal.
If you're sweet on The Shape of Water: Jalopy Tavern
317 Columbia Street, Brooklyn
There's nowhere better suited to an ultimate The Shape of Water experience than the beautiful Red Hook waterfront. Take the bus or ferry (and watch the raindrops dance) to this subway-free neighborhood where all species are welcome. View the Awards at Jalopy, which, like Elisa's apartment, shares a space with a theater. Afterward, sidestep any potential spies from Brighton Beach before jumping into the Gowanus Canal to find an amphibian god lover of your own.
If you're keen on Three Billboards Outside Ebbing, Missouri: Route 66 Smokehouse
79 Pearl Street
Beleaguered Chief Willoughby could have counted himself lucky that at least Mildred Hayes erected her billboards on back roads rather than on Route 66 -- the Main Street of America that runs through Missouri and seven other states. New Yorkers can get a taste of the fictional Ebbing via this FiDi smokehouse, whose pairings of BBQ favorites and boozy slushies would be a perfect fit in the Show-Me State. Molotov cocktails are not on the menu.
218 West 35th Street
This Garment District bar serves up cocktails as carefully crafted as a House of Woodcock gown. Clean, geometric lines appoint Thread's gingerly lit bar in the heart of New York City's fashion center. Order the Termination Point, a tequila cocktail made with Casamigos reposado, Aperol, St. Germain, agave and lime -- no poison mushrooms, we promise. This ominously monikered cocktail could have been named for another film, but it's actually a sewing term -- the place where two seam lines end.
If you're crazy about Call Me by Your Name: Etcetera Etcetera
352 West 44th Street
Few viewing opportunities make as much sense for a Call Me by Your Name diehard than a massive, family-style Italian dinner. Mangiare on pasta while sobbing over Sufjan Stevens' performance and answering trivia questions to win free drinks. Must order: their signature cocktail, the Etcetera Etcetera. It's made with, among other ingredients, peach liqueur. It'll make you feel as sexy as Elio, with none of the embarrassment if someone spots you drinking it.
308 Bedford Avenue, Brooklyn
Bitter that The Florida Project wasn't nominated? Or rather, that obscure foreign film that everyone needs to see but likely won't because Hollywood is trash? If you're going to find anyone who cares, it'll likely be at this Williamsburg micro-cinema and bar. Get there early (doors open at 5:30pm) to show your dedication and drown your sorrows during their Oscar Night drinking games. Trust us, everyone definitely wants to hear about how your senior film project could have changed the game, if only you had gotten funding.
Sign up here for our daily NYC email and be the first to get all the food/drink/fun New York has to offer.