The Dinner Platter at Bubby's

| Photo courtesy of Bubby's
The Dinner Platter at Bubby's

| Photo courtesy of Bubby's
Whether you're rooting for the Kansas City Chiefs or the Philadelphia Eagles, or (like us) are just watching for the commercials and Rihanna's long-awaited return to stage during the halftime show, the 2023 Super Bowl on Sunday, February 12 is going to be iconic.
So, while some of us plan on throwing watch parties in our apartments and others intend on pulling up to the city's most rowdy sports bars, there's truly no wrong way to go about game day. From mouth watering catering kits that'll take your hosting skills to the next level to a lively tailgate event and a boozy pre-game brunch, here are some of the best food deals and parties in NYC for Super Bowl LVII.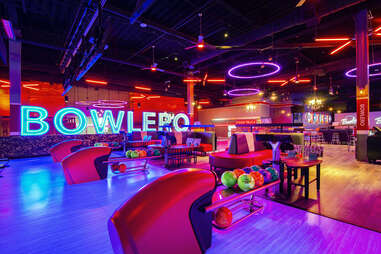 Throughout game day
Various locations
With three branches set across New York City, the colorful Bowlero bowling alleys are a popular go-to for indoor entertainment, especially during these colder months. On game day, drop by the Times Square, Chelsea Piers, or Jackson Heights locations for a special Super Bowl package that includes two hours of bowling, three food menu items, drink tickets, and shoe rentals for $44 per person. In between your turns on the lane, you'll be able to catch all the Eagles vs. Chiefs action on the big screens spread around the alley.
Sunday, February 12, 12 pm–late
Williamsburg
When it comes to the Big Apple version of tailgating, Tailgate in Williamsburg reigns supreme. So there's no question that this year's Super Bowl lineup is stacked. At noon, roll up to the dog-friendly bar for an adoption event hosted by Bond Vet followed by a lighthearted Puppy Bowl at 1 pm, where anyone's canines can compete. Following that, the pregame party kicks off at 2:30 pm and features DJ sets plus drink specials on beer, hard seltzers, and spirits. Next up, secure a reservation to watch the championship game from within heated cabanas with personal 65-inch TVs before celebrating (or mourning) your team by dancing the night away at the after party.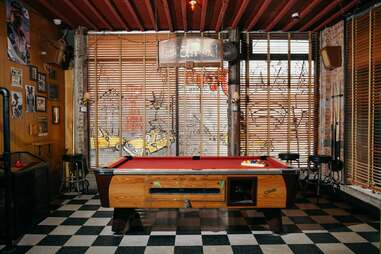 Sunday, February 12, 1 pm–2 am
Lower East Side
Channeling the aura of an old-school honky tonk is the dive joint, Ray's. Since opening in 2019, this spot has maintained its popularity due to its celebrity owners as well as its no-frills aesthetic of wood paneling, colorful string lights, disco ball, and orange booths. Roll up for cheap beers and wings before challenging someone to a game of pool or head over to the tattoo artist who will be inking guests with real tattoos of their favorite team. No RSVP or ticket is required.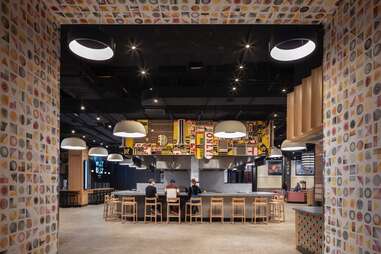 Sunday, February 12, 5 pm
Chelsea
Located within the historical Starrett-Lehigh building, Olly Olly Market joined New York City's powerhouse crew of food halls in October of last year. Within the 17,000-square-foot space, popular vendors include the social media hits of Shmackwich, known for its Wagyu Chop Cheese; Forsyth Fire Escape, who specialize in Scallion Pancake Burritos; and more. Drop by on February 12 at 5 pm for the market's Super Bowl viewing party to watch the game on the big screen and snack your way through themed bites from the vendors. RSVP is available online.
Sunday, February 12, 12 pm
West Village
Inspired by British supper clubs, 9 Jones is the brainchild of nightlife entrepreneurs behind concepts like the now-closed 1Oak and offers bespoke cocktails and Greek-inspired plates among a space with plush velvet seats and a secret entrance. Just in time for the Super Bowl, the hotspot has rolled out a brunch program that includes menu items like Salmon Carpaccio, Shakshuka, and Greek Fries, accompanied by live music from talented DJs. If you're in the mood to skip the game altogether, guests can hang out for a while sipping on signature cocktails Diet Prada (bergamot liqueur, blood orange, prosecco) or balling out with the special tableside Trolly Experience—which allows guests to try their hand at devising their own concoctions—while classic films screen in the background.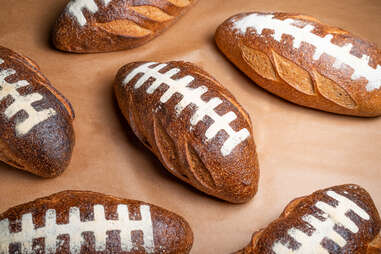 Step up your at-home game day party with fire catering kits from top NYC restaurants
Throughout game day
Various locations
If you're planning on hosting an at-home watch party, nailing that killer spread is a key part of the fête's success. Luckily for us, top NYC restaurants have us covered with mouth-watering catering kits.
From any Emmy Squared location, customers can pick up the Big Game Pack for $99, which feeds eight to ten people and includes Garlic Sticks, a Classic Pizza, Colony Pizza (pepperoni, pickled jalapenos, honey), and Hot Chicken Pizza (white sauce, hot chicken, pickle). The popular Tribeca spot Bubby's is running large-format orders for pickup or local delivery like The Appetizer Platter at $75 (Tater Tots, Jalapeno Poppers, Pigs in a Blanket) or The Dinner Platter at $95 (selection of appetizers, Mini Burgers, Salted Chocolate Chip Cookies). Another classic football appetizer makes an appearance at King David Tacos, where New Yorkers can take home the Super Bowl Nacho Kit for $35 that includes queso, chorizo, refried beans, sour cream, salsa, jalapenos, and chips.
For barbecue cravings, joints like Morgan's Brooklyn Barbecue are offering new menu items like Philadelphia Queso Whiz and Kansas City Barbecue Sauce, as well as catering kits from $180 that serve from two to twelve people and include menu items like Bacon Cured Ribs, Smoked Brisket, and Fried Oreos. Additionally, Pig Beach is offering two menu packages, called the BBQ XL at $150 and Da Pit Crew at $360 that feature specialties like Full Rack of Ribs, Brisket, Pork Shoulder, Smoked Turkey Breast, and more. Sports fans can also order up a la carte Pulled Pork Sandwiches, Memphis Baby Back Ribs, and Texas Beef Brisket from Blue Smoke.
Known for their sweet and savory creations, Breads Bakery is also a notable contender with a build-your-own catering package that can include a Whole Wheat Football, Buffalo Cauliflower Sliders, Spicy Cheese Straw Bites, and Buffalo Cauliflower Salad.
Throughout game day
Various locations
Sometimes the road most-traveled is the way to go. And we can't deny that hanging out at a sports bar during the big game just feels right. From Blondie's and Lion's Head Tavern on the Upper West Side to Croxley Ale House and Kent Ale House in Williamsburg there's plenty of spots to hit up in Manhattan and Brooklyn. For Queens residents, Twist and Smash'd Sports is a guaranteed good time, while Stan's Sports Bar in the Bronx has been a sports fan haven since 1979.
If you're looking for an Eagles bar in the city, there's Wogie's in the West Village, which is known for their Philly Cheesesteaks, as well as Bait & Hook in the East Village, where a Philadelphia Eagles flag proudly hangs above the entrance.
For those betting on the Chiefs, John Brown BBQ in Long Island City is considered the unofficial homebase for KC fans.
Additionally, for a brewery hang, both of the TALEA Beer Co. locations are hosting watch parties.