Where Every Type of Fan Should Watch the Super Bowl in NYC
It may come as a surprise, but this year's Super Bowl is a Patriots-free affair. Instead, this Sunday, February 2, sports fans will gather to see the San Francisco 49ers face off against the Kansas City Chiefs. Each team's hometown is pretty far afield from NYC, but there are still plenty of places where you can watch the game in the five boroughs.
Because the Super Bowl is as much an eating and drinking extravaganza as it is an opportunity to see expensive commercials and football, we've rounded up the best bars where you can enjoy all the requisite wings and beer with a little something extra, like DJ sets, food and drink specials, drag shows, games, dancing and camaraderie. Here is everywhere you can catch the Chiefs and the 49ers in NYC this weekend.
For fans of the chicken wing, plain and simple: 773 Lounge
Ditmas Park
The Super Bowl is, if nothing else, an excuse to gorge yourself on Buffalo wings. 773 Lounge's faithful recreation of the Western New York staple are truly some of the best in the city. So settle in at this charming, homey Brooklyn neighborhood spot and savor every moment of the game and every morsel of wing.
East Williamsburg
Sure, a few wings are good. But what's better than a few wings? That's right, entirely too many wings. Quaint, comfortable East Williamsburg's Humboldt & Jackson is offering all-you-can-eat wings and guaranteed seating during the game for $20. And if that wasn't enough, at halftime they'll hold a wing-eating contest. Imagine, Shakira and J-Lo on in the background while you "Jenny From the Block" your arteries with chicken, or eat so many wings that you wind up "On The Floor."
Midtown
Located a stone's throw from Madison Square Garden, Mustang Harry's gets a lot right about the traditional sports bar experience: there's plenty of room to accommodate big groups, they have a whole bunch of big-screen TVs (and audio in the bathrooms!), and they've got the kind of bar food you need for the Big Game. This year, they're featuring a forgotten New York City classic, hot dogs from Feltman's, the original Coney Island dog dating back to 1867. Wash it down with $5 Bud or Bud Light for a truly super experience.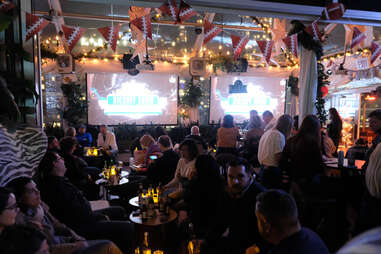 Herald Square
The Super Bowl is traditionally a more down and dirty affair; sports fans huddled over plates of chicken wings slugging cheap domestic beer in sports bars. But that's not for everyone. The Monarch Rooftop, a glass-encased penthouse, offers views of the Empire State Building as well as views of the sports. For $25 you get access to the space to watch the game on five giant projector screens as well as an open beer and wine bar for an hour before the game. Or, for the real high rollers, pay $340 for a table and get a game day food platter as well as a couple beers for each person in your party.
For fans who like their sports with a side of drag, games and dancing: The Stonewall Inn
Greenwich Village
One of the most iconic bars in New York City, The Stonewall Inn isn't really known for its sports. But its Super Bowl celebration is a super Sunday Funday. It's $8 to enter beginning at 4pm, and the five-hour party includes drag shows, dancing, and games, all hosted by Miss Laila Gulabi.
For fans of all games, big and small: Break Bar
Astoria
Super Bowl Sunday is one of those annual events that can struggle to meet expectations (think New Year's Eve, St. Patrick's Day, doing anything else during SantaCon). Break Bar and Billiards in Astoria has so many activities that even if the game is a bust, you'll still find your fun. Choose from giant Jenga, giant Connect Four, pool and ping pong tables, shuffleboard and board games. Whatever your activity of choice is, they've got it. So if you need a distraction from the Big Game, a small game may be the right answer.
Long Island City
Two things are true this Super Bowl: The Tomahawk Chop is bad and needs to go away and the Chiefs are the most exciting team in football right now. If you're a Chiefs fan, savor this moment, because it may not happen for another 50 years. Be around like-minded fans at this KC-style spot and enjoy a buffet of delicious BBQ while you cheer your boys on. But get there early, you won't be the only one with the idea. Also, pro tip: John Brown Smokehouse has a second, nearby location called Mothership Meat Company that will be able to accommodate even more Chiefs fans.
Astoria
The Super Bowl is obviously a celebration of eating, but where are the options for folks who love cooking? Q.E.D., a performance and event space in Astoria, will host a chili cookoff in honor of the big game. For $10, you can enter your delicious concoction into the running with other amateur chefs. And just for showing up and paying the $7 cover, you get to, well, eat chili! Comedians will quip their way through the the first half of the game, so there will actually be some humor, as opposed to the awful attempts at lols made by GoDaddy's ad team.
Bushwick
2019 was another year where we did everything in our power to avoid drinking beer, even switching to hard seltzer. For 2020, let's get back to the basics of beer avoidance with the humble hard cider. Brooklyn Cider House, one of the first cideries in the city, will celebrate the big game with a host of deals to entice apple lovers of all stripes. With dollar chicken wings in three flavors, $29 pitchers of cider, and $11 three-cider flights, you can enjoy the big game without downing a dozen light beers and having to spend half the night in the bathroom line.
Williamsburg
A newcomer to the dancey dive bar scene, Williamsburg's Wilson Lives! (located in the old Dardy Bar space) will offer a more energetic alternative to the average Super Bowl bar experience. Expect $7 beer and shot combos, $2 hot dogs, $9 paninis, multiple screens, and DJ sets before and after the game.
For fans of finding that special someone: Windfall
Bryant Park
The Super Bowl can be a fun, communal experience shared by friends and lovers alike. But for those who don't particularly care about the game, and don't have an S.O. to snuggle up with on the couch for the show, it can be kind of isolating. Windfall will host a matchmaking event where singles can come together, play ice-breaking games, and maybe meet The One. And, of course, the game will also be on in the background so you can check the score if you have to.
East Village
Congrats Niners, you made it this far! And any fan base that boasts Huey Lewis and E-40 can't be all bad, right? During the Super Bowl, you're going to want to be around other Bay Area diehards, so go to Finnerty's, NYC's unofficial home of all things NorCal.

Because of massive demand (hundreds of people were purportedly turned away for the NFC championship), you'll have to buy tickets in advance ($100), and some ticket tiers include an open bar package ($250). Finnerty's will also be raffle off five pieces of top-tier Niners memorabilia throughout the game, with a potential sixth piece if the Niners win.
Sign up here for our daily NYC email and be the first to get all the food/drink/fun New York has to offer.