New York Remember after the 2010 World Cup when you were like, "Dude, I should really get into soccer"? Well, here's your chance: the 2014 World Cup kicks off today. And while you could always hit up soccer shrine Nevada Smiths, you could also not do that and instead head to one of these five soccer havens in NYC, all of which 1) are tailored to a specific fan base (Germany! Croatia! England! USA! USA! USA!), and 2) have beer, good food, and live music. Oh, and a scheduling heads up: the US plays Ghana on June 16th, 6pm; Portugal on June 22nd, 6pm; and Germany on June 26th, noon.
Recommended Video
Proof That Iceland's Ring Road Is the World's Most Beautiful Road Trip
Watch with Germans at Zum Schneider: The Bavarian biergarten is "Germany's NYC headquarters for the World Cup" starting today, then ditches its East Village digs for the day on June 26th to host a live-viewing party of the Germany vs. US game at Solar One along the East River. The sun-soaked outdoor event will be overflowing with German beer, pretzels, and sausages, plus they'll have the match on a whole bunch of screens along with live Oom-pah music.

Continue Reading
Watch with Brazilians at Berry Park: In addition to having multiple TVs airing the Brazil vs. Croatia game (June 12th at 4pm), expect a rowdy halftime party with rowdy halftime DJ Jonny Santos, plus a live performance by Zuzuka Poderosa, a baile funk musician. After the game, expect more live drum music (bateria) on the bar's rooftop complete with samba dancers.
Watch with the English at Percy's Tavern: On June 14th at 6pm, this rowdy party celebrating the match between England vs. Italy will feature beer specials, a ton of traditional British pub grub (bangers and mash, fish and chips...), and hopefully not people head-butting things.
Watch with Americans (!!!) at Jack Demsey's: The NYC branch of the American Outlaws (a nationwide club of dedicated fans who don't actually break the law... probably...) call this Midtown haunt their home bar, so expect a full house every day that the US plays. ESPN filmed a segment of Inside: U.S. Soccer's March to Brazil six-part documentary here, and rumor has it that they might return for some live footage of a future game.


Watch with Croatians at Scorpio Cafe & Bar: This hole-in-the-wall bar in Queens is a place for serious fans, and it's not uncommon for them to spill out on the sidewalks while watching the games (June 12th at 4pm, and all Croatian games thereafter). Get there early on game day, claim a spot at the bar, and order a shot (or three) of Pelinkovac, Croatia's answer to Jager. Živjeli!
Previous Venue
Next Venue
Venue Description
1. Zum Schneider
107 Avenue C, New York, NY 10009
The OG of NYC beer gardens, this German spot is a go-to if you're looking for an authentic German beer and brat session. Though the space isn't typical for a beer garden (as in, there's no garden), the Alphabet City spot has sidewalk seating and communal tables inside.
Previous Venue
Next Venue
Venue Description
2. Berry Park
4 Berry St, Brooklyn, NY 11211
If it's warm out, you're definitely gonna want to snag a seat on this 100+ rooftop bar, where you can gaze upon awesome views of the NYC skyline, while sipping on a variety of German suds and sharing some small bites.
Previous Venue
Next Venue
Venue Description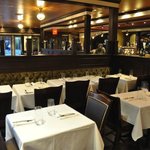 3. Percy's Tavern
210 Avenue A, New York, NY 10009
Percy's, the ultimate Irish pub in Alphabet City, is one of the best spots for serious pub grub, Irish chants, and pints upon pints of brew.
Previous Venue
Next Venue
Venue Description
4. Jack Demsey's
36 W 33rd St, New York, NY 10001
Perhaps the only thing that truly stands out about Jack Demsey's, a cookie-cutter Irish tavern bustling with tourists in Midtown West, is the fact that you desperately want there to be a "p" in the name (as does Google -- "Did you mean: Jack Dempsey's?"). Its concept may be par for the course in this pub-laden city, but luckily, you're still in for quality Irish favorites like Shepherd's pie, bangers & mash, and beer-battered fish & chips alongside tall pints of Guinness. Plus, in the morning, you can stop by for an Irish breakfast while you watch live Euro football on one of the countless flat-screens. There's a basement pool room, too, if you're looking to escape the shouting upstairs.
Previous Venue
Next Venue
Venue Description
5. Scorpio Cafe & Bar
3515 Broadway, Astoria, NY 11106
This Queens haunt may be a hole in the wall, but its a solid spot to catch a game (especially soccer), where it's not uncommon for rowdy fans to spill out onto the sidewalk while watching the games.