Why Long Island Wine Country Is Just as Legit as Napa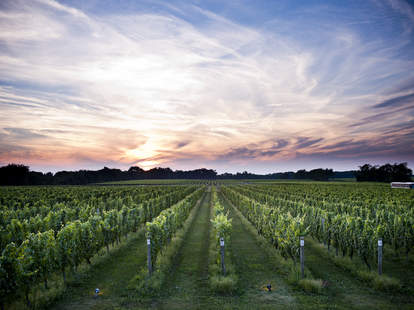 W Studios New York/ Bedell Cellars
When I first visited wine country on Long Island, I knew it'd be no Napa Valley. But that's about all I knew -- I'm a child of the Midwest turned New Yorker with just about as much wine knowledge as the average sauvignon blanc slurper.
I knew that unlike Napa, which I've been lucky enough to experience a few times, there's certainly not a valley in Long Island's wine country. There are no sprawling hills covered in vines as far as the eye can see. There isn't a winery with a touristy tram ride leading to the top, or a winery modeled after a Tuscan castle, or freaking subterranean wine tasting caves. And there's certainly not a fancy wine train, although I've heard the Long Island Railroad commuter line can get pretty boozy.
I also knew that for a bunch of reasons I didn't understand (and probably more), Long Island wine country has long been overlooked, if not lost in the alcoholic vapors of Napa's chardonnay-powered surge to international acclaim. So, when I arrived in Southold, a small town near some of the best wineries on the island, I wasn't wearing the cabernet-tinted spectacles of a Napa loyalist, or sipping the anti-Long Island "haterade" native to the surrounding region. I was merely a guy who likes to drink wine, hoping to do just that.
What I was pleased to discover -- through extensive drinking and more drinking -- is that Long Island wine country is just as great as Napa Valley, and if you think otherwise, well, you've probably never been to Long Island wine country, so uh, put a cork in it.
Pour yourself some pinot and allow me to explain.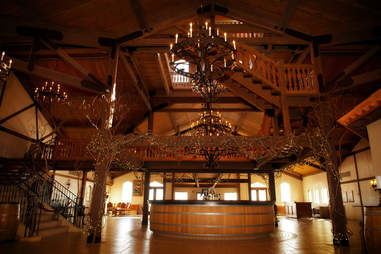 Courtesy of Raphael
First, Long Island has some great things going for it in terms of geography. Getting there from NYC is a breeze by car, via the Hampton Jitney bus service, or by the aforementioned LIRR commuter rail, which means you can easily make a long weekend escape from the city, whereas a trip to Napa is probably best suited as a week-long vacation requiring airplanes. The fact that it's an island also keeps Long Island wine country from becoming overwhelmingly vast, and, well, overwhelming.
With that said, the size of Long Island wine country is a drop in the barrel compared to Napa, totaling over 3,000 acres planted with grapes -- mostly on the North Fork, but also a few on the South Fork and in western Suffolk County, according to the Long Island Wine Council. There are at least 60 vineyards, most of which are open to the public for tastings. So, to me, 40 wineries is much more approachable than the valley's over 450 wineries.
Pour yourself some pinot and allow me to explain.
And if you've ever been out to the North Fork, you know that it's a stunning rural departure from Long Island's long highways and long strip malls, and a coastal paradise compared to NYC. This is particularly apparent at one of my favorite places there, Kontokosta Winery, which sits on 62 acres near Greenport, NY, and features over a quarter mile of Long Island Sound waterfront.
Tony Merevick/Thrillist
You should do two things at Kontokosta to live your best life: have a few tastes inside the beautiful indoor space, then buy a bottle of your favorite and head out to the picnic tables and chairs on the bluff overlooking the sound. If you don't think this experience alone is on par with Napa -- if not better than Napa -- then I don't think we should be friends and you should stop reading now.
Honestly, Kontokosta isn't the only winery on Long Island that made me feel like I had somehow landed in Napa. There was also Raphael in Peconic, NY, a dazzling estate with a beautiful wooden interior and a back porch that opens up to a huge expanse of grape vines. Similarly, Bedell Cellars in Cutchogue, NY, made for perfect summer day drinking in the sun and just feet away from the grapes -- what I like to think of as "grape-side" -- or saddled up somewhere along the winery's sizable, tasting room-adjacent porch. Mind you, all of these places have received a bunch of awards and critical acclaim for their wines.
But what I loved the most were the wineries that didn't feel like anything I've experienced in Napa.
You can easily make a long weekend escape from the city, whereas a trip to Napa is probably best suited as a week-long vacation requiring airplanes.
Nearly hidden among 84 acres of vines and situated on the North Fork's Oregon Rd just around the corner from where North Fork Potato Chips are made, is a tasting room for a winery called Lieb Cellars. At Lieb, you can pull up a stool or even grab a seat on a couch in the somewhat rustic space, and order tastes or glasses of its Lieb Cellars wines as well as its Bridge Lane brand wines. Here, I fell in love with a wine I had never seen before: white merlot, which is made from red merlot grapes that are harvested early in the season and carefully crushed. It's delicious and refreshing.
Better yet, Lieb sells is Bridge Lane wines by the box, and get this, by the keg. Why aren't all wineries like that? I really like wine, but I freaking love a wine I can easily dispense into my glass from a shelf in my fridge. I happen to know this from experience.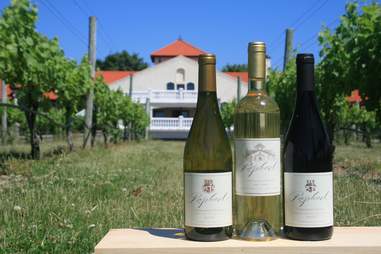 Courtesy of Raphael
Yet, there's one thing about Long Island wine country that pisses me off beyond belief: I can't find Long Island wines outside of Long Island. Even in NYC, you'll rarely come across a good variety in stores and you're even less likely to find them on restaurant wine lists. It's infuriating when a wine shop's New York "section" consists of a bottle of Wölffer Estate rosé (which is great, by the way). On the other hand, you can find Napa Valley wine anywhere, as I often come across bottles I tasted in the valley that I never thought I'd see on the East Coast. It's like bumping into an old friend.
Perhaps this barrier to Long Island wine is both good and bad. While it'd be great to pick up a bottle to drink with dinner on the way home from work, it wouldn't be as special as it is when you buy it directly from the winery and haul it all the way back home in your bags. Actually, who am I kidding? That'd be great, so make it happen, you guys. I'm thirsty.
Courtesy of Bedell Cellars
Look, Napa Valley and Long Island are two insanely different wine countries, both full of delicious wine and the most excellent places to drink it. I'm not here to tell you that you should just forget Napa and replace the resulting bottle-shaped hole in your heart with Long Island, because you totally shouldn't do that. In fact, I can't wait to be back in the valley. This is all to say that if you haven't been to Long Island wine country, it's truly great and, well, you're missing out.
Cheers, to getting your ass out there.
Sign up here for our daily NYC email and be the first to get all the food/drink/fun New York has to offer.
Tony Merevick is Cities News Editor at Thrillist and figures he should just install a wine rack at his desk at this point. Send news tips to news@thrillist.com and follow him on Twitter @tonymerevick.