Thrillist
Thrillist
New Yorkers are proud people; we tend to think our city is pretty damn good at everything. We'll brag that NYC birthed hip-hop and pop art, and if we can't claim we invented it, then we'll definitely claim we made it better.
And while we're pretty sure we didn't invent drinking, we're 100% sure we do it better than anywhere else. So sure, we came up with 18 reasons why New York City is the best city in the world for bars, bartenders, and bar culture, as told by a diverse list of the city's best bartenders.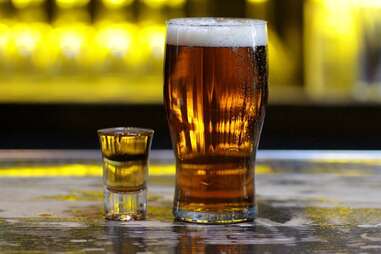 1. Because NYC loves its bars and bartenders more than anywhere else
"My first bartending job was working under Toby Cecchini at the Passerby Bar in Chelsea. The place had become this legendary dive bar where artists and musicians would hang. One day, we got word that the bar was closing because of a lease dispute. So on the last night, we had this incredible blowout. It seemed like the whole city showed up -- I'm talking thousands of people -- to see this place out. Someone had a crow bar and was ripping up tiles of the disco floor and handing them out as souvenirs. Toby arranged that all the money the bar brought in went to an all-cash "severance" package handed out to the bartenders. As a prank, one of the bartenders got his in $1 bills in one of those black, industrial-size trash bags. Nights like that are why bartending in NYC is truly amazing." – Bryan Schneider, Bartender at General Assembly

2. Our customers are better than your customers
"You might be serving the most badass investment banker, who's sitting next to an amazing artist, and they're sitting next to the guy who runs the corner store. Once I was bartending at Ducks Eatery, and a guy mentioned he had played at Carnegie Hall. We asked him to play something, and he just sat down and played for us. It was pretty amazing." – Steve Laycock, Partner at The Gilroy and Ducks Eatery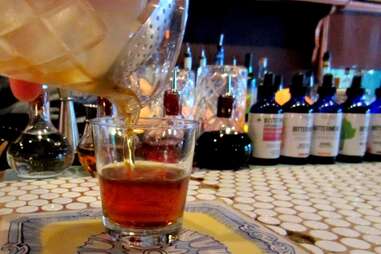 3. A rising tide raises all boats, especially if it's a whiskey tide
"The best thing you can do to improve yourself is to go out and drink other people's drinks. In New York City, you can go out, and if you choose to taste say, Manhattans, you can taste hundreds of them from really great bartenders. You improve through exposure and through learning. Bartending in NYC helps you to be a better bartender." – Aaron Polsky, Formally of Amor Y Amargo and Founder of Bottled Bartender

4. Even NYC's a-holes are the best at being a-holes
"Recently, I had to deal with a very irritating guy who kept making preposterous cocktail requests. He claimed to work as a bartender at a restaurant close by. After a while, it became evident that he couldn't really handle his liquor, and he was asked to leave. In some bizarre act of defiance, he picked up a lime, and with his bare hands, ripped it into two perfect halves. He raised one in each hand above his head and the juice squirted into his face and eyes leaving him momentarily blind as he exited the door. A minute later, he came back into view, picked up a table and threw it through the window. Luckily nobody was hurt, and he was arrested and thrown in jail." – Douglas Belford, bartender at Raoul's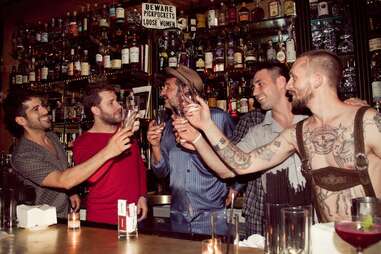 5. You could end up with a movie about you
"One night when I was pretty busy, I started up a conversation with a gentleman at the bar. We talked about everything from sports to science to movies, while I went about my business preparing drinks. I made him a variety of tequila cocktails, walked him through the food menu, and gave my suggestions as always. I didn't think too much about it. The next day, the gentleman came back. He explained that he was a filmmaker and wanted to make a documentary about craft bartenders. After years of hard work, he released Hey Bartender, the first documentary on cocktail culture at the South by Southwest Film Festival in 2013. My journey from Apprentice to Principal Bartender was one of the lead stories. I'll tell you one thing: standing on a red carpet in Hollywood is f*****g awesome." – Steve Schneider, Principal Bartender at Employees Only

6. Bartending in NYC basically allows you free Airbnb when you travel
"You are constantly meeting people from all over the world. There is nothing better than meeting someone here from out of town, and then traveling to their city and getting a true local's tour." – Ryan Spoto, Bartender at Kinfolk Studios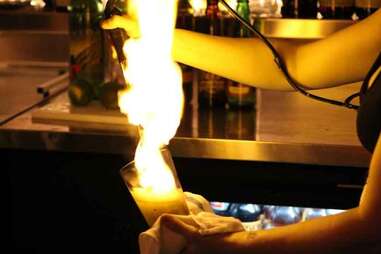 7. We invented the Snaquiri
"The Snaquiri, invented by Karin Stanley from Dutch Kills, is when you make two daiquiris -- one to shoot and one to sip -- because they're so good. It's evolved into little daiquiri shots, for when bartenders want to cheers but can't have a whole drink." – Meaghan Dorman, Bartender at Raines Law Room

8. The bars close at 4am
"The cocktail community is really tight here, but it can be hard to have drinks because we are generally working on the same nights. Fortunately, in New York, we also have the benefit of later closing times. If we close early, we can visit our friends. Where there is a will, there is a way, and when it comes to having a drink with a friend, bartenders will always find a way." – Nicholas Bennett, Bar Captain at Booker and Dax
9. Our tourists are the most hilarious
"A very famous baseball player came into Milk and Honey one night when I was working. There was a lot of shifting seats and heads turning to see him. One guest at the bar, who wasn't from these parts, wanted to know who he was. His companion said, 'I think he was in an episode of Seinfeld.' To think that that was what he was most famous for to this guy made me laugh." – Michael McIlroy, Attaboy

10. Tips are good enough here to make the bad stuff better
"The service industry in general requires an insane amount of tolerance and patience. At least here, your pockets are full at the end of the night... which makes up for the hard work." - Kristen North, Boobie Trap
11. Stuff like this happens:
"A while back, I was chatting with a guest while he sipped an IPA and told me about his job as a diplomat. Somehow the conversation turned to his fondness for collecting art. I mentioned that I collected art too.
'Really?' he asked.
'Yes,' I deadpanned. 'Shoes.'
'Shoes aren't art,' he insisted.
'You have never seen Jimmy Choos,' I countered with a smile.
He laughed.
'Do they make them in your enormous size?' he shot back. (I am 5'10" and my non-slip work shoes are not exactly dainty.)
'I can squeeze into their size 41!' I insisted.
It was just good, light-hearted bar fun. Or so I thought. When I came into work the next day, there was a gorgeous pair of red, size 41 Jimmy Choo stilettos waiting for me." – Katherine Hunt, Bartender at Winnie's Lobby Lounge at Refinery Hotel

12. You can make bartending a career here, which allows for better bars and bartenders
"The money you can make here and the opportunities that exist make it possible for driven, creative, smart people to actually make service and making drinks their careers if they want to." -- Steve Laycock
13. "Boomerangs"
"In NYC, especially in the East Village, there's a massive concentration of incredible bars, and all of the bartenders working are close friends. The trouble is, we all work and are too busy to see each other. So... if we had a cool guest who was heading to one of our friend's bars after ours, we would make a little cocktail and wrap it up to go with a message, and put an inflated plastic glove on top of the glass.
The glove would be tied into a permanent middle finger, and the guest would carry the shot, message, and f*ck you glove to the next bar for the bartenders. Eventually, they would send one back our way, completing the 'Boomerang'. During my last shift at Amor y Amargo, I received 12 Boomerangs, two pizzas, and an order of fries from bartender friends who were stuck at work and couldn't make it to the bar." – Chris Lowder, Bar Manager at The NoMad Hotel
14. Living in our tiny apartments means more time at the bar
"In NYC, space is a luxury many of us don't have. As a result, bars become extensions of people's homes, serving as the living room. It is our job to make people feel welcome in our 'home'. We get to entertain our friends and guests, so it's like we're always the host of a great party." – Michael McFerran, Bar Manager at Bua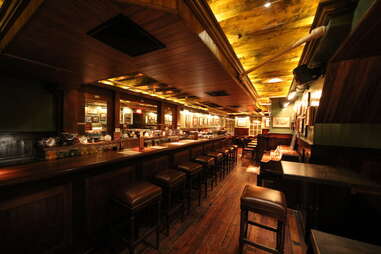 15. The game keeps changing here
"Most people are on their best game here. There's no relaxing into established ways, because the ways change so frequently with new ideas and methods. Often, other cities have a solid way of doing things or a 'style', and that comes from having two or three 'godfathers/godmothers' of the business, instead of over a dozen." – Adrienne Byard, The Roof at Park South

16. Making it here is more impressive than making it anywhere else
"I arrived in NYC three years ago with just enough money to get a cab into the city. Fast forward, and I'm the Managing Partner of one of the world's best bars (in my opinion) (Ed Note: And other people's opinions). I'm by no means a millionaire, but I'm living in a city where everyone has the same mindset as you do, which is to achieve, accomplish, realize your goals, conquer, and be the best you can be. NYC is a roller coaster of a city. The low moments are the lowest of the low, and the high moments make you feel like you're walking on air. NYC suffers no fools, and only the strongest survive -- but when you do survive, the city embraces you." – Jack McGarry, Managing Partner at The Dead Rabbit
17. Competition, competition, and also, competition
"NYC fosters the highest level of most crafts, simply because of the concentration of talented competition. With so many people doing so many great things in such a small area, you are forced to work at the highest level in order to simply survive. In some industries, that seems to breed animosity, but in the hospitality industry, I have only seen it foster growth, friendship, collaboration, and advancement for everyone willing to contribute." – Tristan Willey, Bartender at The Long Island Bar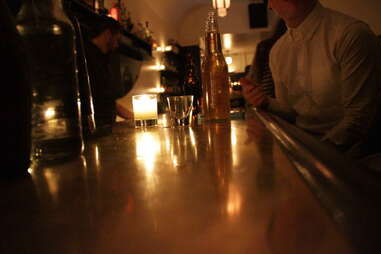 18. When it's all said and done, you get to witness the magic hour
"There's something so surreal about leaving your job at dawn and walking the streets of the city with no one else around. You've been on your feet for more than 12 hours and you're exhausted, but watching the sunrise and the colors hitting the pavement is one of the most extraordinary feelings. You have the whole city to yourself for a moment." – Pamela Wiznitzer, United States Bartenders' Guild New York President
Sign up here for our daily NYC email and be the first to get all the food/drink/fun New York has to offer.
Rachel Murphy is a freelance writer who used to write about fashion. Then she came to NYC and discovered that in America, eating and drinking was more fun. Now she writes about doing those things instead. Follow her on Twitter and Instagram.