The best place to watch football in Williamsburg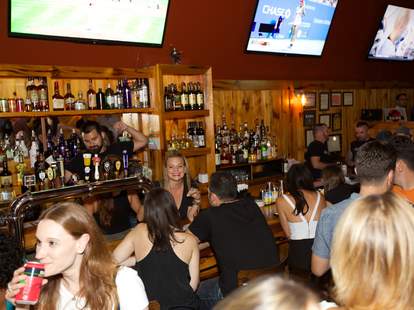 The team behind Whiskey Town, Whiskey Tavern, Whiskey Brooklyn, and Whiskey Annex has now opened... wait for it... The Grand National, an immensely long bar where sports will be showcased but never at the expense of good old-fashioned dive bar carousing. Replete with frankly gorgeous carpentry that at least for the time being gives the place "that new bar smell", it's ideally set up for 14 hour sessions that start with football and end with... shenanigans.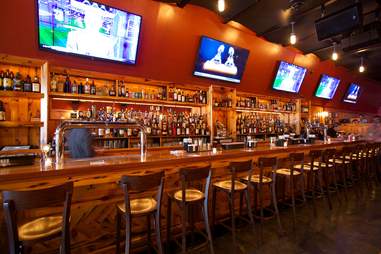 Anthony Humphreys
Anthony Humphreys
Booth spaciousness is of the most important factors influencing one's enjoyment of sports watching. These booths are incredibly spacious -- you will not feel like you're imitating Gary Sinise practicing for the role of Lt. Dan.
Anthony Humphreys
Augmenting the spaciousness: these handy storage bins. Because nobody's bag is more important than your ass.
Anthony Humphreys
The cocktail program is based on a pretty solid notion: a happy bartender makes for happy customers, and in a crowded bar, bartenders are happy when they can make drinks fast.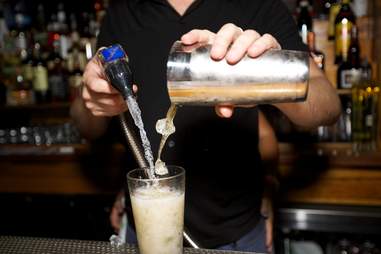 Anthony Humphreys
All the serious work -- mainly making three fresh syrups (mint, ginger, and lavender) -- is handled the night before, so if it's a cocktail you want, you can get your tasty beverage fast.
Anthony Humphreys
Happy bartender.
Anthony Humphreys
Not happy bartender.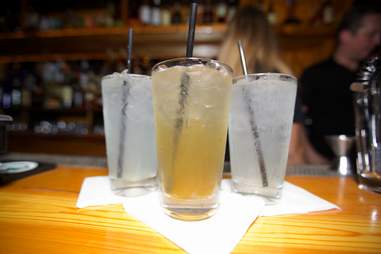 Anthony Humphreys
On a purely making you happy front, the cocktails come in pint glasses. They're also dangerously drinkable by design, especially the No. 3 -- which is essentially a mojito minus the pain in the butt of muddling the mint -- and the bourbon, chili liqueur, ginger syrup, lime juice & soda No. 1.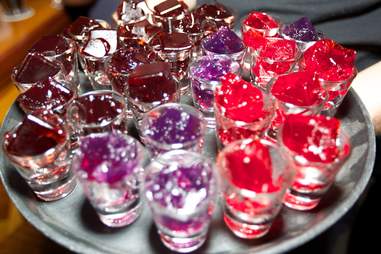 Anthony Humphreys
If you like surprises, try the "Punch of the Jour". If you like folding the space-time continuum in order to become 21+ and 9-years-old at the same time, go for the #4 -- which is basically four jello shots. Well, not basically, it is four jello shots.
Anthony Humphreys
Missing sitting with your toes in the pool out in the Hamptons, the sun kissing your face as you wonder how this fat random dude hogging the raft ever ended up in your share in the first place? Then have a glass of rosé!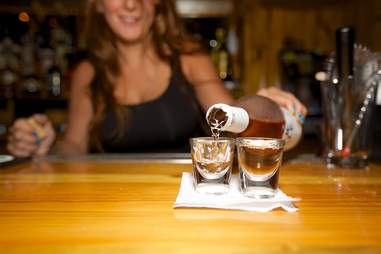 Anthony Humphreys
Anthony Humphreys
Beers run from $3 High Life ponies to $5 drafts of Coors Banquet to $6 Founders All Day IPAs to $10 Sapporo 22ozers.
Anthony Humphreys
Oh and don't worry, just because they don't have whiskey in the name doesn't mean they don't have it behind the bar.
Anthony Humphreys
Things you can shove in your face instead of pouring down your throat include six city-inspired hot dog styles, from the Honolulu...
Anthony Humphreys
... to... crap, was this the Atlanta? This might be the Atlanta.
Anthony Humphreys
Pro tip: these tots are so damn crispy...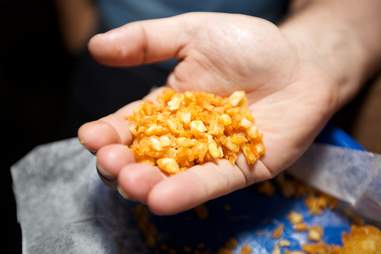 Anthony Humphreys
... they leave handfuls of shake behind, which, again, is pure, unadulterated crisp. Don't be ashamed to eat it like granola.
Anthony Humphreys
This dance floor doubles as a VIP area with its own TV. After the games are over and people want to get all MTV's The Grindy, they can hang out up here instead of dancing next to dudes who just consumed 57 ponies and a million hot dogs and also possibly "The Grand Burrito" (also available in seitan if you're a vegetarian lover of massive gut missiles).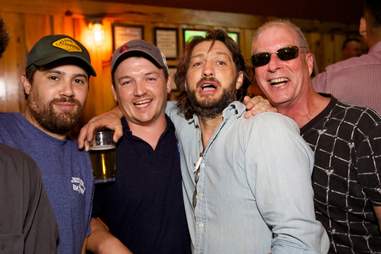 Anthony Humphreys
You know a place is good when the guys who did the build-out hang out there. The guy with the beard (no, the other guy with the beard) is the electrician. He's also Irish. He wants you to come watch American football with him. You probably should.