Whether you're just making your first tentative voyage across the river (wait... seriously?), or you literally grew up on a Bedford you no longer recognize, you're gonna need a guide. So, here are the 15 best bars in Williamsburg, because someone had to discern which of the seventy trillion bars with spacious, taco-truck-filled outdoor patios reign supreme.
Best bowling alley/music venue with really strong beer: Brooklyn Bowl
61 Wythe Ave
Cavernous and field house-like, there's a stage for all sorts of shows, unexpectedly good food (it's by Blue Ribbon), and an enormous bar with an impressive selection of craft beers (most notably, the 8.4% Brooklyn Blast!). Multitask and watch live shows on the screens above the lanes, or just... y'know... turn around.
559 Grand St
Maybe only six actual Canadians hang out here, but whatever. Both you and they can take down Moosehead, Labatt Blue, and Molson -- and ridiculously cheap domestics. The air hockey table works most of the time, but a fickle air hockey table is preferable to no table at all.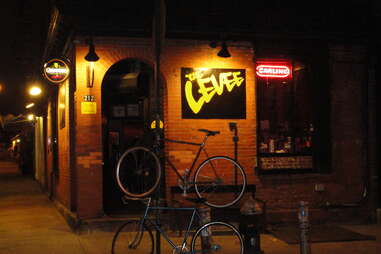 212 Berry St
Taking advantage of the beer-and-shot combos or playing throwback boardgames are not bad decisions. But taking a disgruntled biker's newly topped-off bowl of cheesy poofs is. Everything here is generally kind of sticky, physically.
152 Metropolitan Ave
It's touted as "New York's premier honky tonk bar", not least because of the bluegrass/country musicians who frequently come by to play banjo jams -- not to mention, the lack of competition. Try Uncle Willie's (as in, Willie Nelson) Frozen Coffee; a tasty, creamy $6 bourbon and brandy drink served in a paper coffee cup, and get lucky in Finger Bang Alley. Also: free kolaches on Saturday mornings!
484 Union Ave
The bathroom bouncer enforces a one-at-a-time rule, so if you wanna do sex/drugs with another person, you're gonna need one of those realllly tall trench coats. The whole place generally smells like shame, but there's live music, a fire pit, and a backyard taco truck -- plus a photo booth, which comes in handy the next morning when you're trying to determine who you made out with the night before.
609 Grand St
With over 400 whiskeys and seven different kinds of gourmet grilled cheese, you'll wonder why the two aren't always mutually inclusive.
633 Grand St
It's a friendly standby with a killer jukebox, stiff drinks, and a great backyard that occasionally has live music and BBQs. Expect very few frills, unless you consider mounted antlers and a vintage shuffle bowling machine frills.
312 Grand St
It's crazy-popular, not least because of the 12 HD plasma TVs, 22 drafts, and lounge-y leather couches in front of a floor-to-ceiling stone fireplace. Also, the 50ft rich mahogany bar is kind of a big deal. If this was 2004, that line would've killed it. Dorothy Mantooth is a saint!
388 Union Ave
Although the countless taps are a huge draw, the serious number of 25 cent arcade games like RoboCop, NBA Jam, TMNT, Ms. Pac-Man, and the always-beloved Tapper are why this place exists. There's no kitchen, so get food delivered and eat while sitting in chairs seemingly from my high school cafeteria.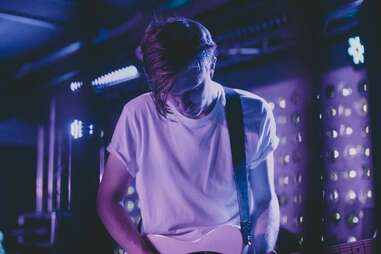 146 Broadway
Though it's kind of depressing/inevitable that all the DIY music venues are closing in Williamsburg, newish Baby's All Right is a totally acceptable replacement. (And honestly, it's way nicer than the old spots. Don't hurt us.)
60 S 2nd St
Straight up, the back patio is effing enormous and rarely crowded as the place is a little off the beaten-Bedford path. Though with summer bonfires, 24 drafts, and a full kitchen, it's definitely worth the hike.
113 N 3rd St
When the day calls for a drink, settle in for the long haul with liters of beer, sausages, and giant pretzels -- plus a deck of house-provided cards -- under the big, bright ceiling windows. It's one of our New York City editor Andrew Zimmer's favorite spots in all of New York, and he's been to at least four bars. So, high praise and stuff.
303 Bedford Ave
Go on a nice day and there may be a dozen actual dogs here, so watch where you step in the just-big-enough backyard.
Best bar for dirty, sweaty dancing: The Woods
48 S 4th St
The typically under-25 crowd is diverse and most definitely down to dance to whichever guest DJ is spinning that night. The immense outdoor space has a taco truck, because of course it does. Sometimes there's a cover, but you can't put a price on grinding while eating carnitas.
298 Bedford Ave
Between the amazing, hanging-garden backyard, oysters until 1am, and an extensive list of premium absinthe, this fancy French-ish place has done half the work for you. Though it's probably not best practice to not lean too hard on spirits with alleged psychoactive properties while on a date. Or maybe it is!
Sign up here for our daily NYC email and be the first to get all the food/drink/fun New York has to offer.
Carrie Dennis is an Associate Editor for Thrillist and thinks grinding and eating carnitas should always be mutually inclusive. Follow her on Twitter @CarrrieDennnis.