A Cinco de Mayo bash, a rib bigger than your head, and cancer-fighting enchiladas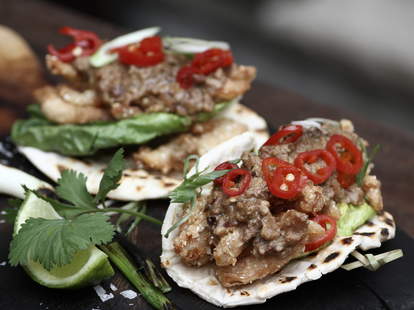 Your Cinco de Mayo PlansLunch Libre: The Thrillist Taco Knockout is going down on Cinco De Mayo, and if you haven't already purchased your tickets to gorge on tacos made from deep-fried hot dogs and pizza, you should do that right now. Plus unlimited beer for four hours -- get your tickets here
SaturdayNo, your beard is not the pride of Brooklyn. Find out what is at the Pride of Brooklyn Homebrew Festival. Get some
From 6-9p, join Heritage Radio Network for an Abbruzzese Style Italian BBQ with Mark Ladner, where you can listen to music by Herbert Spliffington and be the first to taste Harpoon's 2013 summer beer. Snag some tix here
The Dead Rabbit is hosting two "Drink Like Hemingway" events -- the first is Hemingway in Havana on Saturday, the second's Sunday's Hemingway on Paris. A crucial decision awaits. Or actually, do both.
Denim wonderland Self Edge is celebrating its expansion with a party with free beer and a store-wide sale all weekend. Get over there and get some jeans
MondayMassive Rib and Shiner Bock Alert! Mable's is now doing a Southern Supper Series. The first one will see newly-available-in-NYC Shiner Bock beers paired with things like armadillo eggs and the above beef ribs. Spots are avail here
OpeningsNext door to its brother spot The Lobster Place, Cull & Pistol is an elevated raw bar and seafood spot. They've also got maybe the best golf drink ever, which involves Gatorade dust, which you should read more about here...
These enchiladas could literally save your life (and even more importantly, enhance your memory!), so scope the new Tribeca lunch spot Mulberry & Vine, which offers delicious and healthy options
When you think of a little French place in the West Village, you think of this. Take a peek at Charlemagne, a corner joint for steak tartare, champagne, and massive steaks
Astoria was always a worthy destination, but Chef Michael Psilakis just made it even more so with the opening of MP Taverna, where he's working up Greek paella and a lamb burger topped with whipped feta.