An Italian chop house, a vintage video game contest, and, of course, a St. Patty's Day pub crawl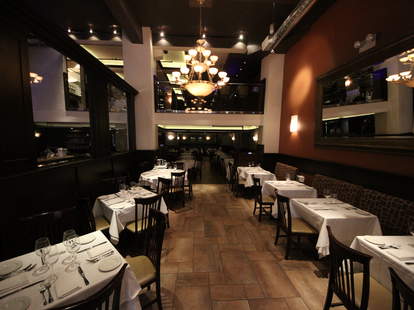 Saturday

Sunday

Openings

Hit Italian chophouse Forty2West (42 W 48th St, btwn 5th and 6th Aves) for happy hour action including plates of housemade charcuterie, Italian craft beers, and cocktails rocking "mint ice cubes". Check out the menu here
Do your best to get a table at brand-new Italian already-hot spot Carbone (181 Thompson St nr Bleecker, 212.254.3000), from the team behind nearby Torrisi and Parm. Take a look at a very nice, artistic drawing of the place
Hit J.Press's new flagship at 304 Bleecker to shop its similarly fresh York St collection. Scope the goods
Stock up on your traditional Irish Malibu at newly opened Heritage Wines at 237 DeKalb Ave in BK, or give them a call (718.237.1525) to see about the classes they're offering. Booze classes!

Ongoing Things You'd Better Do

Every Fri/Sat for the next two or three months, hit the #HOOKxNail pop-up lounge put on by Son's of Essex's Matt Levine and Michael Shah, on the 3rd floor of an art gallery-by-day/this-thing-by-night at 53 Gansevoort. Email HOOKxNail@indieFORK.com for more info.