New Bar Trends That Will Change How You Drink in 2018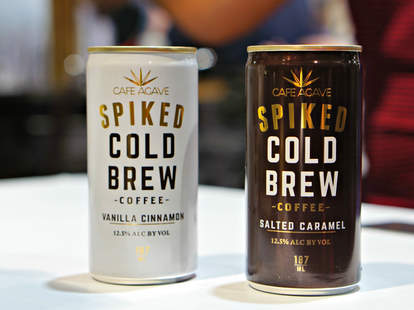 Think of the Nightclub & Bar Show as the CES of booze. The annual trade expo just wrapped up four days of seminars, workshops and nonstop samples of alcohol at the Las Vegas Convention Center. Closed to the public, the event is industry-only and the perfect place to get the scoop on the latest trends that will shape how we drink.
So what can we expect in 2018 and beyond?  
Say Goodbye to Straws
Feel free to blame (or thank) millennials for this one. As younger generations champion sustainability in the workplace, there's a growing movement against using straws in cocktails.
"A number of bar owners are giving straws upon request only," says Charlotte Voisey, director of brand advocacy for William Grant & Sons. "Tons of people get straws in their drinks, they take it out, throw it in the trash. It's waste that can't be recycled easily."  
Expect to also see reusable coasters instead of paper napkins and table tops making due without linens that require large amounts of water to wash them. There's even a traveling pop-up called Trash Tiki that's recycling squeezed limes and other discarded cocktail fruit into syrups, cordials and other drink ingredients.  
"These are small steps businesses can take," says Voisey. "They're not going to change the world overnight, but they can start to reduce their own footprint."
The new measures also save money—which is why sustainability is likely to be not just a trend, but the next phase for bars and restaurants.
Single Malt Is Evolving Beyond Scotland
Voisey also knows a few things about spirits. She says single malt whisky, a category founded by Glenfiddich in 1963, has gone on to inspire whiskey-making around the world.
"Single malt for years was synonymous with scotch and Scotland, but now single malt whiskey is made all over the world—Japan, Ireland, the United States, Taiwan, India, Australia, New Zealand, Belgium—you name it," she says. "Even France, known for its wine, Champagne, Cognac and fruit liqueurs, is making single malt whiskey."
The term "single malt" generally refers to whiskey made at one, single distillery in batches from malted barley in copper pot stills. It's a process that can be recreated virtually anywhere on the planet. "It's got tremendous cache," adds Voisey. "People think of single malt Scotch as the most revered and respected whiskey category. There's something in using that term for whiskey elsewhere in the world to leverage the same credibility."
Frozen Alcohol Is Replacing Ice Cubes
Ever try to freeze alcohol? It usually doesn't work. But Beyond Zero is a new appliance that drops to temperatures so extremely low, it's possible to freeze bourbon, gin or any other preferred spirit into ice cubes.
"You hook up a bottle and it will automatically measure one ounce and divide that into four cubes," says CEO Jason Sherman. "You can't hold them in a regular freezer, so you keep them in our storage device until they're ready for service."
Designed for the bar industry more than home use, the machines don't just change the way a cocktail is made, but also how it tastes. With an ice cube made from a spirit instead of water, the drink doesn't get watered down. So instead of getting weaker, the drink gets stronger. It could also reveal some underlying flavors and complexity. "Whenever you chill a spirit down to the temperatures we're at, it removes that ethanol heat, so you get something that's much, much smoother than traditionally served," Sherman says.
With a retail price of more than $6,000, the machines aren't cheap. But Sherman says sales have been strong in recent months, so don't be surprised if you see Beyond Zero inside a high-end bar very soon.
Cannabis-Infused Cocktails Are a Thing
With more states legalizing marijuana, it only makes sense that cannabis-infused cocktails are growing in popularity, opening up yet another can of legal worms. Nevada and Massachusetts are among the states grappling with new laws and regulations to sort out on-premises consumption. The question is, how much is too much?
"My technique hits you in five minutes," says Warren Bobrow. "Imagine that—total stoned. And it lasts for hours." Bobrow is a mixologist and author of Cannabis Cocktail, Mocktails & Tonics, a book that reveals how to add a psychoactive edge to traditional libations. He stresses that his methods are suited for a private home—not a public bar or restaurant, where it's not known where drinkers have been or what they've previously ingested.  
"Even if we're doing private parties, we have to be cognizant of safety," says Bobrow. "It's not just fun and games—and it's not just business."
Beer and wine companies are now starting to experiment with infusions. Cannabis cocktails are already showing up on bar menus in states like California, but they're more likely to be prepared with CBD oil, offering the health benefits of marijuana without the THC high.
Bartenders Are Throwing Out Less Wine
Wine has a very short life span. Once a bottle is open, the clock starts ticking. Nobody wants to waste good vino by throwing out an unfinished bottle at the end of the night. So to help solve the problem, bartenders are turning to cans, taps, single-serve bottles and, yes, even boxed wine to help solve the problem.
"Don't get me wrong, you don't want to use the cheap stuff," says David Foss, a wine and beverage consultant with Invictus Hospitality. "Even in my bar in Manhattan, I've poured boxed wine. You go to cool little wine bars in Paris and they have boxed wine."
Just like kegs and cans, boxed wine is not only easier to store, but more cost-effective to ship than heavy bottles—saving dollars in a business where margins matter.
"You can offer a better product at a lower price," says Foss, who also notes that chilling wine, whether red or white, will make it last longer. "Put a cork in it, put it in the fridge and that's going to save a little bit of time."
The Emergence of Mexican Whiskey
The demand for tequila and mezcal has led to an agave shortage in Mexico that Douglas French saw coming more than five years ago. After spending two decades distilling mezcal from 30 acres of agave in Oaxaca, the supply was starting to disappear.
"I came to realize we were going to go bankrupt real fast if we didn't start making something else," French remembers. So he turned to another native plant—corn—and began producing whiskey. The result is Sierra Norte, which went into production about three years ago and already has at least 16 distributors. Each bottle retails for about $50 with 45 percent ABV in different varieties based on the color of the corn: white, yellow and black, with a red version in the works. Each one tastes a little different, but the process is the same.
Rob Kachelriess
"85 percent corn, 15 percent malted barley," says French. "Just an old basic whiskey recipe."
With the ability to balance a variety of colors and flavors with smooth subtle undertones, Mexican whiskey could be the next big thing to hit bars around all corners of North America.
A Bottle of Water That Adds $100 to Your Bill
Imagine browsing a menu and ordering an expensive bottle of water the same way you'd order an expensive bottle of wine. That's the idea behind Svalbardi, a 750-ml bottle of water that sells for $100.
So what's the big deal? The product is harvested from icebergs right before they melt into the Arctic waters above Norway. "They've been protected since they fell as snow more than 4,000 years ago," says company founder and CEO Jamal Qureshi. "The water is super, super pure with a super, super light taste."
Rob Kachelriess
Obviously, this is strictly for the luxury market. Even the bottle is a big deal, made from flint glass and a renewable-sourced wood cap carved in Spain. It's all very impressive, whether you plan to drink Svalbardi while dining at an upscale restaurant or just display it on a shelf at home.
Rum Is the Next Big Sipping Spirit
Americans tend to think of rum as a spirit whose main purpose is to be mixed in fruity cocktails, but it's been quietly regaining its stature as a popular choice for sipping on its own, especially among younger drinkers.
"I think rum is beautiful," says Armando Conway, a bartender who works on the Strip. "Rum was popular before bourbon. I love how it brings Latin culture to the United States."
Like tequila, rum tends to be more complex, smooth and flavorful when darkened by aging. Save the white stuff for those Strawberry Daiquiris—although there is an exception here and there.
Cold-Brewed Coffee and Alcohol
Adding a shot of Baileys or Kahlua to your after-dinner coffee has long had its own appeal, but a company called Cafe Agave is serving up some ready-to-drink boozy coffee by the can.
"It's a cold-brewed coffee," says founding partner Mark Scialdone. "The method extracts the caffeine and takes out the acidity. We wanted to couple that with something that made sense. We have a wine-based spirit that's 12.5 percent alcohol-by-volume. It's a balance of a craft-style energy drink with alcohol."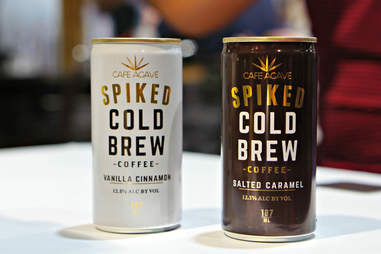 Rob Kachelriess
Of course, the idea is to get these cans into as many convenience stores as possible in flavors like Salted Caramel and Vanilla Cinnamon that are sweetened with agave. Cafe Agave also has spiked cream-based shots for sale that can be added to any regular coffee.
Shots Made with Mist
The longest lines at the trade show by far could be found at the booth for Vapshot, a company that specializes in mixing light mist with microdroplets of alcohol. One of their featured products is a machine that fills balloons with the stuff that are quickly ingested like a shot.
"You get this slight buzz, but because the amount is so small, you can't really get drunk off it," says Matt Oguz, head of sales for the company. "In 20-30 minutes, it's gone... It will show zero alcohol in your bloodstream."
Oguz says that makes alcohol mist a safe and responsible choice for designated drivers. And he sees the machines as extremely cost-effective for bar owners.  
"From a single bottle you can get possibly 500 shots. A shot is costing a cent or two, including the balloon and spirit."
Rob Kachelriess
Vapshot has been making inroads in Europe and Asia while slowly increasing its presence in the United States. Just remember, if you spend $5 for a mist shot, you're really only getting about a drop of actual alcohol. 
A Classic Cocktail Could Make a Comeback
Is the Vieux Carre the new Old Fashioned? The New Orleans favorite appears to have a bright future as the go-to classic cocktail that you can't help but notice on bar menus everywhere.
Bartender Armando Conway says there's a clear sign the Vieux Carre is gaining renewed interest: "When you see the ladies ordering a cocktail, you know it's going to be trendy."
Made with rye, Cognac and sweet vermouth, the Vieux Carre is a stylish take on a whiskey-based drink that doesn't get too fancy. Getting the name right ("voh care-eh") could be the most difficult part of enjoying the drink, but chances are good you'll hear someone order it more than a few times in the months ahead.