The Seine is famous for its bridges (there are 37, and they're all super nice), and there's no better way to explore Paris than the Seine -- hence why we put together this river-hopping bar crawl, which crosses one of those bridges between each stop, and to keep things easy on the legs, we've picked out only the most bankside-hugging of the city's best drinkeries.
Le Café du Marché
7th arrondissement
Start your bar crawl off with a drink at Le Café du Marche. It's your first drink, so kick it off with a classic French apéritif, such as a kir. Located on a pedestrian-only street almost, kinda, just next to the Eiffel Tower, this classic Parisian sidewalk cafe also has a solid wine list and is known for making their food w/ fresh ingredients from the market. After you've kicked off your bar crawl with a celebratory toast, head over to Champ de Mars and confidently stride under the Eiffel, and over the Pont d'Iéna.
Tokyo Eat at Palais de Tokyo
16th arrondissement
Stop two -- next to Paris's Modern Art Museum lies Palais de Tokyo, which apart from yet more art, also houses the awesome Tokyo Eat restaurant. Order the mojito, and not ironically (because you're are "so over" them), these ones are legit good. Plus if you're on the terrace, you have a great view of the river you're about to become super-well acquainted with. Now head towards said river, and then glide over Pont de l'Alma.
The Club
7th arrondissement
Now follow the Quai d'Orsay and then wind your way down to Rue de l'Université, eventually turning right on Rue Sarcouf. Here you will find the concept cocktail bar The Club. With a slick interior, this place is known for two things: their cocktails and their club sandos. They do specialty mixeds (try the Jamaican Mule for example), as well as the classics, the 'tenders can mix pretty much anything. From here, make your way to the grand avenue leading from Invalides back to the river and in your joyful, light buzz, admire the frankly gorgeous gilded bridge, Pont Alexandre III, as you traverse the river.

Brasserie Grand Palais
8th arrondissement
Now you're back on the Right Bank and only a few steps from Grand Palais, the famous Parisian exhibition hall and museum. Good news: it has its own brasserie, which is good, because you will need a thirst-quenching beer. This is your classic French bar, so get a pint of something Belgian, or if you're wussily trying to save yourself for the rest of the crawl, minimize and get the demi. From here, you can go north to the Champs-Elysees and make your way east to Les Tuileries and through the gardens to the Louvre.
Café Marly
1st arrondissement
It's stop five, and since you had a long stroll to get here, you should be craving another drink, and the house Bloody from Cafe Marly is precisely what you need. Also, you get a killer view of the giant glass triangle that sits in the Cour Napoléon and marks the entrance to the Louvre. From here roll your way down Rue de Rivoli until you get to the street that leads you across Pont Neuf, which despite its name, is the oldest standing bridge in Paris. Merrily zig back across.
La Palette
6th arrondissement
Once you're on the Left Bank, make your way just a bit east to get to Rue de Seine, where you'll find La Palette, a bistro once frequented by the likes of Picasso, Jim Morrison, and Hemingway, all of whom you can trust to know where to get a decent drink. Because you're in Paris, get a glass of the house white, and attempt to blend in. Now head back up towards the Seine and foolishly attempt to walk in a straight line across one of Paris's most iconic bridges, Pont des Arts.
Le Fumoir
1st arrondissement
An acclaimed bar/resto, Le Fumoir (which means smoking room) is open late for the crowd that wants to sidle up to the bar and grab a refresher. That's you. You can either pick from the solid selection of 24 pure malt whiskeys, or or opt for one of their famed martinis, made to a sliding scale of dryness.
Castor Club
6th arrondissement
The interior of Castor Club (which means "Beaver Club" in French!) feels a little like a Nordic mountain lodge, which is perfect as you're probably in a state of needing to chill out right now. Get whatever the cocktail of the week is, you can trust them (they do everything from pairing beer & mezcal to serving up a homemade apple shrub). Now try to find your way back to the Seine, and hope that you're seeing double -- Pont au Double, that is. Be sure to not forget to look up and admire the Notre Dame.

Café Louis Philippe
4th arrondissement
Crossing over Ile de la Cité and back over the Seine on the Pont d'Arcole to the Right Bank, you'll find yourself close to Hotel de Ville. From here, go east along the river until you get to Café Louis Philippe, a neighborhood wine bar and restaurant that has been around since 1810. A glass of vino and a plate of cheese or charcuterie is in order, because you need to get some food in your stomach, like right now.

The Pledge Bar
4th arrondissement
Now cross over the stone Pont Louis Philippe to get to Ile Saint-Louis, a small island in the middle of the river filled w/ bars & restos. Avoid the tourist trappey ones, and head straight for The Pledge on the main strip of Rue de Deux Ponts. There's a happy hour from 5-9p, which you may or may not have missed depending on when you started on this epic crawl, and the barman is known for his cocktails, including the specialty Little Italy w/ Champagne & amaretto. After dealing with that, cross back over to the Left Bank and continue making your way along to Pont d'Austerlitz, where you can find yourself facing the iconic Gare de Lyon.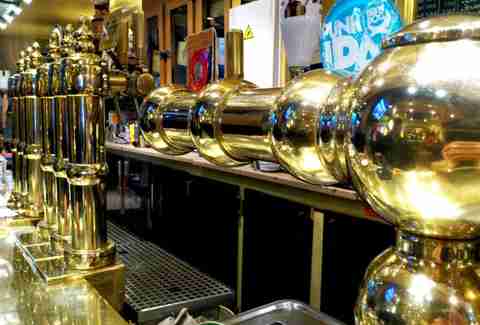 L'Express de Lyon
12th arrondissement
If you can manage it, just across from Gare de Lyon you'll find L'Express de Lyon. Don't let the dodgy dive bar look fool you; this is one of the few places in town that serves craft beer. With a rotating tap, the selection changes, but ask for something French, like Craig Allen's hoppy brews.
Wanderlust Paris
13th arrondissement
Last spot of the night? Very carefully ensure that you get back to the river and to Pont Charles de Gaulle, which will take you back across the Seine with a nice view of Cité de la Musique et du Design, home to Wanderlust, a rooftop bar & event space that frequently plays host to concerts & DJ sets. Head all the way up to the top and drink your last drink of the night overlooking basically the entire city.