In a country of wine drinkers, where a simple apertif to begin and some calvados after your meal have traditionally been about as adventurous as it gets, Paris' drink scene has become surprisingly diverse and intriguing. As the cocktail culture in the City of Lights grows, we're excited to keep exploring the most interesting venues in the city. From tiny dives that serve up something unusual, to speakeasy-style bars decked out in chandeliers and red velvet, we've found the most inventive, exciting, and charming cocktail bars in Paris.
Recommended Video
The Best (and the Rest): Best Easy Ramen Hacks and Winter Beers
Le Marais
By now, this spot is a staple among cocktail bars in Paris, and the one that is always necessarily mentioned. Experimental Cocktail Bar is kind of pretentious and very expensive, but absolutely amazing. The atmosphere is dark and trendy, and the decor of exposed beams, velvet drapes, somber furniture, and shelves full of exotic bottles adds to the old-timey feeling of this place. You could almost imagine Cole Porter by the piano in front of the bar, sipping a martini (apparently his signature drink, although it's hard to imagine the bartender here making something so plain). It might be too dark for photos, but perfect for having drinks and sharing secrets.
SoPi
SoPi, an abbreviation of South Pigalle, has always been charming, but in the last few years a series of chic bars and hotels have opened in the narrow streets of this historic neighborhood. You might recognize this area from François Truffaut's early films, and in fact, Hotel Amour is located on the same street where the famous director grew up. This bordello-turned-tongue-in-cheek boutique hotel has a restaurant that becomes the favorite cocktail bar of the city's chic clique around midnight. Focused primarily on the classics, the cocktail menu doesn't look very imaginative at first glance, but try the Concombre sour with a touch of elderflower, made delightfully fluffy from egg white. The signature drink, named after the hotel, is a fruity, fresh, vodka-based affair.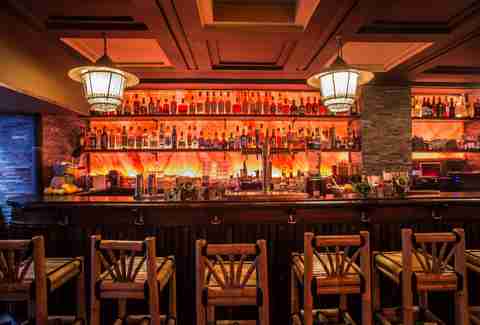 SoPi
With its exotic jungle theme decor and umbrella cocktails, Dirty Dick might be a bit on the tacky side for some. However, with tropical drinks (sometimes literally set ablaze), coconut-based cocktails, and a hipster crowd, it is really hard not to have fun at this spot. The smoky and sweet Polynesian Remedy is "the antidote to your daily routine" (their words), while other drinks are described on the menu in verse -- and not always with a lot of detail when it comes to what is actually in there. If you're nervous about rolling the dice, we recommend the Monkey Seed Monkey Screwed, made with banana, caramel, and whiskey.
Opéra
On a bustling avenue close to les grands magasins, the fancy department stores of Galeries Lafayette and Printemps, this is the perfect stop after some retail therapy. However, make sure to beat the after-work suit-wearing crowd from the nearby Bourse area. La Bombe offers a wide range of cocktails, but specializes in mojitos, so opt for one of the eight different flavors -- the Pimento being the most original, with its sting of chili. Oh, and during happy hours (yes, plural), the cocktails are a mere €6 apiece.
Bastille
Get ready to travel back in time when heading to this old-fashioned, speakeasy-style bar -- if you can find it. Located in a quiet back street just away from the hustle and bustle of Place de la Bastille, Moonshiner's entrance is via an unassuming pizzeria. Head through a secret door in the back to find this watering hole decorated in the style of a Prohibition-era after-hours joint. Drinks range from simple punch to state-of-the-art mixology, so make your choice, then lean back to enjoy the low-key, retro jazz from the old-school gramophone. The Waiting for Yaya, made with absinthe and lavender, is a good choice, and the house Bloody Mary -- which includes red wine -- is worth a trip in itself.
Oberkampf
This tiny hole in the wall is loaded with fun, kitschy decor: colorful lights, garden gnomes, disco balls, and pastel furniture create the backdrop to serve its iconic drink, Le Shrek. Flavored with rum, mint, and lime and spun in a mixer before serving, this is effectively a mojito slushy. If you think that sounds weird, just imagine a mojito with the exact right amount of sweet, sour, and booziness in each sip... obviously sipped through a neon-colored straw. Delicious. Come early, though -- the tiny space fills up quick.
Quinze-Vingts
Evoking the atmosphere of a '30s Shanghai cabaret, Le China is a great place to soak up a retro feel, as well as a drink (or two). Recline in one of the aged chesterfield sofas that line the basement of this classic restaurant, and enjoy one of the many different drinks on offer from the well-stocked bar. Although most classics are represented on the bountiful cocktail list, make sure to throw an extra glance at the specials, Les creations des barmans du China. The Cointreaupolitan is tart and tasty, while the Ginger Inspiration, topped with Champagne, has a fresh sting to it.
Haut Marais
In this swanky part of the Marais neighborhood, between minimalist designer stores and art galleries, you'll want to seek out a simple, genuine taqueria with a door in the back that leads to a lavish cocktail bar. Agave-based liquors rule the menu, and fur wall hangings, colorful pillows, and a young, beautiful crowd complete the très cool ambience. The El Gallo del Oro, made with mezcal, vermouth, and coffee will definitely perk you up. If you're looking for something more traditional, the signature Gimlet Candelaria, made with gin, ginger, and lime, might be more your cup of tea.
Saint-Germain-des-Prés
People in the know will scoff at the idea of entering this little clutter of bar streets behind Mabillon, but people truly in the know will tell you that it's worth braving the busy alleys there for this gin-soaked oasis. Decorated in light, bare wood and palm tree prints, this space offers no less than six variations on the house specialty, a gin & tonic crafted with its own house-made tonic water. There is also a great selection of different kinds of gin, including some quite rare varieties, if you are willing to pay for them. If not, the Tanqueray tonic with lemon and rosemary is a solid bet, and will only set you back €12.
Saint-Germain-des-Prés
This historic hotel has been home to the intellectuals of the early 20th century, with names such as Jean-Paul Sartre, Henri Matisse, and Marcel Proust among its regular patrons. Seized by the Germans during the occupation, it was turned into a repatriation center after the liberation of Paris. In the '50s, the luxury hotel was restored and reopened, and the piano bar became the hot spot for jazz, and the glitterati of Paris returned, especially to watch Josephine Baker perform. Come here to enjoy live jazz in the iconic Art Deco bar during weekends, and you might just get a peek at stars such as Juliette Greco and Dita Von Teese, who frequent the place. You'll have to hold off a little while, though -- Hotel Lutetia is currently closed for restoration, but it's set to open again in May 2017.
SoPi
This Louisiana-themed cocktail bar is decorated with whiskey bottles and voodoo dolls, and the crowd is grown-up but decadent. Add to that the most beautiful cocktail menu, each drink with its own tarot card-style illustration, and names such as Holy Marie Laveau and Nola Fizz, and you have all the makings of a spellbinding evening.
Opéra
Strangely, this exact bar was once located on the other side of the pond; in 1911, an entire bar in the Big Apple was dismantled, made a transatlantic trip, and then reassembled in the rue Daunou in the prestigious Opéra neighborhood. Back in the day, Coco Chanel was known to pop in regularly, Hemingway liked to spend time here, and Ian Fleming mentioned the bar in his short story "From a View to a Kill." The vibe is very old-school, and the drinks are also appropriately classic -- try the pretty Blue Lagoon with vodka, grapefruit, and the blue curacao that gives the drink its tropical (and rather poisonous-looking) hue. Or, perhaps, just go for the time-honored Bloody Mary -- rumor has it the iconic drink was actually conceived in this very bar.
Sign up here for our daily Paris email and be the first to get all the food/drink/fun in the City of Light.