Act Like a Local: Romain de Saussure
Credit: Nilina Mason-Campbell
Behind the bar for nearly 10 years, Romain de Saussure is the man to know when it comes to cocktails in Paris. After stints 'tending in Manchester and London, de Saussure joined up with Experimental Cocktail Group, and's now a chief mixologist & assistant manager of The Prescription Cocktail Club. We sat down over a couple of drinks, and asked him how to get the most from your visit to The City of Light.
Best Late-night Eats
The Babylone Bis is a real African restaurant serving chicken maffé (peanut sauce) and all French Creole specialities (the origin of Cajun food). Very famous during the '90s, they used to serve all of Hollywood -- just look at the pictures on the wall!

Favorite Restaurant
Le Grazie -- next to Bastille -- is a very unusual place. I'm never sure if it's really trendy or just an ordinary place, but they have a crazy wood oven to make the best pizza ever, in a very relaxed atmosphere. And of course, behind the bar you'll find my friend Oscar -- a crazy Italian bartender full of imagination making, among other stuff, the best Bloody Mary you could ever dream of with confit red pepper and tomatoes. It's amazing and also very efficient in curing a nasty hangover!

Best Sandwich
One of the best restaurants in Paris -- Le Frenchie -- has opened a sandwich shop called Le Frenchie To Go. It makes the best sandwiches ever eaten by human kind. Still, 14 euros for a sandwich is definitely not cheap.
Best Food Truck
There aren't many food trucks in Paris, but there is one that every Parisian knows: Le Refectoire. It's parked during the summer in front of the Bar Ephemere (a very nice place by the way) on the Canal de l'Ourc in the 11th district. It makes burgers like [what] you would eat in NY.
Best Baguette
As a kid I used to live in Lyon and there was this little boulangerie -- La Maison Kayser -- that I loved that made amazing bread, but also some "pains au chocolat blanc" (it's a kind of croissant but with with chocolate inside!). What a surprise it was when I moved in Paris to see that the little boulangerie that I used to know had grown and opened a shop in Paris right next to my bar, the Prescription Cocktail Club, still making the little pain au chocolat blanc, my Proust's madeleine.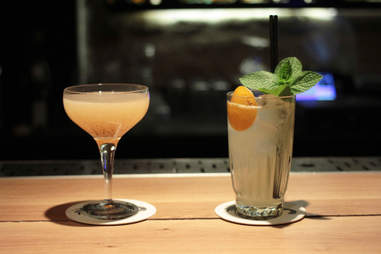 Credit: Nilina Mason-Campbell
Best Cocktail Bar
In the last five years, Paris has seen an explosion in cocktail bars opening. I know and love a lot of them like the Sherry Butt, or the Calbar which means underwear in French, and guess what? The bartenders are wearing boxer shorts behind the bar! Or even the Maria Loca. But my favorite is the Little Red Door. You enter by a very little red door like Alice in Wonderland. The decorations are stark, but beautiful, and they have the most comfortable bar stools ever, and the drinks are really cool. But what makes it my favorite is definitely the team of staff -- they are the sweetest and craziest and that's a nice cocktail...
Credit: Nilina Mason-Campbell
Best Outdoor Spot
When summer days are coming, there is only one place you want to be: Le Canal Saint Martin. The wharf of the canal is really quiet and it's the place to picnic with friends and play pétanque while drinking pastis, a drink with a little taste of the south of France.
Best Coffee
Café Lomi is a master roaster, delivering to all the finest cafés and restaurants in Paris. They roast the best coffee beans from all over the world themselves, right in front of you.

Best Bistro
It's a little place called Le Tambour, in the middle of the pedestrian neighborhood of montorgueil in the 1st district. It's decorated with old signs from RATP (the Parisian Railway and Subway Company). There is a lot of charm to it, very French and so are the staff; the youngest must be 50 and they all have this weird French dark humor. When they really like you, they insult you and make you feel unwelcome. Love it. Best part? Open from 9a to 7a. Oh gosh, the drunken nights we had over there!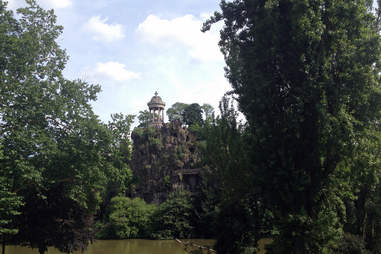 Credit: Nilina Mason-Campbell
If you have a free afternoon…
Do not miss the park "Les Buttes Chaumond!" It's a very green area on a hill with a river and a lake (completely fake, but charming) right in the city center with amazing views of Paris.

Coolest Street
La rue des Martyrs in the 9th district next to Pigalle is an upcoming street that not everybody knows yet, but has everything I love. Beautiful cheese shops featuring cheeses from all over France, a little place selling only French Corse Island products, and especially amazing charcuterie. You can also find some cute antique shops and of course, the terrasses de café.