Paris: epicenter of haute cuisine, culture, sophistication, and proud home to at least 10 Bad Decision Bars -- the places where dignity, credit cards, and rash-free status are all swiftly lost to the altar of "having one more drink".
Le Piano Vache
5th arrondissement
Students, expats and cheap shots. OMG I can totally understand you! Am I speaking French right now? 
Le Bar Dix
6th arrondissement
Why yes, I do want another glass of cheap-ass house sangria. Why is this floor/wall/bartender so sticky?
O'Sullivan's
18th arrondissement
Okay, just because we're in an Irish pub, doesn't mean we'll have t-IRISH CAR BOMB IRISH CAR BOMB PLEASE BARTENDER. MERCI.

Café Oz
9th arrondissement
You will be surrounded by Aussies & wannabe Aussies ("That drink's called a cumshot! Noice!"), and at some point, you will come to the simultaneous realizations that a) the floor is covered in sand, and b) you don't know where your shoes are. 
La Cantada
11th arrondissement
ABSINTHE BAR! I WANT TO HALLUCINATE! 
La Féline
20th arrondissement
There's something about a rockabilly joint that attracts people wearing leather and leopard print and drinking cheap cheap beer, and for some reason, you.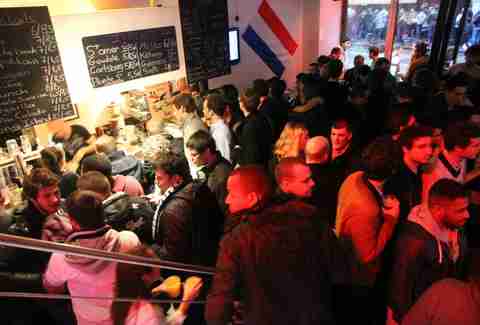 Hideout
1st arrondissement
The whiskey Cokes cost €4 a pop, so how did you end up spending €175 plus change and half a pack of gum in here? Also, what's that burning sensation?
Les Furieux
11th arrondissement
Clues that something is desperately wrong: you're listing to a '90s rock band, sitting on a red leather seat, and feeling no sense of irony whatsoever.
Aux Noctambules
18th arrondissement
It's 4a and this bar is open for another hour, and a demi-pinte is only going to run you €2.20; you've got pocket change for that! Of course you want to down a few last beers under the light of a disco ball. You only have yourself to blame when you later stumble into a Pigalle "Chinese massage" establishment.
Le Zorba
10th arrondissement
How the hell is it 6a already? Must be time for an after-hours drink, which you can do until 9a at this Belleville haunt. A shot of Jager could technically be considered a morning drink, right?