the bar.com
Sponsored by

Your Foolproof Big-Game Party Planning Guide
Sponsored by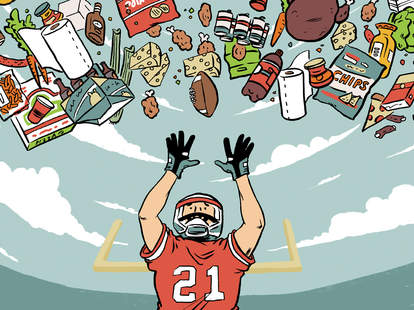 For a long time, football's biggest game had a well-deserved rep for being a letdown. One team would blow it open early, the other would fold, and the whole thing fizzled in a huge anti-climax. That made hosting a big-game party even harder, because the heavy lifting in the entertainment department fell to you, the heroic host. Recent history has changed all that, though. The Big Game has started living up to the Big Hype—last year's tilt went to overtime—and that makes the job easier for you, Big Game Party Host. Woo hoo! But… there are still pitfalls to the gig, missteps to be made. To ensure you avoid both, follow this foolproof guide:
Jeremy Nguyen
Don't just make a guest list, curate one
Your goal should be to avoid too many ultra-hardcore football fans who may tomahawk your serving table after a missed 3rd-and-7. On the other hand, you don't want loads of viewers who'd rather be watching an awards show. Your mix should avoid too many from either group.
 
Make a checklist for food, drinks, and party supplies
You're gonna need ice, paper plates, cups, and napkins (not eco friendly, but just this once), extra hand towels for the bathroom, air freshener, paper towels, TP, an extra wastebasket or two, and extra seating as needed. You may also want party favors and door prizes. Poll your friends for input, and write it all down. Don't try to wing it. As for food and drink specifics....
Consult a drinks calculator to find out how many beverages to buy
Running out of liquid refreshment in the third quarter is extremely unsportsmanlike. So is not stocking alcohol-free choices for your guests. Punch in the appropriate data, and this handy tool will help you nail it one shopping trip.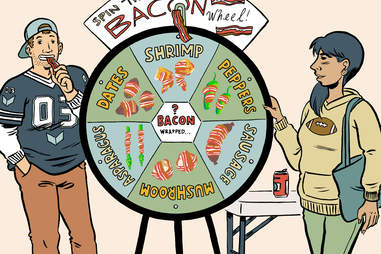 Jeremy Nguyen
Make sure you knock the food portion of the festivities out of the park
Yes, we realize that's a baseball metaphor, but "hit paydirt" seemed a little unappetizing here. But speaking of appetizing, let's talk food! First, dial up an appetizers calculator before you shop. As for your menu, it's pretty much mandatory to include wings and guacamole—the nation will consume 1.33 billion wings on the day, along with 105 million pounds of avocado—but don't be afraid to go off the beaten path. Why not deviled eggs (in case your team lays one), or bacon-mac-and-cheese deep-fried balls, or any one of these next-level options? If you're pressed for time, not an appetizer ninja, or both, whip up some incredibly easy yet absurdly tasty two-ingredient appetizers, such as:
 
Bacon wrapped dates
Bacon wrapped shrimp
Bacon wrapped mushrooms
Bacon wrapped … anything!
Pear slices with blue cheese (Too fancy for you? Nah. Delicious? Definitely.)
Hard boiled eggs, sliced in half, topped with Old Bay Seasoning (much easier than deviled)
Chicken sausage and apple slices, skewered
Baked brie and jam
And for a pro-dip-tip: Soy sauce added to sour cream makes a delicious dip. Just stir it in till it tastes right to you.
Optimize your Home Theater
Whether you're watching on a 13" kitchen TV repurposed for the event or going whole hog with a projection screen, you're going to want to give every guest the best sight line possible. Arrange the room accordingly.
 
Game your own box pool (squares)
Hey, you're throwing the party, you deserve it. How to do it? By consulting the probability wonks here, or here.
Advertisement
Supercall
There's more to planning a perfect big-game party than having your local wing joint on speed dial and a killer guacamole recipe up your sleeve. When it comes locking down your beverage options, Crown Royal Fine De Luxe is as versatile as a running back who's also a threat in the passing game. With notes of creamy vanilla, oak, and rye spiciness, it's great for signature drinks and it also shines in classics like the Old Fashioned, the Manhattan, and variations on that ultimate winter warmer, the Hot Toddy. Check out a terrific Hot Toddy spin here.
Pick up—or create—some Big Game Bingo Cards to keep non-football fans entertained
If you fall down on tip No. 1 and end up with a surplus of guests who'd rather be watching a red-carpet interview show, these will bail you out. The awards-show guests will be happy, and so will the football fans. The cards will also come in handy if the game turns into a blowout.
 
Offer door prizes for big-game trivia questions
Who can name the winners of the first five big games in league history? (That's the 1967–71 editions.) Who can name the team with the most big-game wins of all time? (Hint: there's a three-way tie for second, but one team has six wins in the big one, more than any other.) How many different franchises have won the big game? (Including clubs that have relocated.) How many have never won it? (Hint: it's double digits.) Help can't stop: How many of the big games have gone to overtime? … Pull together a big-game trivia night segment. It'll also be very helpful if the game goes south.
 
Make sure your guests have safe rides home
This goes without saying: don't allow anyone to drive under the influence, and make sure there's easy access to car services, ridesharing apps or designated drivers.