This Bar Is Offering 12-Pound Moscow Mules and Never-Ending Garnishes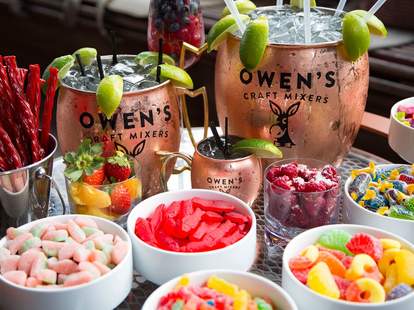 Courtesy of PHD Terrace at Dream Midtown
This Saturday is Moscow Mule Day, which means bars across the country will be offering up specials on copper mugfuls of spicy ginger drinks. But one NYC bar is doing it better than any other.
PHD Terrace at Dream Midtown in NYC already offers the Mega Moscow Mule (a 10-pound copper behemoth garnished with a fistful of straws for group enjoyment), which would be worthy of the "holiday" alone. But that just wasn't enough for PHD. The bar is offering an insane build-your-own-Moscow-Mule bar in three different Moscow Mule sizes: 16-oz ($10), 100-oz ($45) and 192-oz ($100). Yes, you can outdo the 10-pound Mule with a 12-pound Mule loaded with a true smorgasbord of garnishes.
Courtesy of PHD Terrace at Dream Midtown
There's a garnish for everyone, ranging from sweet to spicy. Here's the full list of the all-you-can-garnish options:
Candy fruit slices
Candied ginger
Fresh fruit slices
Sour Patch Kids
Swedish Fish
Starbursts
Twizzlers
Sour Watermelons
Peach Rings
Jolly Ranchers
Wasabi
Jalapeños
Red Peppers
Green Peppers
Horseradish
Edible Glitter (blue, red, gold, silver)
Lemons
Limes
The all-you-can-garnish Moscow Mule bar is only available on Saturday, March 3. But if you can't make it, you can buy 192-oz Moscow Mule mugs on Amazon—just saying.