From two Kite & Key vets who invested plenty of… Benjamin Franklins (!), Fountain Porter's a stool-packed Bella Vista corner brew joint with a kitchen just now doing cold-one-complementing cheeseburgers and chili. Named after a Passyunk water-spouter, FP has 20 rotating microbrews, including Troegs Troegenator, Great Divide Oak Aged Yeti, and what the Transformers chick takes before she goes sleuthing (Sly Fox Pils). Also always rotating? The owners' vinyl, which skips from folk strumming to death metal. Oh, and there's liquor too. And Pinot Grigio!!!!! Meats and cheeses're from Italian Market staple Claudio and come paired with house-cured pickles/peppers, mustard, and bread. Fry-sided grilled cheeseburgers enter the picture (and you) on weekends only. And seven days a week they're doing stuff like this massive bowl of ground beef-and-English-cheddar-packed fresh pepper chili, which's truly... electric.
Recommended Video
Where to Get the Best Waffle Fries You'll Ever Eat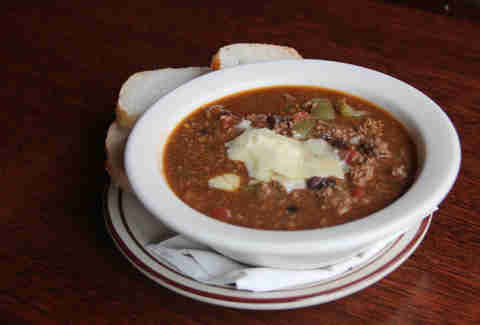 Previous Venue
Next Venue
Venue Description
1. Fountain Porter
1601 S 10th St, Philadelphia, PA 19148
This classic little corner spot in Dickinson Narrows doesn't bother much with aesthetics: it's wood-paneled walls remains almost bare after years, and its short, simple menu barely lays claim to the restaurant's brand at all, but that's the charm of Fountain Porter. You always know what you're getting here, and the taste speaks for itself. The daily happy hours will get you a tall, frosty local brew and one of the city's best burgers for just a couple bucks.