5 great hangover sandwiches, one of which involves glazed donuts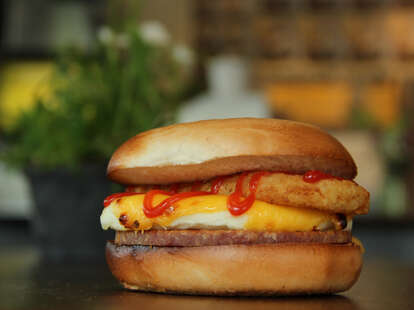 There're a lot of questions to ask yourself after a night out on the town: was it really necessary to drink through all three Sunday football games? Did I actually get that girl's number? Where are my pants? But there's no question about what you need the next morning: gloriously greasy meat and melted cheese. Sandwiches like the pork, egg, and hash-brown number above, which you can get without leaving your car, which... um, you better not have been driving last night.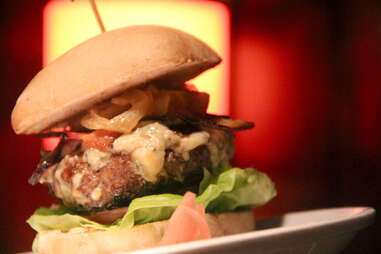 The Bacon Burger Tavern
Midtown Village
Take preventative measures against your impending hangover at this open-til-3a boozer, which, in addition to badass fries baked in garlic oil, is serving this applewood-smoked bacon- & caramelized onion-topped blue cheese burger.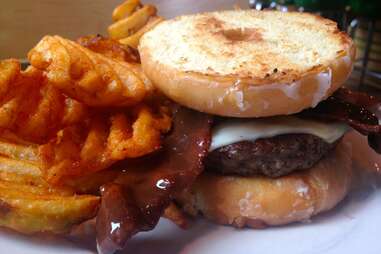 The Donut Burger at PYT
NoLibs
A weekly burger creation so popular they made it (sort of) permanent: a beef patty on a grilled glazed donut bun w/ american cheese & chocolate-covered bacon, sided by crispy, seasoned waffle fries.
The Reuben at Reuben on Rye
Mobile
Guess what this sweet mobile kitchen is serving? Yup, a glorious take on a the classic Reuben that can be had with one of eight different meat fillers, like roast beef, hot brisket, grilled chicken... or even, um tuna?
The Melts at Meltkraft
Market East
This grilled cheese stall is equipped with a mozz-making laboratory, a 30-cheese counter, and exactly what you need in your current state: melts stuffed with everything from burger, to Aiden, to Mr Big, to that Russian guy who Miranda didn't like, to brisket baked mac 'n cheese, to bacon fat.
Taylor Pork Sandwich at Farmer's Road Drive Thru
DelCo
Combining everything you love about Old MacDonald and McDonald's, Farmer's Road Drive Thru's a barn-doored DelCo fast-foodery from the team behind Lotus Farm to Table, dishing out locally sourced scrapple breakfast sammies, blue-cheesed Buffalo chick-wiches, and cooked-to-order grass-fed cheeseburgers, all ready in 2min or less... which's about how long you've got to live if you don't get some meat and cheese and bread into you right now.