Where To Get Takeout and Delivery Alcohol in Philly Right Now
With state stores long closed in the wake of the COVID-19, you may find yourself searching for other ways to stock your alcohol shelf while passing time in quarantine. Luckily with bars and restaurants across the city geared up to serve takeout and delivery with the safest measures in place, you can continue supporting your favorite local brewers, wine bars, and cocktail spots. Here are various ways you can drink local and support the Philly service industry while you're stationed indoors.
Graduate Hospital, Fishtown, West Philly
The taco shop is pairing its Mexican offerings with six-packs of beer for carryout at all locations from 11am-10pm, seven days a week. Expect local brews including Kenzinger, Yards, Dock Street, and Love City.
How to order: Order by calling 215.644.8080 (Graduate Hospital), 267.886-8061 (Fishtown), or 215.796.9890 (West Philly)
Point Breeze, Cedar Park
Both locations of Dock Street are offering takeout beer with any food or DIY pizza kits you might also want. Starting at 2pm, most of the brewery's creations are available in packs of four, six, and 12.
How to order:Order online
Headhouse Square
Though you can't get the hard stuff through pick-up or delivery, Twisted Tail is offering the fixings to make happy hour (and/or boozy brunch) at home. You can order batches of the house bloody mary, margarita, and punch bowl mixes for $8 a pint.
How to order: Order by calling 215.558.2471 or through Uber Eats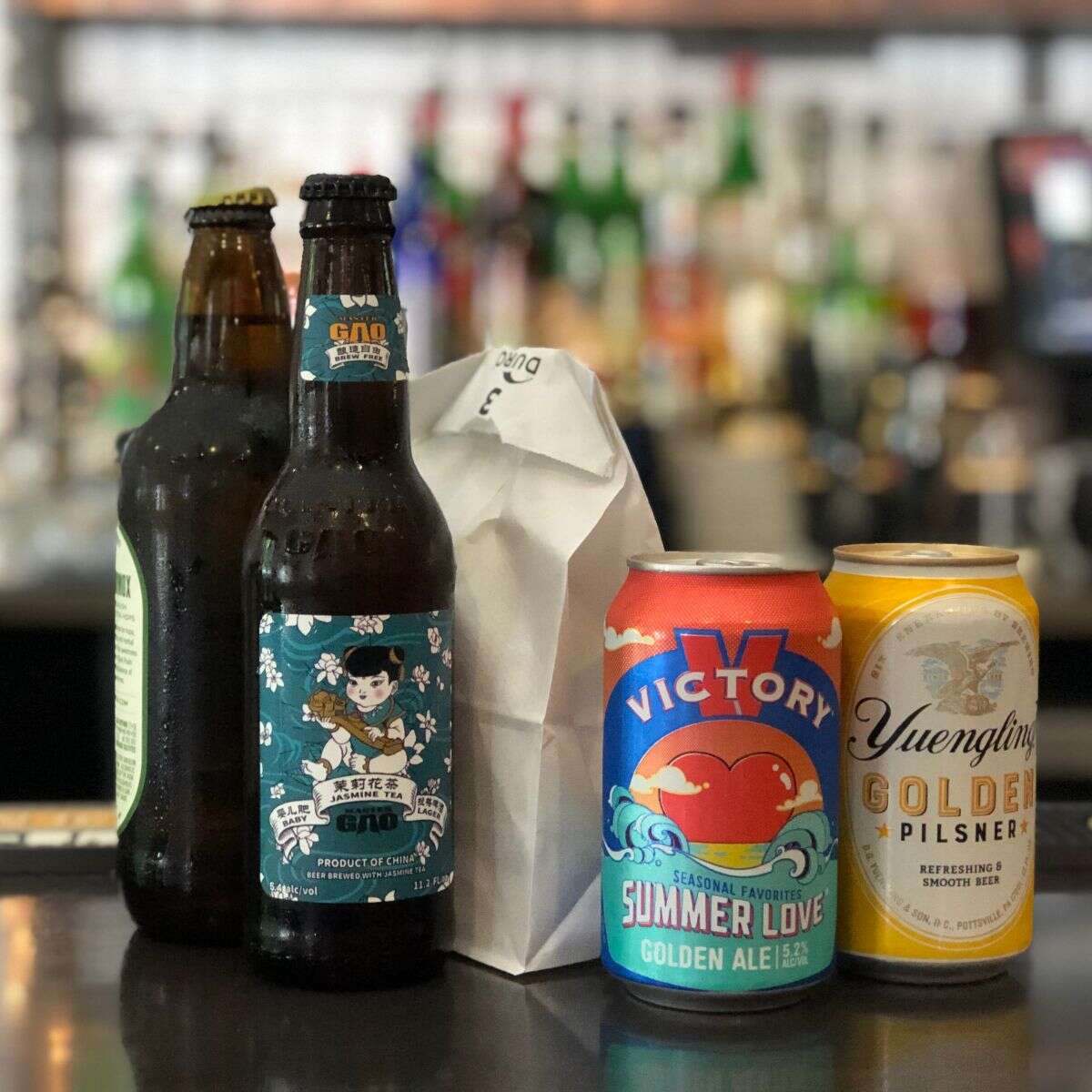 Graduate Hospital
Stock up on growlers (and a refill) of local brewers including Troegs, Yards, Slyfox, and other domestics. Visit Southgate's Instagram for the latest updates, and why not try one of the restaurant's $40 dinners for two while you're at it?
How to order: Ordering curbside pickup by calling 215.560.8443 or delivery through Caviar or Grubhub
Old City
As always, Art in the Age's online shop remains open for delivery through the pandemic, offering spirits and all the fancy stuff to make craft cocktails at home. Plus, Art in the Age is offering 20 percent off every purchase, including all gift cards, with the code LOCALLOVE20.
How to order: Order delivery and curbside pickup online
Phoenixville
If you really want to stock up on the hard stuff, Bluebird Distilling offers free delivery to any of the five local counties if your order makes the $100 mark. Any purchase also comes with a $35 "mystery gift" (merch) when you use the code LOCALLOVE.
How to order:Order online
East Kensington
Stop by PBC during afternoons and evenings for takeout of six-packs, cases, singles, growlers, and even kegs. For those in the service industry, you can also score a bonus beer with a six-pack of Kenzinger. This goes for most staples on tap and Commonwealth Ciders.
How to order: Order ahead online for pickup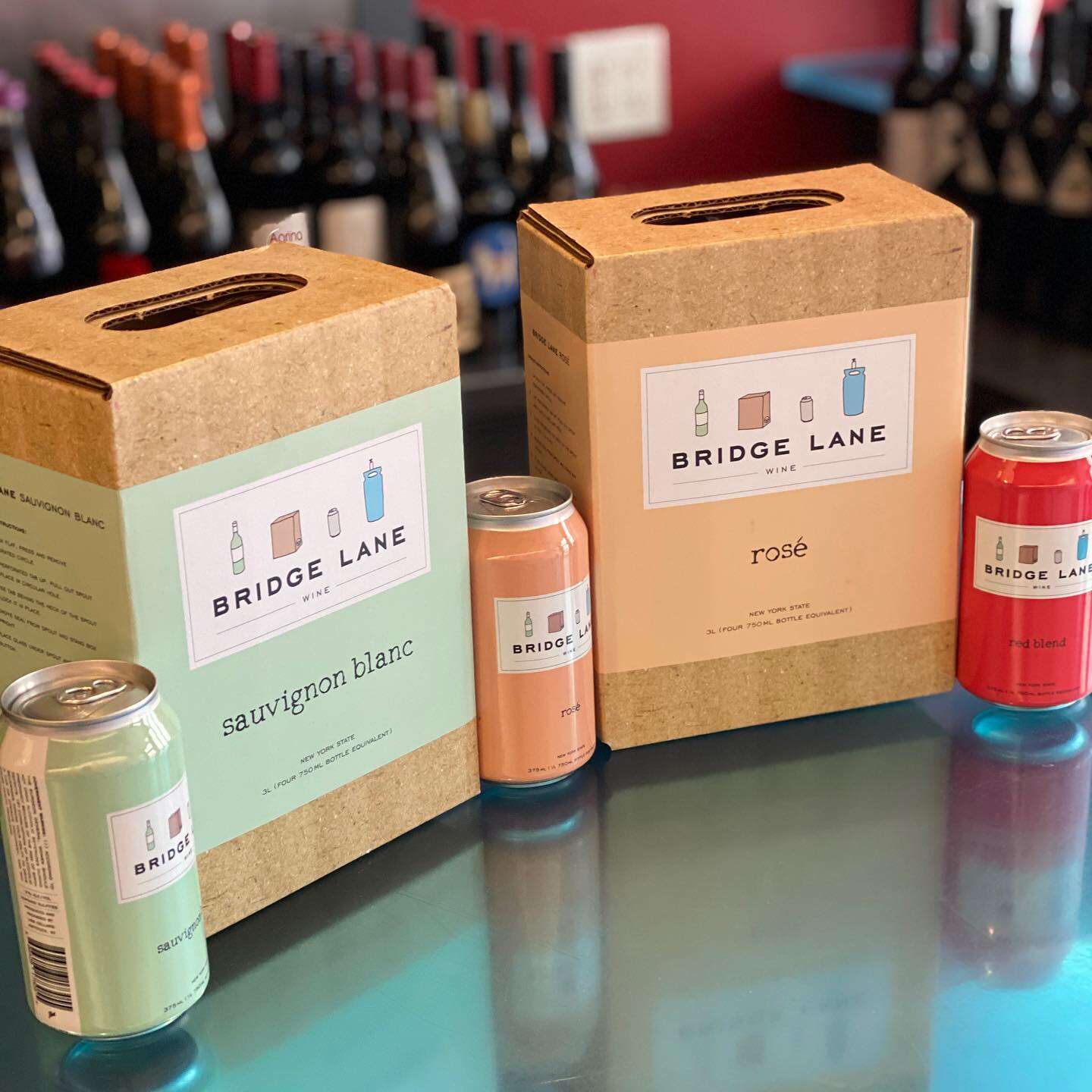 Graduate Hospital
Not only is Jet offering a wide-ranging list of wine for pre-order pickup Tuesday through Saturday starting at noon, but you can even get in touch with Jet's resident sommelier Nick Baitzel for some insight on what to pair with your nth night of quarantine food.
How to order: Order by calling 215.735.1116
Fitler Square, King of Prussia
Get beer for takeout and delivery from Workhorse's Center City and King of Prussia locations daily starting at 11am. Order online for four-pack, 12-back, and mix-and-match varieties of everything from rosé ale to New England IPA to sake-inspired Pure. Plus, you can also order pizza from Pete's Famous Pizza if you're in the city.
How to order: Order online
Fitler Square
Food and beer is available for takeout at Rosy's, so pair your tacos and guac with domestics including six-packs of Cape May IPA, Conshy Ring the Bell Pilsner, Yards Brawler, and plenty of others that will make you feel like you're actually enjoying springtime.
How to order: Order through ToastTab
Rittenhouse, Washington Square West
Trust that this wine bar will never leave you hanging. Takeout and delivery are available at both Tria Cafe locations, and you can order up to four bottles online for pickup -- or even order wine by the glass if you're trying to pace yourself. If that weren't enough, you can also order beer from its highly curated menu. Get extra fancy and buy a stemless Tria wine glass for $8 that will go directly to benefiting Tria employees.
How to order:Order online
Fairmount
To-go wine and beer is available from noon to 10pm at this neighborhood tavern also offering family-style and a la carte meals during the quarantine. If you live within a five-minute walk from the restaurant, you can also get free delivery. Expect growlers and six-packs, plus specials posted on Instagram daily.
How to order: Order by calling 215.235.2460
Graduate Hospital
Pickup cans of Sidecar's extensive beer menu, with around 50 different brews up for grabs, as well as some fancy wine bottles. All goes great with hearty burgers and daily specials (usually found on Instagram).
How to order: Order pickup through ToastTab and delivery through Caviar
Northern Liberties
A handful of six- and 12-packs of local beer, as well as some more expensive bottles of wine, are available for pickup from noon to 8pm daily at Standard Tap. The gastropub suggests tipping on your card or paying with Venmo to avoid cash exchange.
How to order: Order by calling 215.238.0630
Passyunk
Stop by for a growler of about 10 domestic options, or ask for the margarita mix courtesy of Triangle's neighbors, Cantina Los Caballitos.
How to order: Order takeout by calling 215.800.1992
Callowhill
Love City is offering both beer delivery and taproom pickup, including curbside, with delivery reaching anywhere in Philly, though the wait could take up to 48 hours if you opt for delivery. Singles, four-packs, six-packs, and cases are all available as long as you can show your ID at delivery.
How to order: Order online
Cedar Park
An updated selection of beer and wine from Clarkville is available for pickup, as well as seasonal draft cocktails, all of which sound perfect with a pizza.
How to order: Order by calling 215.387.4992 ahead for pickup
Headhouse Square
Bistro Romano's Wine Shoppe is open for business during COVID-19, with many discounted bottles available for delivery and constantly updated inventory. Orders are limited to four per order, and you can call or email for help finding the bottle you're looking for.
How to order: Order by calling 215.925.8880
Port Richmond
Order some margarita mix with your fajitas daily for delivery or pickup daily starting at noon. Expect to find the entire menu available for order.
How to order: Order by calling 267.519.0713 or through Uber Eats if you're outside a two-mile radius
Various locations
The Philly-based hard seltzer brand is donating $1 per case purchase to supporting local bars, restaurants, and service employees during the pandemic, plus Two Robbers just began offering variety packs, which may sweeten the deal.
How to order: Order online
Sign up here for our daily Philly email and be the first to get all the food/drink/fun in town.