More than Royal Jelly's pole-dancing troupe of Rose McGowan look-alikes are worthy of your attention this weekend, like the Revel burlesque club's fleet of blonde 'tenders who're standing between you and this season's hottest 'tails. Casey's eyes are telling you she's the ex-Cosmopolitan mixologist responsible for Royal Jelly's signature cocktail menu. Her lips indicate she's also a big fan of working the Catwalk, this Paloma-inspired grapefruit & tequila 'tail. Try barking your booze order at Jen and you're guaranteed to get the red light. Ask the longtime animal rights activist nicely and she's sure serve you up one of these creamy coconut vodka Red Lights. After you buy a drink from Danielle, not only will the former Michael Jackson backup singer hand you over one of these muddled orange & bourbon Boom Booms, she'll also make that change. The Tempest Storm's a Negroni-inspired Aperol & gin 'tail which, just like Maxim Hometown Hottie Brooke, is garnished with a strawberry.
Recommended Video
Winter Starbucks Beverages Around The World
Previous Venue
Next Venue
Venue Description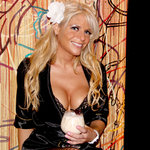 1. Ivan Kane's Royal Jelly
500 Boardwalk, Atlantic City, NJ 08401
Written up in publications across the US, including the New York Times, the Los Angeles Times, Maxim Magazine, and Rolling Stone, Ivan Kane's Royal Jelly Burlesque Nightclub in Atlantic City offers a phenomenal burlesque show that you won't want to miss.