The Best Craft Beer Bars in Philly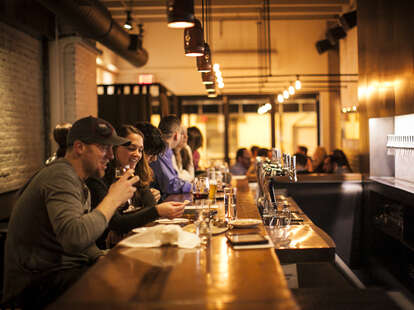 Steve Legato/Tria Taproom
Steve Legato/Tria Taproom
It's no secret that Philly is a beer town rivaling the greatest of them, and fittingly, our city is littered with watering holes that would please even the nerdiest of beer experts. For a taste of what some of the best local breweries (and beyond) have been up to, look no further than these craft beer bars:
Rittenhouse
The 20th & Walnut location of the Tria family takes its taproom title seriously -- there are exactly zero bottles on the premise. Instead, you'll find 24 alternating taps (along with two cider and 12 wine draughts). Take as much time as you like exploring Tria's tablets. In lieu of menus, these are the slats that'll give you the lowdown on what's on tap and just how much is left of each brew. You'll find your fair share of local beers (Tired Hands, Victory, etc.), but leave room for plenty of others from around the world.

Fairmount
Consider Belgian Cafe as Monk's first cousin, complete with the same sort of variety in its local, domestic, and import drafts, plus spacious outdoor seating you won't find at its kin. You can also get the same great mussels, or start your own beer brunch tradition with a little thing on the menu called Breakfast Pasta, or the Bloody Mary Mussels.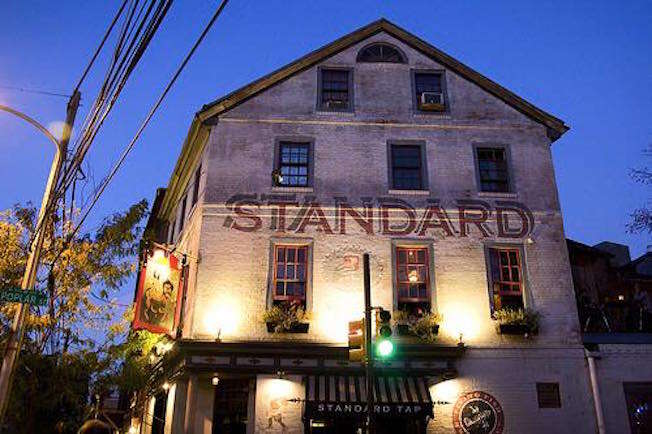 Northern Liberties
Chances are you'll find your favorite beers from PA, New Jersey, and Delaware at Standard Tap, with one great stipulation: while supplies last. If those are out, try the two cask brews served from Standard Tap's hand pumps. All the local drafts are a dollar off during happy hour.

Rittenhouse
You'll be hard-pressed to sit comfortably at a table here any night of the weekend. But enduring the wait and the limited space is well worth it, even if you're only there to drink (though you should probably try the mussels, too, while you're at it). Besides the 20 rotating beers, geographically ranging from hyper-local to the Netherlands, Monk's extensive bottle list will have you traveling between Philly neighborhoods, Belgium, and all over Western Europe with every turn of the menu's pages.

Passyunk
Besides a killer burger, POPE pours from 14 line drafts on frequent turnover, and can pop open around 80 bottles of domestic and imported beers. The decor -- think stone fireplaces and a vintage jukebox -- make it an idyllic spot to get comfortable and try everything on the menu.
Market East
You're going to need something to help wash down Strangelove's bacon cheddar tater tots. Where better to start than with weekly (or frequently) updated drafts, heavy on local brewers? Some featured beers also include exclusive, intriguing pairings between local brewers and Strangelove's, like the Strangelove's Yards Ma Kelly's Stout.

Old City
Eulogy boasts one of Philadelphia's largest beer selections, with about 400 international and domestic craft bottle beers and 30 draughts on the menu every day, including a Belgian-made blonde ale exclusively brewed for Eulogy. In true Belgian style, the mussels are nothing to snuff at, either. The small space does tend to fill up, though, so best to head over for a midday jaunt.
Manayunk
In a 'hood more known for watered-down specials gearing toward the college-age crowd, Lucky's is a craft beer stronghold, and the rest of the 'yunk is quite thankful for that. The alternating drafts and cans, heavy on local brews, is coupled with the spot's coveted alternating burger specials -- pair wisely.

Fishtown
One of the most important bars in Philly came to be by offering the local beers you search high and low for. In addition to a dozen taps, JB's offers two hand pumps for cask-conditioned brews. Come for the beers, stay for the food, DJ nights, and live music.
Fishtown
For the past six years, Kraftwork has punched up its craft beer reputation, thanks to constantly updated draft lists sporting everything from Lagunitas ScareCity #3 to hefeweizen to Mad Elf. The 25-tap gastropub has tumblers for the extra thirsty, and there's plenty of happy hours to go around. Try the lunchtime noon-4pm happy hour for half-priced menu items, the 4-6pm happy hour for $7 flights, or the late-night happy hour (10-11pm) for 12 hand-picked, discounted drafts.

Passyunk
Fountain Porter is yet another purveyor of local brews, with a list of 20 drafts updated weekly. During happy hour, drafts are $1.50 off, and if all else fails, you can't go wrong with a $5 burger.

Passyunk
Hidden in what looks like your mechanic's shop, Garage masters low-key ambiance with arcade games and a bring-in-whatever-you're-eating food policy. Besides that, you can easily spend a great deal of time combing through the lengthy beer menu, divided alphabetically by brewery for domestics, imports, IPAs, stouts, and pale ales. To help maneuver your way through the intimidatingly long list of options, you can always opt for Garage's ongoing beer specials, where one domestic and one import is highlighted for the week.
Sign up here for our daily Philly email and be the first to get all the food/drink/fun in town.
Marielle Mondon is a freelance writer from Philadelphia who can be frequently found waiting for a table at Monk's. Follow her on Twitter and Instagram @MarielleMondon.