Philly's Best Beer Gardens You Should Be Drinking in This Summer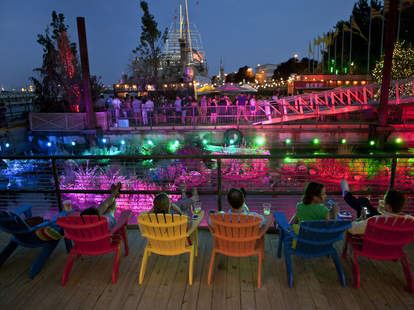 <strong>Spruce Street Harbor |</strong>&nbsp;Douglas Bovitt
Warm weather has finally (mostly) returned to Philly, and with it marks the annual reopening of the area's beer gardens. These can exist through a quirk in the PA liquor laws, allowing local entrepreneurs to operate outdoor bars during the summer months. Now that's a loophole we can get behind.
With the start of beer garden season, here's a breakdown of the area's best outdoor drinking in a garden that is not actually a garden (regular ol' patios not included). Drink up before the taps are kicked for another year.
Courtesy of Morgan's Pier
<em>Penn's Landing</em><br />
Going on five years strong, Morgan's Pier re-opened on the Delaware this past month with a new menu from chef-in-residence Jim Burke. Each year, some of the area's top chefs take over the Morgan's Pier kitchen for a four-month "experiment." New food options include a gnocchi gratin with summer truffle, fisherman's stew, and last year's favorite, the lobster roll. Drinks will continue to be liberally poured, with special events Wednesday nights, live music on Thursdays, and DJs on the weekends.
<em>Penn's Landing</em><br />
Often unfairly overlooked -- it is, after all, smack dab between Morgan's Pier and Spruce Street Harbor -- the beer garden at La Peg returns again this year with even more seating and a seafood shack, serving New England summertime classics like lobster rolls and fried clams. La Peg will also be hosting an outdoor film festival during the summer.
Matt Stanley
<em>Penn's Landing</em><br />
It's a little unfair to characterize Spruce Street Harbor as just a beer garden. After all, the waterfront park has everything from hammocks to an outpost of Federal Donuts (Port FedNuts). So it should be no surprise that Spruce Street Harbor is one of our favorite places to knock back a few cold ones during the summer months. This year, there will be more than 15 taps serving local craft beer, as well as wine and cocktails, along with new restaurant collaborations from the Fat Hen (Sbraga Dining) and Chickie's &amp; Pete's.<br />
<br />
<!-- single line template -->
<em>Midtown Village</em><br />
Taking full advantage of the oversight in the law that defines what constitutes a "beer garden" in Philly, Fergie's version of one can be found in the parking lot next to the pub. It's pretty simple: a few picnic tables, cornhole, and cold beer. But that's exactly what makes it so great; during the summer, no one wants to drink inside. Fergie's gets it.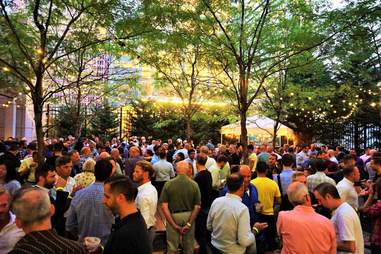 Courtesy of Uptown Beer Garden
<em>Penn Center</em><br />
Despite some permit issues last year, Uptown is back for a second go-round in Penn Center. The beer garden, from the team behind Brü&nbsp;and U-Bahn, is one of the city's largest, with more than 9,000sqft of outdoor drinking space. Uptown is generally more crowded during the week, thanks in part to Sips specials on Wednesdays, so expect the crowds to thin considerably during the weekend.<br />
<br />
<!-- single line template -->
<em>Old City</em><br />
We're assuming that the founding fathers would be pretty proud of IDG, the only beer garden with a direct view of Independence Hall -- after all, that Ben Franklin did love beer. Independence Beer Garden has food, too, in addition to its 40 taps of regional and domestic craft beers. The communal tables, complete with Jenga sets, are perfect for making some new friends over the warmer months.
<em>Northern Liberties</em><br />
If you want your beer garden with a side of nightclub, Silk City's beer garden is your spot. To be fair, though, it's a wonderful place to grab Sunday brunch too. At Silk City, enjoy beers, cocktails, and even dinner at one of the outdoor, umbrella covered tables before heading inside to dance the night away to whatever DJ is spinning that night.
<em>Fishtown</em><br />
The only year-round beer garden on the list, Frankford Hall is also the most traditional German biergarten. The menu features German classics like spätzle, schnitzel, and six different types of sausages, while the draft list has over 10 different German beer selections, all available in large, liter steins. Expect it to be especially popular in the summer months, when an opening at one of the picnic tables is harder to find than a parking spot in Fairmount.
Callowhill and South Street
Since 2011, the Pennsylvania Horticultural Society has been running pop-up gardens in under-utilized spaces throughout the city. This year, the PHS will have two of them, with locations in Callowhill (10th & Hamilton) and South Street (15th & South). Expect all the good things you've seen in previous years, with more specific details to come in the coming weeks.
 
Logan Square
While not officially open yet -- construction should wrap by early June -- the new beer garden at Top of the Tower is something we have a good feeling about. First of all, the team behind Brauhaus Schmitz will be running the bar, so expect good beer and food options. Oh, and it'll be 51 stories above ground, so it's got that going for it. We're not really going out on a limb in predicting that it'll be a popular spot this summer.
Sign up here for our daily Philly email and be the first to get all the food/drink/fun in town.
Dan's hoping that Philly's beer garden movement will lead to full on New Orleans-style drinking in the streets. We already have the Mummers Parade. Follow him @dannypageviews.