Philadelphia is a tried and true beer city with plenty of history to back it up. The town is home to some of the earliest craft breweries as well as the nation's leading brands, all created with true craftsmanship that echoes the authenticity Philly infuses into just about everything. There's something for everyone: You can take a tour of the big-name breweries (and find out they live up to the hype), get quirky in some off the offbeat rising brewpubs, or hole up in a tiny warehouse to try fresh batches of quirky beers. Though the reaches of Philly's beer scene expands into just about every neighborhood and into the suburbs, we've gathered the eight best breweries in Philadelphia proper to get you started on a lesson in Philly beer.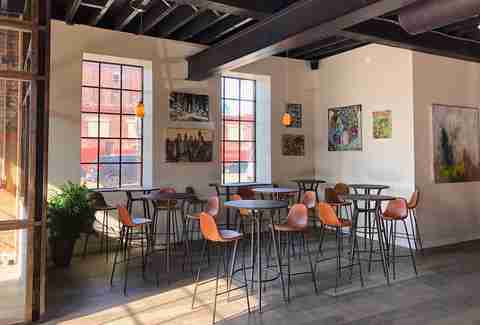 West Philly & Point Breeze
Dock Street Brewery is the long-running predecessor of craft beer in Philadelphia -- and probably beyond. The first brewery opened in Philly in 1985, when microbrewing in the US was far from a mainstream occurrence. Since then, the spot has flourished, with the first location in Cedar Park adding a cannery a few years ago. Here, you'll find performances, parties, and incredible cocktails that are usually impossible to find at a good brewery. Also unparalleled is the food -- the Cedar Park location has some of the best pizza in all of Philly, while the brand new brewery in Point Breeze offers smaller Mediterranean-inspired bites. The new spot also has 12 beers on tap in addition to hand-pumped cask beers.
The beer you shouldn't skip: The Bohemian Pilsner -- riddled with Czech Saaz hops and pilsner malts -- exudes a tasty, nutty flavor.
Brewerytown
The cozy Crime & Punishment popped up in Philly's aptly named neighborhood to offer creative brews, delicious food, and even an impressive brunch that includes housemade cold brew. The dishes are largely Russian-influenced, which means house pickles, green ajika, mushroom stroganoff, brisket, and plenty of other savory dishes. The theme extends to the name of the craft brews, which are often inspired by themes and characters from Russian lit. So grab your Dostoyevsky and try the Space Race IPA or raspberry Ghost Station.
The beer you shouldn't skip: The Darvaza is a barley mix with Chinook and Mosaic that's been refermented with Semillon grape juice and dry hopped with Galaxy and yet more Mosaic. The end result exudes mango and cantaloupe.
Fishtown
Evil Genius is leading the quirky Philly beer scene with an always-packed tasting room and often funny, always unique names and types of beers. From the lo-cal IPA dubbed Felt Cute, Might Delete Later to the seasonal Santa! I Know Him! each brew sparks joy and then some. As Evil Genius grows -- it's celebrating eight years running this fall -- you can also find the beers cropping off at Philly institutions, local events, and festivals all over the region.
The beer you shouldn't skip: Purple Monkey Dishwasher is the delicious chocolate peanut butter porter that not only offers notes of chocolate, sweet malts, caramel, and molasses, but is infused with real dang damn natural chocolate and peanut butter.
Callowhill
Love City is just a couple blocks from the growing Rail Park, staying on theme by setting up shop in a one-time train parts manufacturer. The old time machinery and high ceilings channel this long history, bringing it to modern Philly with three signature brews and eight alternating seasonal drafts. Love City also boasts a full cocktail, wine, and cider menu for non-beer lovers, with plenty of daily happy hour options. There's not a ton in the way of food, but soft pretzels with smoked gouda cheese dip is always a perfect beer pairing. 
The beer you shouldn't skip: The 7.2% IPA Eraserhood is a nod to Callowhill's other moniker and packs a punch with notes of orange, mango, and juicy hops.
Northern Liberties
Urban Village is one of few Piazza businesses going strong, heading into its third year in business with a large beer menu, artisanal pizza, and other elevated beer-companion food that always hits the spot. Plus, this is a rare brewery unicorn, in that it offers a gluten-free menu of wings, truffle fries, mussels, and shisito peppers.
The beer you shouldn't skip: The Huntington Drive IPA infuses Amarillo, Citra, and Simcoe hops for a lighter 6.5% American IPA that feels fizzy and bold.
Spring Garden
Yards is the quintessential brewery of Philadelphia and a household name beyond the city. A couple years ago, the beloved beer maker moved into newer, shinier, and bigger digs in Spring Garden with a BBQ-focused food menu, outdoor deck, and ample space for private events. While you're there, you can try a little bit of all your favorites -- from Brawler to Love Stout -- and check out the new and seasonal stuff on deck. 
The beer you shouldn't skip: Yards' PYNK debuted in 2014 as a temporary fundraiser for local charity partners. Five years (and much demand) later and the fruity "rosé of beer" has become a year-round staple.
Kensington
 
Philadelphia Brewing Company has been going strong since its 2007 opening, taking great pride and inspo from the history of Phillly in creating its brews. The brewery has yielded such local classics including Kenzinger and Walt Wit, and you can catch a full tour of the brewery if you stop by on a Saturday afternoon.
The beer you shouldn't skip: When the season is right, Winter Wünder is the perfect cold-weather beer. Plums, spice, and cinnamon make for an instantly festive feel.
Passyunk
For a smaller, more niche experience, head south to Brewery ARS, the garage brewery on East Passyunk. The beers echo a heavy Belgian influence, thanks to co-founder Sean Arsenault's time spent sampling beers all around Europe while his co-founding brother, Andy, was stateside getting his master brewer certificate. After opening in December 2016, the pair has offered more than 56 beers and 70 batches, garnered a cult following that expands beyond the neighborhood. 
The beer you shouldn't skip: ARS always has something new to try, but its porters are always a solid pick. Check out the latest option, the toasty, chocolaty Ashland porter.
Sign up here for our daily Philly email and be the first to get all the food/drink/fun in town.