Philly's Top 10 Local Breweries, as Ranked by Beer Experts
Even with an affinity for cheap beer-and-a-shot specials, the Philadelphia area is home to a slew of celebrated craft breweries. In order to determine whose brew reigns supreme, we've rounded up a panel of four experts to vote on it (democracy!) and tip you off as to which of the brewery's offerings you should be imbibing regularly.

Philadelphia
Founded: 1999
The Ich Bin Ein Berliner Weisse, a sour big on taste and great for food pairings, is a model German-style wheat ale in Philly. It was announced last October that owner Curt Decker was moving the prewpub out of Center City, but no official word yet on where it will relaunch this Spring.
Key beers: Ich Bin Ein Berliner Weisse, Grog, George's Phunk, George's Fault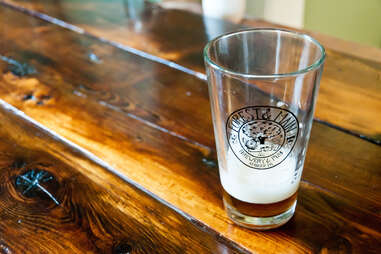 Ambler
Founded: 2012
The brewpub is a refreshing change from local big-name brewers, producing British- and Belgian-inspired ales and some delicious cheese plates. The Saison Solaire is a judge's favorite, and the rustic charm of its converted-old-house setting make it a welcoming stop.
Key beers: Moeder Seizoen, Gmork, St. Mary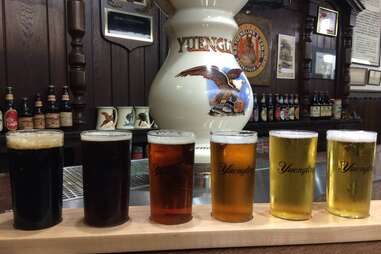 Pottsville
Founded: 1829
Yuengling Lager has been a staple brew for generations of Pennsylvanians as America's oldest brewery, winning the hearts of locals by offering steady prices and not giving into trends and hipster nonsense.
Key beers: Yuengling Lager, Yuengling Porter, Lord Chesterfield Ale, Black & Tan
Mount Airy
Founded: 2008
Earth Bread + Brewery's Tom Baker makes some killer beers, such as the 7% Baltica Arabica coffee porter. The Mount Airy spot opened in 2008, and in addition to shelling out great house brews it's quite proud of its flatbreads as well.
Key beers: Baltica Arabica, Bonne Annee, Founding Fodder, Shines Like Gold
Croydon
Founded: 2010
The Bucks County brewery led by head brewer Jeremy Myers makes beer using Neshaminy Creek water (thankfully, a hell of a lot better than Schuylkill River water). The year-round Churchville lager, a Vienna-style beer with Munich and Vienna malts was a favorite at the 2013 Great American Beer Festival.
Key beers: Churchville Lager, County Line IPA, Croydon Cream Ale
Hershey
Founded: 1996
It wouldn't be Christmastime without Tröegs Mad Elf ale. Seasonal favorites aside, the Hershey-based brewer offers year-round favorites for PA beer lovers, such as the dark, malty lager Troegenator which stands out in a world of constantly lauded hoppy IPAs.
Key beers: Pale Ale, HopBack Amber Ale, Troegenator Double Bock, DreamWeaver Wheat
Phoenixville
Founded: 1995
Sly Fox has made a point to revitalize brew styles such as pilsner, weizen, and Irish stout to separate itself from other local brewers, plus has a no-shame approach when it comes to offering its brews via can. Check out the Pottstown tasting room and brewing facility or just kick back at the Phoenixville brewry and eatery.
Key beers: 360 IPA, Sly Fox Helles Golden Lager, Sly Fox Phoenix Pale Ale
Perkasie
Founded: 2012
Bucks County brewers Free Will Brewing scored high marks from our judges, partially because of its ability to infuse non-standard ingredients when concocting its brews, such as last year's Saison de Rose with grapefruit and hibiscus or SAFEWORD! with mango and habaneros. Pay a visit to the brewery for the newly-opened taproom and behave yourself, and you might even get to play some Mario Kart.
Key beer: Punky Brewster, Saison de Rose, Chasing the Dragon, SAFEWORD
Philadelphia
Founded: 1994
Yards is definitely something worth bragging about for Philadelphians (amongst other bragging rights). The constant flow of on-point seasonal brews plus standby, highly drinkable brews make it a classic Philly jawn.
Key beers: Philadelphia Pale Ale, Yards Brawler, Yards ESA (Extra Special Ale), Yards IPA, Love Stout
Downingtown
Founded: 1996
The aptly-named Victory takes top honors with the judges considering it the perfect gateway drug to craft beer. The brewery has mass appeal to beer connoisseurs and everyday beer-lovers alike, is an integral part of Philly Beer Week, and has the backing of its PA brewing contemporaries.
Key beers: HopDevil, Golden Monkey, Prima Pils, Donnybrook Stout

The Judges
Marnie Old -- Philadelphia sommelier, and a leading beer educator and author of books including He Said Beer, She Said Wine, co-authored with Sam Calagione from Dogfish Head brewery.
Danya Henninger -- Local editor at Zagat Philadelphia and writer with Philly Beer Scene.
Erin Wallace -- On the board of Philly Beer Week and owner of three craft beer bars.
Dave Wood -- The new head brewer at Barren Hill Tavern & Brewery.Sign up here for our daily Philly email and be the first to get all the food/drink/fun in town.