The Best Night of Your Life is approaching (December 21st, longest night of the year -- so make it count!), and it obviously wouldn't be complete without some sweet cocktails. To make sure you're only imbibing the best, we scoured the city for the nine best places to imbibe bourbon-infused punch, smoking martinis, pho-inspired cocktails, and more.
Check out the picks below, and make sure to fully map out a perfect evening with our itinerary builder.
Bourbon Blue
Manayunk
This 'Nawlins-inspired restaurant and cocktailery is blessed with a timeless polished wood-heavy interior, a patio overlooking the canal, and a specialty cocktail list packed with Big Easy-repping imbibables like the rum/ pineapple juice/ OJ/ grenadine/ 151 Hurricane, which should go down... well, you know.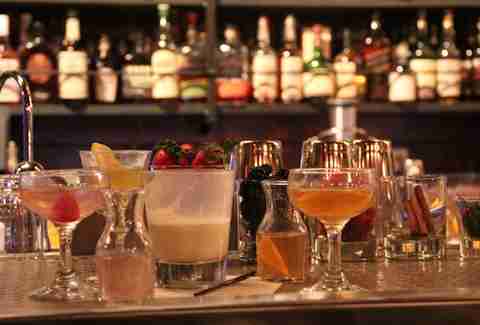 Hop Sing Laundromat
Chinatown
From an OCD dude who traveled to every state in the Union (plus Mississippi!) researching cocktails, Hop Sing Laundromat's a semi-private, Chinatown cocktail bar, whose discreet, Race St confines conceal a library of booze so exquisitely large, it not only has a custom ladder, but it needs its own system to catalog 'em all (the... Dewar's Decimal System?).
Ocean Prime
Rittenhouse
Ocean's prime-arily a lavish seafood destination, but it also pours creatively crafted 'tails like the literally smoking Berries & Bubbles w/ citrus vodka, marinated blackberries, housemade sour & champagne.

Farmers' Cabinet
Market East
This saloon of forgotten spirits, obscure shots, and off-menu drinks created just for Thrillist is the choice of many of Philly's most serious tipplers, and why not? If you know enough to ask, the boozer guru in charge'll pour you a five-booze spicy ginger- and cola-syrup'd $23 Long Island Iced Tea.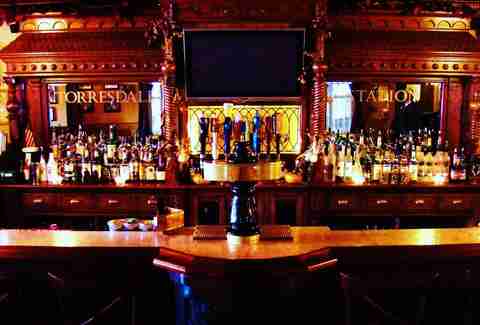 Three Monkey's Cafe
Northeast
Boasting various "habitats" (a turn-of-the-century bar, a courtyard, outdoor drinkery, etc.) this boozer slings a slew of martinis, like the Welch's- and vodka-based Grape Abe, and an equally large range of fruity concoctions, like the whiskey/ apple pucker/ cranberry Irish Apple.
Ashton Cigar Bar
Rittenhouse Square
More than coincidentally located above Holt's Cigar Company, this second-floor speakeasy's serving 200 smokes (and 200 just-as-smoky whiskeys) but, thanks to the bar's state-of-the-art air purifiers, the O2's at least as clean as the air you breathe anywhere else in Center City. Also breathtaking? The upstairs wall of windows overlooking Walnut St.
Franklin Mortgage and Investment Company
Rittenhouse
Named after the Philly-based, Prohibition era front for the largest alcohol ring in the US, FM&I's a dark and swanky lounge decked out with burgundy leather banquettes, Carrara marble tabletops, a statuary marble cocktail rail, and a slatted ceiling that cunningly directs attention to the rear bar, where they're serving things like the Laird's Bonded Applejack-based Always Crashing The Same Car, which is so addictive that that's actually a real possibility.

The Library Bar
Rittenhouse
The Rittenhouse Hotel's Library Bar is a two-room study hall with only one book worth reading: a 17-page booze menu cataloging rarefied libations crafted by a legendary Main Line master mixologist, which're often accompanied by fist-sized balls of ice that're ceremoniously extracted from a $1000 cube carver. Oh, and just wait and see how they pour your champagne...
Emmanuelle
Northern Liberties
Not just a really important bible dude (probably?), Emmanuelle's also a bar from the same guy behind PYT: an intimate, back of the Piazza, 35-seat craft 'tails hideaway with a baby grand piano, and a slew of sweet 'tails like the Ernest Hemingway-invented Death In The Afternoon, and a savory pho-inspired number called the Worthy F--king Adversary.